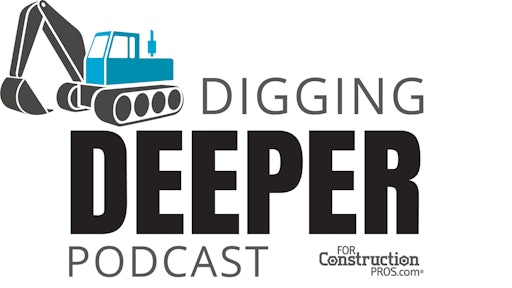 Listen in to this Digging Deeper podcast hear everything  David Venable of Cummins Inc. has to say about the electrificiation of earthmoving equipment now and in the future.
At ICUEE 2019, ForConstructionPros.com contributing editor Becky Schultz, talked with David Venable, director - Off-highway Sub-segment Leader, Cummins Inc., about electrification. The two dove into the topic of electrification in the off-road industry, including current trends and what Venable sees for the future of electrification in the industry.
Contractors will see a faster shift to electrified off-highway equipment in coming years as manufacturers rush to bring more energy-efficient products to market.
The clock is ticking as deadlines loom in countries across Europe to reduce emissions in diesel vehicles and equipment. Some communities in the United States are not far behind, according to one industry expert.
"We're seeing Europe be very aggressive, obviously California is very aggressive, as well," Venable said. "I would forecast compact equipment in Europe, potentially California, and then potentially some greener hotspots within North America evolve over the next decade."
European countries that have committed to the Paris Agreement to reduce carbon emissions have mandates that begin as early as 2025, with stricter rules starting in 2030 for various cargo trucks. For manufacturers, there are emissions standards for entire fleets, including heavy-duty vehicles.
In California, mandates are already underway, with Tier 1 engines prohibited starting in 2014 and Tier 2 engines banned in 2023. States following California's lead include Connecticut, Delaware, Maine, Maryland, Massachusetts, New Jersey, New Mexico, New York, Oregon, Pennsylvania, Rhode Island, Vermont and Washington. 
Equipment investment
Cummins, which last month was named to the S&P Dow Jones Sustainability Index for North America for the 14th consecutive year, has been investing in greener technology for decades. In the 1960s, its focus was lead-acid, rechargeable batteries. Today, the focus is broader.
"We've been looking at electrification for probably the last decade from a technology standpoint," Venable said. "The last three years have really been instrumental, where we really started to see the indicators to say, from a sustainability standpoint/environmental focus, we needed to be more of a powertrain of choice."
The company has been making major investments and acquisitions to maintain an edge in the market.
"We've been investing about $500 million in our electrified power business unit. As part of that, we've made a few key acquisitions."
In 2017, Cummins bought Brammo of Talent, OR, which builds battery packs for helicopters and has unveiled a prototype electric truck. Last year, Cummins acquired Efficient Drivetrains in California and Johnson Matthey, an automotive battery systems company in the United Kingdom. Recently, Cummins purchased Hydrogenics, a Canadian-based fuel cell company.
"With this, we brought in integration, we brought in high-voltage batteries and have the capability to do full-system integrations, so we're ready for the market." he said. "We're really trying to broaden our scope."
Electrifying earthmoving equipment
Venable is seeing more manufacturers add electrification to their product lines.
"Three years ago or so, there were about four to six OEMs actually producing an electric excavator," he said. "Some of these have had equipment in their portfolio for some time, just not generating sales. Over the last two to three years, we've just seen this influx and experimentation, development, prototype units and now there's over 20 OEMs that have either produced or are in production with electric excavators."
There's no end to the practical uses for electrical equipment in the industry, Venable said.
"From a market in general, it's a very broad market, there's hundreds of applications," he said. "The material handling market where you've got ports, you've got distribution centers, they'll continue to adopt electrification pretty aggressively."
The electric excavator is where manufacturers want to prove themselves, though, he said.
"It's somewhat been deemed the marquee application, where OEMs are looking to prove out technology, learn about the technology and be ready for it when it does start to pick up," Venable said. The technology shift comes with its own set of complications, especially when it comes to remote work sites.
"Where you've got earth moving equipment, other equipment that is more remote, away from the grid or away from a charging capability," he said. "How do you bring the grid to the customer out in the workplace to enable this adoption for electrification?"