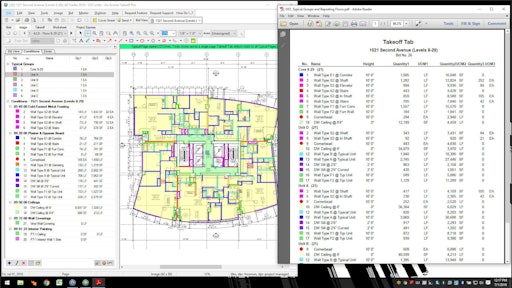 By Nathan Medcalf, Contributing Editor
Construction companies are constantly bidding on new projects, so completing bids in a timely manner with accurate data is important to securing a profitable bid. Online bidding and takeoff software, such as On Center Software's Quick Bid and On-Screen Takeoff  (OST) solutions, can do just that. The solutions are data-driven with real-time adjustment capabilities that are faster than doing it manually.
These are the solutions in which KHS&S, an international design-assist specialty building company, has invested in order to make their company more proficient, accurate and profitable. "We are a thematic architecture company," says Don Lasecki, the company's estimator. Founded in 1984, KHS&S has amassed an enviable portfolio of more than 5,000 casino resorts, hotels, entertainment venues, theme parks and themed attractions, as well as retail facilities, hospitals and public works projects. Today, the company pioneers ways to transform construction from a field-based industry to an industry of digital modeling, virtual project delivery, prefabrication, and lean manufacturing.
KHS&S has been using On Center Software solutions for about 10 years; specifically, they use OST for takeoff and Quick Bid for pricing. "By using On Center Software solutions, KHS&S has the flexibility to ensure changes are a snap during pre-construction and design. With Quick Bid and OST, they can easily answer general contractor questions about the job and verify bids. By using these solutions to customize and save assemblies in libraries for future projects, KHS&S is capable of handling any last-minute changes or requests," says Kyle Hamer, VP of Marketing at On Center Software.
"On Center Software has been a great partner," says Lasecki. "We constantly turn in ideas to them on additions to the software that we would like to see, and they are very open and responsive to these, with the newer platforms and things they are working on we see a bright future in remaining On Center clients for years to come."
Prior to using On Center Software, KHS&S "Like many other companies, we used Excel spreadsheets. Therefore, switching to On Center allowed us to implement a true database where all of our material pricing, production rates and more are stored, which makes starting a new project bid or budget very simple. It also allows us to create and store entire assemblies, since a lot of what we do in the framing and drywall business is repetitious with regard to walls and ceilings. Now, we have a place from which to pull that information with just the click of a button," says Lasecki.
In addition, Quick Bid improves the accuracy of bids and enables end-users to compete for more jobs. With it, they can compile itemized costs, labor rates and change orders and materials to precisely predict the cost of a job to avoid bidding too high or too low. Key features include eQuotes for current pricing of suppliers and vendors and for generating change orders that can be priced independently or included as part of the entire job, automatic calculation for greater accuracy and less time calculating results and seamless integration with OST software for faster import of data from a company's takeoffs.
"Takeoff software is where you actually run your lines over the drawings in order to get the quantities of walls, ceilings, doors, windows and more," says Lasecki. "Doing this with a database allows you to create the condition, such as a wall. The wall has many parts that make it a wall, from the framing, maybe insulation, then we have our sheathing, such as drywall and our finish possibly paint or wallcovering. However, within that are many ancillary items people do not even realize, all the screws and pins, the bridging inside the wall—this stiffens and strengthens the wall; if the wall is a fire-rated wall, there is a fire safing at the top to close off the gap as well as caulking at the bottom of the wall."
With OST, they can view electronic plans, takeoff multiple quantities, spot revisions, create RFIs, and more. "The benefits of using the software are availability to easily add alternate pricing for other items the client may want to see as an add or deduct, this also allows us to copy our project and its data, and share it with another colleague anywhere. This packages all the information up and then any other team member can go in and begin working on it immediately. The software makes printing reports much simpler," says Lasecki.
Key features include Optical Character Recognition (OCR) for counting out objects of the same shape and size within drawings, Multi-Condition Takeoff for selecting any number of conditions and drawing the takeoff once and Intelligent Paste Logic for selecting takeoff objects and pasting them into a similar distance, space, and direction. This feature is a huge time-saver for KHS&S as they frequently engineer and build rooms with the same layouts, such as hotels, apartments, condos, and dorms.
"So, when we are doing our takeoff using On Center's OST, we are truly starting to build the project from that moment, with the materials and man hours that it will actually take to produce in the field," says Lasecki.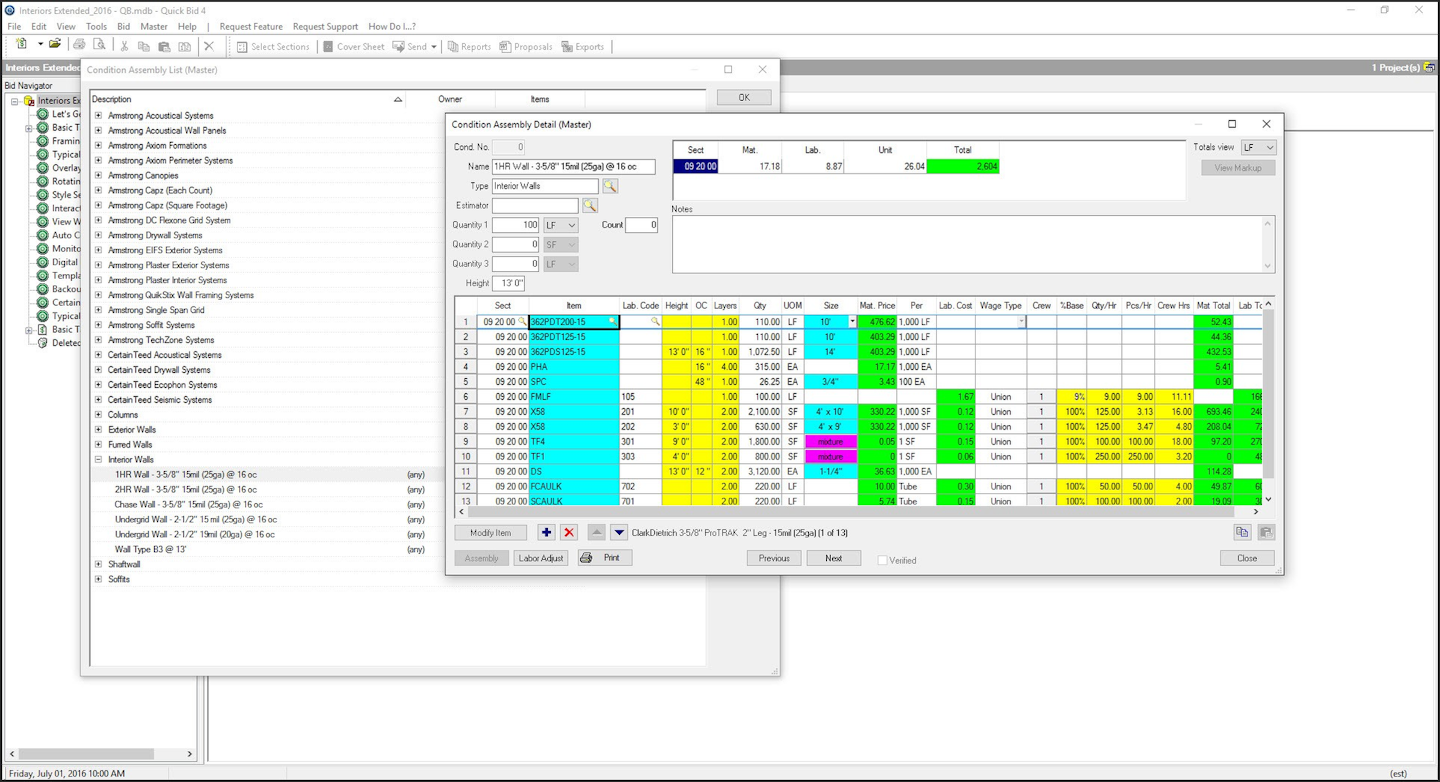 A sample project using On Center Software's Quick Bid software shows project materials needed along with the contractor's established pricing for creating accurate bids quickly.