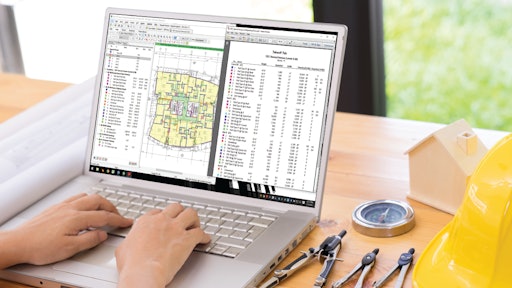 On Center Software
PML Construction Inc., a Nebraska commercial drywall contractor serving the greater Omaha area, has been using On Center's On-Screen Takeoff (OST) and Quick Bid software since 1995.
"At the time PML adopted the software, it was ground breaking," says Mike McCormack, vice president/project manager, PML Construction. "The program hasn't changed drastically since inception but has been improved many times over the years. As long as we update it regularly, it is a workhorse. "

Before working at PML, McCormack had used a competing software, and was aware of the potential benefits of using a good digital estimating tool. Although McCormack says the previous tool was cumbersome, PML Construction eventually chose On Center due to the time savings the company achieved after taking a demo.
"I remember doing hand takeoffs, and it was a nightmare. Using On Center's OST is three to four times faster than doing hand takeoffs," says McCormack.
In fact, reliance on paper spreadsheets is declining. According to On Center, 71% of estimating workflows were dependent on spreadsheets in 2017. That number fell to 63.2% in 2018. Other activities that were usually performed manually have also dropped between 2017 and 2018:
Accounting: 58.7% to 51%

Project management: 46.1% to 45.6%

Bid management: 43.3% to 39.7%
Ease of use
Besides speed, the company appreciates how easy the software is to use. According to On Center, if you are good at manual takeoff, OST will seem natural.
"It's construction estimating software that thinks the way you do, only faster. It calculates the quantities you need for your estimates on your computer screen with a few clicks and drags of a mouse," says Greg Duyka, senior product specialist, at On Center. "OST automatically saves and sends your takeoff calculations to Quick Bid for quick access to incoming change orders and a head start on your next bid."
Features that promote ease of use, include:
Auto-Count Objects. By using Optical Character Recognition (OCR) technology, the feature counts objects of the same shape and size within the drawings.
Intelligent Paste Logic. Selects takeoff objects and pastes them into a similar distance, space and directions.
Multi-Condition Takeoff. Select any number of conditions and draw the takeoff once. OST places the appropriate takeoff objects on the plan automatically, all at the same time.
"It's simple to integrate downloaded plans into the software, simple to build conditions and simple to do any kind of takeoff that is needed," says McCormack. "The software is intuitive to use, and our staff has quickly learned how to use it effectively."
Seamlessly synced
The information between OST and Quick Bid is seamlessly synced. When you make a change in one software, the other software automatically updates. 
"Having Quick Bid and OST software integrated is very nice because as we build the conditions in On-Screen Takeoff, we are also building the conditions in Quick Bid," says McCormack. "Also, if we change a condition in OST, we can see the bid total change in Quick Bid. This seamless integration is a big benefit to us."
A condition is a measurable building object, such as a floor, wall, parking lot or window. A condition is used to describe an object that is being measured and includes information such as name, dimensions, layer, quantity results and appearance settings.  
This seamless integration improves accuracy and reduces rework. Rework can take up to 20% of the cost of the average construction project. OST also improves accuracy by automatically saving takeoff calculations for incoming addendums before bid day, change orders and revised specs.
"When we use Quick Bid, we are able to build detailed conditions that allow us to build accuracy and efficiency into these systems. We also like the reports that are created, and our foremen can use them throughout the course of the project," McCormack said.
The technology is mobile and works seamlessly in the office and field. "Our foremen are equipped with laptops on the jobsite and have access to the On Center Software. What used to take phone calls to resolve are answered by them having access to the software on site. That is a big benefit to us."
Final thoughts
"The bidding software is designed for subcontractors, but I know a lot of general contractors that are using it. They like how easy it is to build conditions. They don't link it to Quick Bid like we do, but they use it to build conditions and possibly to extract that information to put into a spreadsheet. When general contractors use OST, it's great for me. I can just send them my takeoff using a feature called Project Express, and they can view it then print the pages for presentation purposes. I have a lot of customers that do that, and they say that helps them get work. The on-screen takeoffs look very professional."