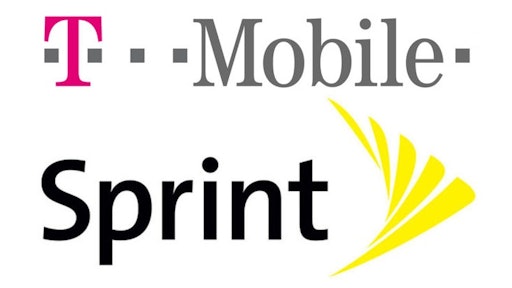 T-Mobile and Sprint have announced plans to merge, completing negotiations to bring the third- and fourth-largest U.S. wireless service providers under one roof. If approved, the move would also reduce the number of major cellular carriers to three.
Both the Federal Communications Commission and the U.S. Department of Justice have to approve any combination of Sprint and T-Mobile. Both companies still need to provide more details about what their merger will mean for current and future customers. Regulatory concerns have scuttled similar mergers in the past, for example: AT&T and T-Mobile in 2011 and Sprint and T-Mobile in 2014.
Some knowns:
T-Mobile will use stock to buy Sprint for $26 billion (context: 2004's AT&T-Cingular deal was valued at about $41 billion)
The combined companies will be known as T-Mobile
John Legere, T-Mobile's CEO, will run the new company
In an announcement, T-Mobile and Sprint claimed the combined company would reduce prices in part by achieving economies of scale. It also claims the merged company would employ more people than the two businesses employed previously, creating thousands of jobs to support a $40 billion investment into the transition to 5G, the next generation of mobile wireless technology.
Legere claimed that even customers of other providers, such as AT&T, Verizon and Comcast, could see price cuts as those companies respond to the business moves of the new company.
That argument reflects T-Mobile's reputation for undercutting competitors. The self-styled "Uncarrier" has transformed how millions of Americans get wireless service, from doing away with long-term contracts to offering unlimited data plans.
When government regulators blocked AT&T's bid for T-Mobile seven years ago, T-Mobile began competing aggressively with the two dominant carriers, offering unlimited data and contract-less, pay-as-you-go options. Customers started switching to T-Mobile, so AT&T and Verizon began offering those values as well.
But Inc.com reports that the combined T-Mobile and Sprint will have more than $60 billion in debt to repay.
And the proposed deal eliminates Sprint, a provider that has been an aggressive price competitor in its own right. Blair Levin, a policy adviser for New Street Research, told the Chicago Tribune that the reduction in competition could lead to higher prices.
"The general view on Wall Street is that as a result of this deal, there are likely to be job cuts and prices are likely to rise," he said.
The Tribune suggests that the merger's impact on prices will probably be a key focus of regulators at the Justice Department and the Federal Communications Commission as they decide whether to approve the deal.
TomsGuide.com says the good news is that T-Mobile and Sprint customers unlikely to feel any impact while regulatory approval is still pending. "From a regulatory perspective, this deal is far from a sure thing so neither operator can afford to let up competitively," said Lynette Luna, principal analyst for telecom consumer services and devices at GlobalData. The immediate impact may be fewer promotions where the two merging companies look to outdo each other, she added.
Both T-Mobile and Sprint have been especially aggressive with how they price their monthly plans, again with an eye toward winning over customers from AT&T, Verizon and each other.
One thing does seem pretty definite, though, if the merger goes through. "Those innovations will end," Luna said. "With three carriers, price pressure will exist but overall prices will most certainly rise."
One of the biggest challenges in this merger will be to bring Sprint customers over to T-Mobile's network, as the two carriers currently have incompatible networks. Sprint uses the CDMA network standard, while T-Mobile uses GSM.
Executives from the two companies say it could take up to three years to move Sprint customers over to T-Mobile's network.
That said, an estimated 20 million Sprint customers already own phones that are compatible with T-Mobile's network, thanks to phones that support multiple LTE bands.
A new roaming agreement will allow Sprint customers to use T-Mobile's network where Sprint's is not available, giving them greater access to coverage. The two companies will otherwise operate independently until the deal receives regulatory approval.
Sprint and T-Mobile say jump-starting the transition to the 5G networking standard is a primary motivator for this merger. 5G is the fifth generation of mobile communications technology that will enable smartphones and other mobile devices to surf the Internet at speeds comparable to some of the fastest in-home Internet connections today. Wireless providers are betting 5G could supplement or even replace the Internet cables running into your home. The new 5G network's reliability can support smart devices like self-driving cars, telemedicine and other high-tech products just coming to fruition.
Later this year, the final 5G standard is going to be approved, but carriers are already working to deploy 5G-capable equipment. TomsGuide.com says T-Mobile plans to bring 5G-capable equipment to 30 U.S. cities this year, with plans to begin offering the higher-speed service in 2019.
T-Mobile and Sprint promote their merger as more than a way to gain an edge over other U.S. carriers – it's also about making sure that the U.S. is among 5G early adopters as well.
Luna agreed that a combined company would certainly thrive at rolling out 5G. "Sprint has a goldmine of spectrum that will be extremely useful for T-Mobile to roll out a comprehensive 5G experience," she said. "If a merger is consummated, it will take years for the two companies to truly combine, but they can immediately take advantage of each other's networks for better coverage for consumers."
Building out a 5G network is costly: Carriers not only need rights to the best airwaves, but also must invest in more cell towers and other infrastructure.
Sprint and T-Mobile say that only together can they pour enough resources into the project to have a world-class 5G network that's competitive with AT&T and Verizon.