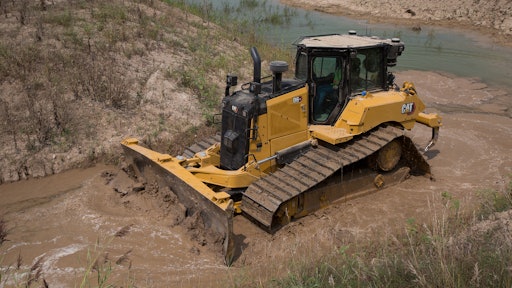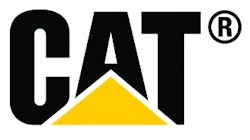 Caterpillar is replacing the D6T with the new 215 hp Cat D6 dozer capable of up to 35% fuel savings with its electric powertrain or 20% better economy with a new four-speed powershift transmission. A redesigned VPAT dozer cuts weight and 10-roller undercarriage option speeds fine grading. Together with updated technology, a tractor with operating weights from 48,000 to 53,000 lb. offers significant grading advantages.
The D6 XE's next-generation electric drive system (shown below right) puts the instantaneous torque of electric motors in their first high-drive power train, keeping the tractor from bogging down when encountering a load. Constant power to the ground, continuous push and greater maneuverability mean faster cycle times. Nothing has to ramp up for it to deliver maximum push, making electric drive the top choice for high productivity and fuel efficiency.
Caterpillar says the added productivity and reduced fuel cost mean customers working the machines hard can expect the D6 XE to earn back in less than two years the 10% premium you pay on top of the cost for the standard, mechanical-drive D6.
The D6 is powered by a four-speed automatic transmission that can increase fuel efficiency up to 20% compared to the three-speed D6T. The fully automatic D6 reduces momentary hesitation when the traditional machine shifts, so more momentum and drawbar power are maintained through each push. The auto shift works up and down the entire speed range, to optimize power to the ground and fuel consumption.
Both power trains offer unprecedented ease of operation. The operator can simply set the ground speed and the dozer will continuously optimize for maximum power and efficiency based on load. With electric drive, there are no gears to shift. The automatic four-speed power train optimizes the transmission without the operator having to shift.
The Variable Power Angle Tilt (VPAT) dozer has a redesigned structure that is stronger, yet lighter, so machine balance is optimized for grading without the need for a rear implement or counterweight. A wide gauge LGP VPAT design, with 36-in. centered shoes, puts more track on the ground to reduce ground pressure to 5 psi. A new optional finish grading undercarriage has ten bottom rollers for smoother grades at higher speeds, even in difficult surfaces like sand and gravel.
[VIDEO] New Caterpillar D6 Models Offer a Beefier Yet Lighter Weight Structure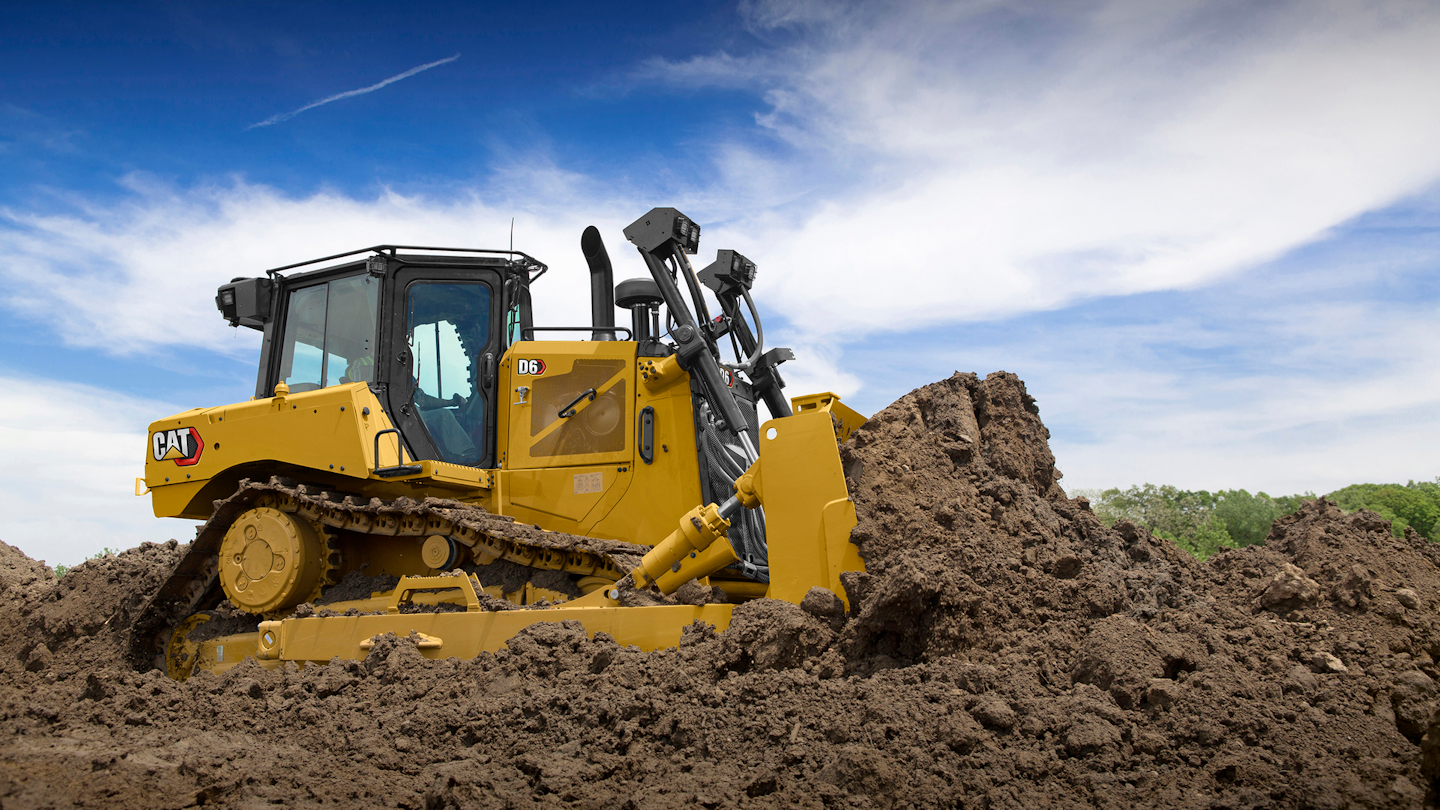 The dozers are available with an updated, factory integrated Cat GRADE with 3D system with a 10-in. touch screen and more intuitive operator interface. The system uses advanced Inertial Measuring Units (IMU), which provide greater speed and accuracy without position sensing cylinders. Smaller antennas are integrated into the cab roof for even better protection. AutoCarry is included to automate blade lift to maintain desired blade load, improving load consistency and reducing track slip.
Cat Slope Indicate is standard, showing the machine cross-slope and fore/aft orientation on the primary monitor for quick and easy reference. Cat GRADE with Slope Assist provides basic blade positioning assistance without the need for added hardware or a GPS signal. 
Factory Attachment Ready Option (ARO) provides optimal mounting locations, brackets, and hardware and simplifies installation of an aftermarket grade control system.
[VIDEO] Intuitive Technologies on Cat D6 Dozers Enhance Operator Performance
Other features include:
Up to 12% reduction in service and maintenance costs via updated components, longer service intervals and fewer scheduled maintenance tasks
Optional Heavy Duty Extended Life undercarriage with Positive Pin Retention pins and link improvements for up to 20% more seal life in high impact conditions
Cat C9.3B diesel engine features a redesigned fuel system, elimination of the NOx Reduction System and a simplified single engine Electronic Control Module (ECM)
Redesigned cab with 10-in. touchscreen display and standard wider air suspension seat or heated/cooled leather seat options
Distributed cab heating/cooling with automatic temperature and blower control circulates air more effectively
Available in VPAT or push arm configurations with standard or two widths of Low Ground Pressure (LGP) undercarriage
Cat LINK telematics technology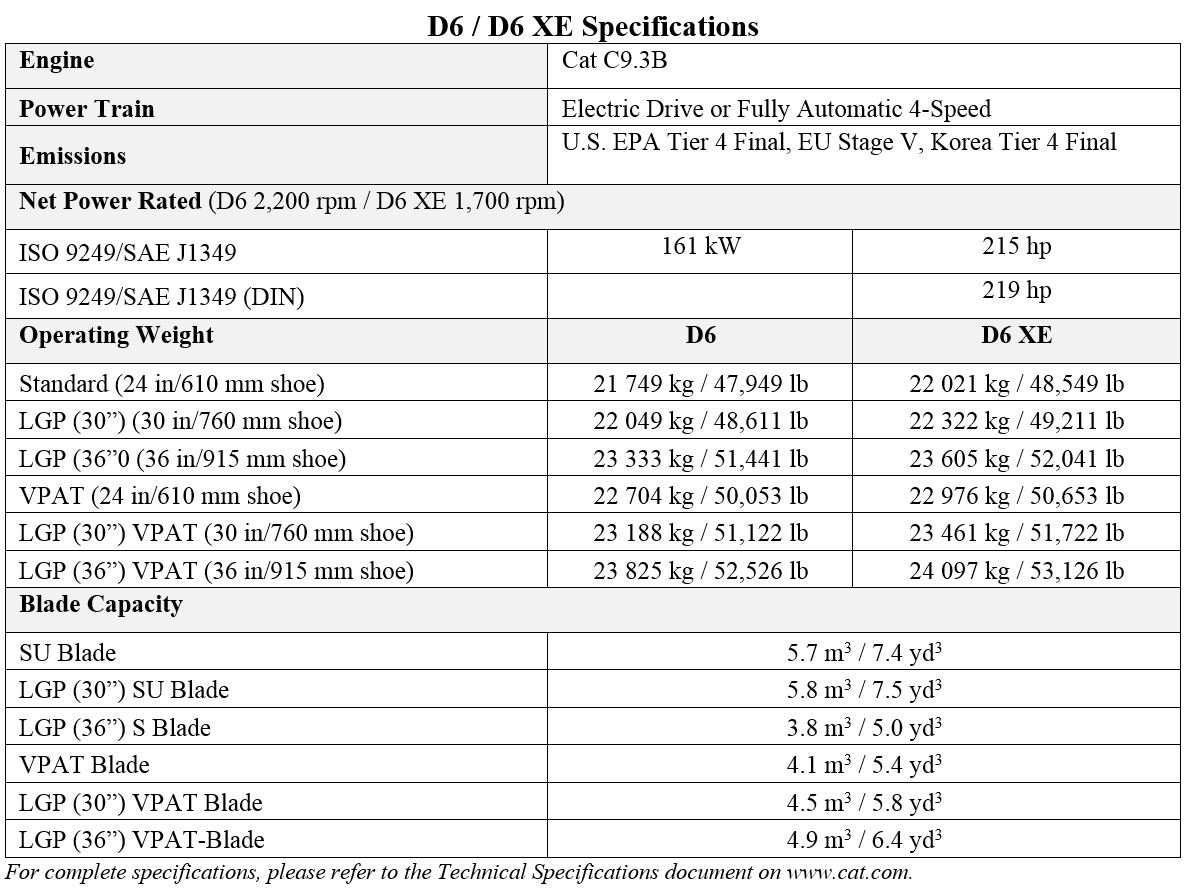 Note: All comparisons to 2014-2016 3-speed D6T dozer
1 Productivity = BCM (BCY)/hour, fuel consumption = L (gal)/hour. Estimates based on average cost per bank cubic meters (cubic yards) of material moved in typical construction applications with 1,500 hours/year. Individual results may vary based on application, hour utilization, operator and other factors.
Request More Information
Fill out the form below to request more information about
Caterpillar Brings Electric Drive to Cat D6 Dozer