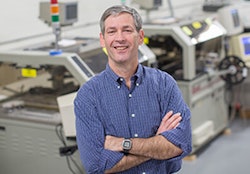 6343 Winside Drive
Bethlehem, PA 18017
Ken Horton is a co-founder of Vizinex and now spends most of his time in the role of VP of Sales and Marketing for the firm. In addition, he is the CFO and CEO of Vizinex.
Horton has worked in the RFID field since 2008, in operations roles as well as in sales and marketing. Prior to the founding of Vizinex,  Horton served in executive positions in several small, high technology firms. His experience includes leadership positions in operations, engineering, and sales and marketing. Over 25 years, his industry experience has included medical instruments, automated electronic assembly equipment, PC related hardware and software products, and semi-conductor production equipment.
Horton ran the international operations of one manufacturer, supervising production facilities in Germany and the U.S. He has helped to lead several organizations through major transitions, including mergers, acquisitions, IPO's and a profitable liquidation.
Horton has an Engineering Sciences degree from Dartmouth College, an MBA from Stanford University, and is a graduate of General Electric's two-year Manufacturing Management Program.