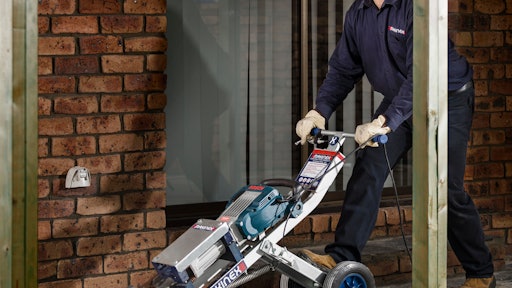 Flooring strippers have been in rental stores for decades, yet that alone doesn't imply matching a machine to your store and customer is easier today. Even though these versatile units haven't changed significantly over the years, it's still a challenge for rental store owners and managers to have the right flooring strippers in their inventory and ensure they do the job customers have in mind. Flooring material, substrate, and glue are all part of the equation, as is the configuration and area of the flooring to be removed and the customers who are going to use it.
Market effects
"The market shift caused by the 2008 recession was an abrupt one and it has left a lasting impression," says Jan Wienckowski, marketing manager for General Equipment Company. "Despite a surging stock market and ongoing construction, people are holding back a bit. In lieu of putting on a new addition or doing something even more costly, both homeowners and business owners continue to renovate and remodel, which often means replacing floors."
Connie Johnson, marketing director for National Flooring Equipment, acknowledges this trend. "Yes, the market for flooring strippers has grown over the last 10 years, thanks in large part to consumer reticence, which is responsible for much of the rebuilding and renovation. Major storms last year have also impacted local markets where there's been a sharp increase in demand for equipment that takes up flooring to help prevent mold."
Making the match
Hardwood, linoleum, vinyl and ceramic tiles, and carpeting are among common floors, all of which adhere to a substrate that could be made of concrete, hardwood, plywood or another material. Vinyl tiles and carpeting are among popular floors, although, as Wienckowski notes, the region of the country plays a role, too. In the Midwest, for example, there's a tendency to see carpeting versus California and southern states where wood floors and ceramic tiles are more prevalent.
Most flooring strippers are designed to remove a variety of flooring material, yet they all have their strengths. The Makinex Jackhammer Trolley, which can be used with five different Jackhammer brands, can remove hardwood, thin set, VCT (vinyl composition tile), tiles, and vinyl. Attaching the company's Tile Smasher Head allows it to make quick work of smashing ceramic tile.
Wolff, a subsidiary of Uzin-Utz, has been manufacturing flooring strippers since 1954 and introduced the industry's first self-propelled model in the 1950s. One of its five models, the Turbo II Stripper, has been on the rental market for 25 years. A fast blade speed (5,000 strokes per minute) and a wood stripper set introduced four years ago, makes it a good choice for customers intent on removing hardwood floors. The unit is belt-driven, with one belt for the striking mechanism and the other for the drive mechanism.  
According to Wienckowski, General Equipment Company has two rental store workhorses in its lineup, the walk-behind FCS16 and CTS12. The former, he noted, is geared toward removing glued-down, rubber-backed carpeting; linoleum; and VCT. The CTS12 is designed for removing ceramic tile, heavy pavers, and glued-down wood flooring.
"We also have a hand-held FCS5AC and the walk-behind FCS10 for smaller areas such as stairwells, bathrooms and closets that remove the same flooring material as the FCS16," adds Wienckowski.
In addition to five walk-behind flooring strippers, National Flooring Equipment has eight ride-on strippers or scrapers that run either on battery power or propane. The units can be fitted with a variety of blades and shanks suitable to the task at hand, be it be ceramic or vinyl tile, hardwood or carpet.
More is better 
As always, determining how customers are going to use a machine is critical to their satisfaction. To ensure they leave the store with the right flooring stripper and blades, the more questions they can be asked and answer, the better off they will be.
Most will have a good handle on flooring type, square footage, and room configuration, but substrate and how flooring is adhered to it might be more of a mystery, especially for DIYers. That's one reason Dan Gill, brand manager for Wolff, emphasizes that properly setting up a machine can be trial and error for them.
"We recommend rental stores stock four different blades for our machines, a self-dicing blade, a 3 x 5 blade, a VCT blade, and a wood stripper set. Ideally, Turbo II flooring strippers should go out the door with three individual weights, each weighing 66 pounds. One will be adequate for most vinyl and carpet surfaces. More will be required when removing difficult hardwood floors or other surfaces that are glued down with newer products like urethane."
National Flooring Equipment's Johnson adds, "For the typical DIYer, a small walk-behind machine like our 550 walk-behind is a good match. It's our most basic model. The customer can plug it in, set the height of the shank or blade and go. Our 6280 HD Gladiator delivers more power and torque for the tougher jobs, and is a more versatile machine."  
Hand-held models to remove flooring from bathrooms and other tight areas are also available. The handle of Wolff's Duro Stripper, for example, can even be removed so the machine can be used on stairs. "When fitted with a razor blade tool, it's perfect for removing glue, too," notes Gill.
What's in your inventory?
Flooring strippers, just like other equipment in your inventory, need to be easy to operate, easy to transport, and reliable. "A machine that reduces labor time in removing an existing floor can be important, too," says Gill. "The Turbo II's striking mechanism is not only fast, it moves forward and backward instead of oscillating. We like to refer to it as a jackhammer on wheels."
If that's what you're looking for, Makinex has just the tool. "Any of these five Jackhammer brands - Bosch, Hilti, Makita, Dewalt or Hitachi - can be attached to our Jackhammer Trolley," explains Makinex Marketing Coordinator Dani Planto. "The shock absorbers in the main handle and the rubber composition of the handle, along with the the block set that attaches the jackhammer to the trolley, serve to reduce vibration; the trolley itself carries the jackhammer's weight."
She continues, "The handle can be adjusted to six different heights to accommodate different operators and change the angle of the blade. A large foot plate allows the operator to apply more force to create extra leverage and increase forward speed."
Planto emphasizes the trolley is portable and can easily be loaded into trucks and unloaded. It also significantly reduces operator back stress while removing flooring.
General Equipment recommends its Gen 3 FCS16 for jobs up to 15,000 sq. ft. and model FCS18 for those up to 30,000 sq. ft. "A ride-on flooring stripper would likely be required for large commercial applications over 30,000 sq. ft.," notes Wienczkowski, who mentiones the company is introducing two new flooring strippers in 2018.
"Our new Gen 3 FCS16 will have many of the same features as its predecessor, such as the Back-Saver Blade Control System, along with an improved armature and armature bearing system that is now greaseable with a centralized grease fitting for even greater service and ROI. It also features a quick-release folding handle, a new easy-to-use magnetic switch, convenient built-in weights, and a new blade clamping system that prevents flooring material buildup between the blade and clamp."
The company is also introducing a new self-propelled FCS18 that features variable speed forward and reverse plus an emergency stop in the event of machine loss of control during operation. It is a dual motor unit; one motor for the exciter plate and blade and the other for the drive mechanism.
Wienczkowski says, "This is a heavier unit that is designed to take the physical stress off the operator, letting the machine do the work, especially when encountering more stubborn materials and larger areas. Again, as part of our design philosophy, the handle and weights can be removed for easy transportation."
For large commercial-type projects, National Flooring Equipment offers eight ride-on flooring strippers, either battery or propane powered. "Depending on the job, batteries should run for a full work day before they need recharging," reports Johnson. "All our battery-powered ride-on scrapers feature a battery tray that can easily be replaced with fully charged batteries." 
New and different
Manufacturers acknowledge that changes to their product offerings over the last several years have been more functional than revolutionary. Better ergonomics, design enhancements that improve efficiency, new blade offerings and so forth all work to improve performance.
Wolff's Turbo II has a couple unique features, though, including a USB port for operators who want to charge their cell phones and keep them within easy reach while they're working. In 2018, the company will also introduce an hour meter on the unit. Gill explains, "The hour meter serves two functions: Customers won't be able to return the machine, claiming that it didn't work, when indeed the hour meter sends a different message. It will also alert the rental company to recommended service intervals."
Johnson adds, "Technology is continuously extending battery life and improving charging systems, both of which make battery-powered units like our ride-on machines even more practical for large commercial projects."
General Equipment's Wienczkowski identifies a growing trend toward smaller self-propelled machines and says he expects to see remote-controlled machines on the market not too far down the road.
"Operating a flooring machine remotely eliminates vibration and reduces fatigue," he emphasizes, "but pricing may narrow market significantly. Wolff might have a remote-controlled flooring stripper in the U.S. market in 2019. The machine it currently has on the European market is attached to a 6-ft. tether. "Wireless would be more agreeable," says Gill, "but that would require a steeper learning curve that would likely make it a difficult purchase for most rental stores."
Never say never, though. As flooring becomes more durable and glues more adhesive, flooring stripping manufacturers will have to keep pace and continue to offer machines that get the job done quickly and efficiently while reducing operator stress and fatigue.