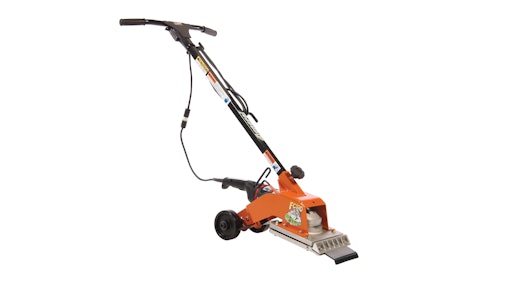 General Equipment Company has introduced the FCS10 Gen 2 RIP-R-STRIPPER floor covering stripper. The redesigned unit offers new features for improved productivity, operator comfort, and ease of transport. It is an ideal solution for removing a wide range of floor covering materials found on both commercial and do-it-yourself projects.
Compatible with a variety of straight and scoring type blades up to 10-inches wide for use on wood and concrete surfaces
Small, lightweight design (44 pounds without a blade) for productivity in hard-to-reach areas
Anti-Vibe caster wheels for maneuverability, minimizing the amount of vibration experienced by the operator.
New detachable handle design.
Improved flooring material flow over the front of the unit.
Ergonomic all-steel handle has been widened for greater comfort and control.
A 2,300-watt power unit that operates from a standard 15-ampere circuit.
New on/off switch location at the top of the operator handle for greater visibility and easier access.
Request More Information
Fill out the form below to request more information about
General Equipment Company Second Generation FCS10 Floor Covering Stripper