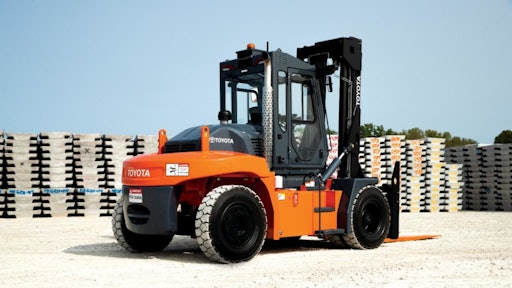 Toyota Material Handling (TMH) has introduced the next power player to the company's lineup of heavy-duty equipment, the new Toyota High-Capacity Core IC Pneumatic forklift, which is available in five different models ranging in capacity from 22,000 to 30,000 lbs. 
The Toyota High-Capacity Core IC Pneumatic forklift is ideally suited for lumber, steel, and automotive customers, but designed with the versatility to perform all your heavy-duty tasks where major strength is required. Assembled in the U.S. with the Toyota Production System (TPS), this forklift combines superior quality, power, and durability. 
"The new Toyota High-Capacity Core IC Pneumatic forklift was built to meet our customers' toughest challenges. It is engineered to move massive loads and reliably deliver the strength you need," said Tony Miller, TMH senior vice president of operations and engineering. "Even when you are up against the heaviest materials, you can count on Toyota to help get the job done." 
The forklift is powered by a Cummins four-cylinder diesel engine, delivering superior torque and 173 HP. Included is a Dana TE-10 transmission with electronic control that provides smooth, reliable performance. These features are complemented by the drive axle, offering maximum durability in high-capacity and outdoor applications. Engine protection and high-capacity cooling systems add another level of assurance for advanced durability.
Additional features enhance operator control, comfort, and safety. The Toyota High-Capacity Core IC Pneumatic forklift comes equipped with a 7-in. state-of-the-art MD4 touchscreen display that provides key forklift information and advanced diagnostics, while fingertip controls allow operators to easily adjust hydraulic functions. The operator cabin includes low-mounted tilt cylinders and pillar-free front glass for clear, unobstructed sightlines. An optional pre-operation checklist and PIN code entry system can help limit access to only pre-approved, properly trained professionals to operate this powerful piece of equipment. Customers can also tailor orders to fit their ergonomic and comfort preferences by pairing the standard premium cab with air-ride seat and climate controls.
Customers will appreciate the forklift's wet-disc brakes, advanced hydraulic system, and manual tilting cab as part of the Toyota Forklift pledge to help minimize downtime and maximize productivity. These ease-of-maintenance features assure dependable daily performance, improve serviceability, and help reduce downtime and repair costs over the forklift's lifecycle.
The  performance of the Toyota High-Capacity Core IC Pneumatic forklift is backed by Toyota 360 Support giving customers access to the Toyota Forklift dealer network, a guaranteed four-hour emergency response time by factory-trained service technicians, and Toyota Genuine Parts, which carry a two-year parts warranty. 
Request More Information
Fill out the form below to request more information about
Toyota Material Handling High-Capacity Core IC Pneumatic Forklift