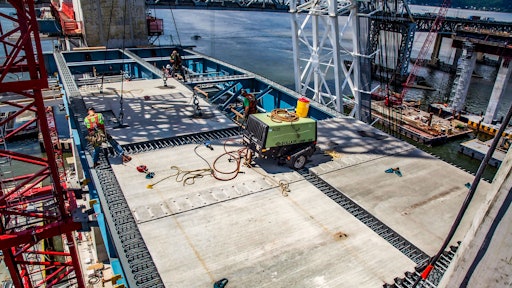 When determining which portable diesel air compressors to add to rental fleets, rental houses have many choices. Understanding each product family, its target customers and suitable applications is necessary to ensure rental houses invest in the right equipment.
Portable air compressors - available at 185 cfm or lower and up to 1600 cfm - are typically broken into what is known as 'small and medium air' and 'big air.' Small and medium machines produce up to 550 cfm of air, and big air machines produce 600 cfm or higher. Both target different customers, and are used for differing applications.
Small and medium air
Two of the most common small air compressors are the 185 and 375 cfm families. For both families, the target customers are often contractors renting units for short periods of time - anywhere from one day to a few weeks.The 185-cfm portable air compressor typically produces up to 100 psi. For low pressure applications requiring between 80-125 psi, rental customers are typically general purpose compressed air users such as:
Building trades requiring the use of pneumatic tools
Construction contractors for demolition, cleaning, air hoists, rock drilling, pile driving, foundation drilling, concrete pouring or pool deck resurfacing
Utility contractors for clay and trench diggers, cable blowers and pipeline cleaning and testing
Agricultural companies for irrigation blowout or combine cleaning
Landscaping companies for sprinkler blowout
General building and road construction for highway bridges, dams and concrete pouring
Pipeline/utility and communication contractors for pipes re-lining, dewatering, pigging, fiber optic cable jetting, etc.
The 375-cfm family of portable air compressors produces up to 200 psi of pressure. This opens greater opportunities, as the machines can be used for both low pressure and high pressure applications. Low pressure applications requiring up to 125 psi include general purpose compressed air users - such as those in the building trades, construction contractors, utility contractors and agricultural companies. In addition, industrial customers seeking plant backup air require low pressures around 100-110 psi. This could  include anything from automotive and tire manufacturers, to steel mills and foundries, to paper and pulp mills. High pressure applications suitable for the 375-cfm family could include well drilling, media blasting, heavy construction and pipeline/utility/communications line work.
Big air
Large portable air compressors 600 cfm or above, or big air, are typically used in long-term rental applications lasting weeks or months. Machines such as the 900, 900/1150 and 1600 cfm can be used for both low and high pressure applications. Low pressure applications, or those requiring 80-150 psi, make the 900 and 1600 cfm machines suitable for heavy construction, oil refineries and port facilities. Applications could include large surface painting or media blasting for bridges or ships; offshore rig maintenance and repair, flaring and decommissioning; nitrogen generation to inert oil storage facilities and oil tankers; or irrigation blowout for golf courses or large commercial properties.
Plant backup air is another low-pressure option. Potential rental customers include a range of industrial manufacturers, from automotive and equipment, to steel mills and foundries, to power plants and textile manufacturers. Facilities requiring around-the-clock operations benefit from having a reliable backup air system. Other general uses include dry ice blasting, snow making, and irrigation or water line blowout for large commercial properties or golf courses. For applications requiring high pressure at 300 psi and above, 900/1150 and 1300/1525 model big air machines support mining and drilling applications. Offshore applications could include rig maintenance, exploration and drilling, oil and gas pipeline testing, geothermal drilling, and nitrogen generation.
Five ways to help build a more profitable rental business
Once rental houses become familiar with the target customers and suitable applications for each compressor family, they should look for ways to create a more profitable business. Five tips to help fleet managers maximize their profits and utilization rates include:
1. Treat your equipment right - When portable air compressors are well maintained, their performance and operational life will be extended. While exact maintenance plans vary by compressor size, engine manufacturer, climate in which the equipment is used and day-to-day operating conditions, daily maintenance should include:
Checking oil and fluid levels in the engine and compressor and replenishing as needed
Filling the fuel tank and draining any water from the fuel/water separator
Checking dust collectors and cleaning as needed
Checking and cleaning the coolers and engine chambers if working in dirty environments
One of the most frequent, yet preventable, reasons a compressor may over heat and shut down is due to dirty or clogged coolers and radiators. Depending on the environment in which the compressor is used, the coolers may need to be cleaned several times per day. Applications such as general farming, cotton farming and media blasting are most susceptible to materials getting lodged in the coolers and chambers.
Filters and engine belts are the most common wear parts in portable air compressors. Air and oil filters and changing the engine and compressor oils should also be completed to manufacturer recommendations. To ensure maintenance in a timely manner, and to maximize equipment utilization rates, maintain a ready stock of these frequently used replacement parts.
2. Promote safety - By promoting safety to customers, you can help protect yourself against liability. Consider incorporating safety features into rental contracts or outfitting the compressors with additional safety features. One example would be a Whip Check attachment. A Whip Check is a two-looped wire harness connecting the compressor's service valve and the hose, or other hose connections. If a hose or coupling unexpectedly fails, the Whip Check reduces injury risks from pressurized hoses. Some rental companies require customers to participate in training sessions before renting equipment. For instance, with Tier 4 Final engines, there are requirements customers either may not be aware of or accustomed to from previous generations of compressors. Customers may need to refill Diesel Exhaust Fluid (DEF) in the compressor at the right intervals, just like diesel, so the machine does not go dry. Many rental companies are including this instruction in rental agreements and safety programs, to protect both the customer and the equipment.
3. Add services to become a one-stop-shop - To become a customer's rental house of choice, many companies are adding services to become a one-stop-shop. As with most rental equipment, the customer is responsible for refueling the equipment prior to return. However, some rental companies have begun to take a closer look at fuel economy. This is particularly important on larger air compressors, which typically run for extended periods of time and consume a lot of fuel, which quickly adds up. Some rental companies now offer fuel services on larger machines, where they come to a jobsite and refuel the equipment. This can be a win-win situation, where the customer eliminates downtime, and the rental house has an additional opportunity to grow their business.
4. Utilize telematic solutions - Many Tier 4 Final portable air compressors offer telematic solutions, or the use of diagnostic, monitoring and GPS technologies to log, track and transmit machine data in real-time to smartphones, tablets or desktops. When configured, telematics can alert rental houses when diesel exhaust fluid (DEF) or fuel is low. In addition, telematics can transmit maintenance reports/faults, compressor health monitoring, and assist with maintenance planning. Simply put, telematics help troubleshoot problems before they happen. If something does go wrong with equipment on a jobsite, a service adviser can remotely troubleshoot the unit from a mobile phone before sending out a technician. This decreases downtime for both the customer and the rental house.
5. Consider adding dual-pressure machines - Cost of ownership continues to be a hot topic in the rental industry. Rental companies are increasingly looking for ways to create flexibility within their fleets and increase utilization rates. Many have found purchasing dual-pressure machines creates increased utilization, as the machine can then be used for multiple applications. For instance, a 400HH portable air compressor allows output of air at a low pressure (100 psi) and high pressure (200 psi) with the flip of a switch. With this, the 400HH can be used for construction or sprinkler blowout at 100 psi and media blasting or dry ice blasting at 200 psi. This means not only can it be used in two different applications but also in two seasons, further increasing utilization. In big air, a 900/1150 combo compressor provides dual pressure and air flow options of 900 cfm at 500 psi and 1150 cfm at 350 psi. This machine allows renters to use the same machine throughout the entire drilling process in oil and gas applications. For instance, 350 psi would be used for faster drilling at the start of the process when a great deal of pressure is not required. As the drilling goes deeper, and a need for higher pressure is realized, the 500 psi would then be used. This machine would eliminate a work stoppage and the need to swap out the machine for one producing higher pressure.
Making a more profitable rental business is often about reducing costs. By providing additional services - such as telematics, fuel services and remote troubleshooting - it can  help rental companies win trust from their customers and encourage long-term, repeat business.
Companies in this article