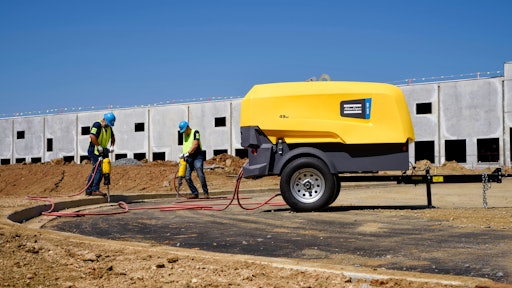 Atlas Copco
Although relatively simple on the surface, air compressors have come a long way in their ability to offer customized solutions to address jobsite conditions and power needs. We asked leading suppliers to share some insights on the features and options that are enabling today's towable air compressors to tackle most any environment and application.
Controlled Costs
"Today the portable compressor products being produced need to meet emissions requirements as well have the latest in technology to allow the operator complete control while keeping cost to a minimum," notes Clayton Jones, product marketing manager – Portable Air, Atlas Copco Power Technique.
He notes some things being done to make this happen include: "New electronic regulation systems allow for variable pressure and flows in one machine, making a very versatile product for multiple applications. Things such as eco-mode or fuel systems that are communicating with the controller allow for low loads or rpms when the air demand is not there. Lastly, the goal today is to provide compressors with a small footprint and towing package for smaller jobsites as well logistical challenges."
Quiet Versatility
"When it comes to choosing a towable air compressor for your jobsite, consider two key factors: noise and versatility," advises Paul Daly, sales director, Allmand. "Crews operating in urban or residential areas know sound is a significant factor — especially now when more people are working from home.
"Allmand manufactures the quietest air compressors on the market," he asserts. "[Our] most popular air compressor, the MA185, is rated at 62 dBA.
"Additionally, choosing a versatile towable air compressor can ensure flexibility on the jobsite," he continues. "For instance, a unit such as [the] Maxi-Air 375DP can operate at 100 or 150 psi. The option to adjust the psi to meet specific application needs leads to higher efficiency and productivity."
Flexible Flow
According to Sullair, its Mid-Range Series is engineered to be one of the most versatile and efficient portable air compressors on the market. It features Electronic Spiral Valve Technology, which helps maximize fuel efficiency and extend runtimes by precisely matching air supply to demand.
The compressor covers a range of pressure and flow options from 800 to 1,100 cfm at 100 to 200 psi. This means the same compressor can serve multiple applications, including construction, pipeline, fiber optics, shipyards, abrasive blasting and more. This power is packed into a compact and durable package for easy towing and maneuverability.
Adjustable Pressure
Chance Chartters, sales manager - Mobilair for Kaeser, points out that the Mobilair M125 air compressor comes with the onboard Sigma Control Mobil controller that allows the user to adjust the pressure anywhere between 85 and 205 psig. This flexibility accommodates the various requirements for powering breakers, cable blowing and high-pressure applications such as drilling.
"Most Mobilair units can also be customized with optional integrated aftercooler and filtration packages to provide optimally cooler, drier and cleaner air," he adds. For example, this allows for trouble-free blasting and continuous abrasive flow in blast pot applications.
Two Units in One
Doosan Portable Power offers an optional onboard 4-kW generator for its XP185 air compressor. With this option, the compressor can simultaneously power both air and electric tools. The machine is equipped with two 120V duplex outlets compatible with most hand-held electrical tools, battery chargers and even mobile phone chargers.
The company also offers four models of dual pressure and dual airflow compressors. These machines have pressure and flow options typical of two units in a single air compressor. Operators can change from low-pressure to high-pressure air at the push of a button.
Keeping Its Cool
"Chicago Pneumatic compressors have added spill containment as a standard feature to our line of compressors to help protect the environment," states Eric Massinon, business development manager, Chicago Pneumatic Power Technique. "For options, we offer several, but the one that allows the biggest operating advantages is the aftercooled and water separator option. Starting with the CPS 250 model up to the CPS 1,800, we have the option for aftercoolers and water separators (AC/WS). And from the CPS 400 and above, we offer the added feature of filtered air, providing instrument-quality air.
"This AC/WS option is necessary when using the compressors for media blasting, removing water load," he continues. "This option is even more important when being used for plant air backup. The aftercooled and separator [option] removes a large percentage of the water load in the air and it reduces the discharge air temperature. This is needed when plumping a portable air compressor into a plant air system with any type of dryer system."
Massinon adds that special options can be offered with quantity orders of air compressors.