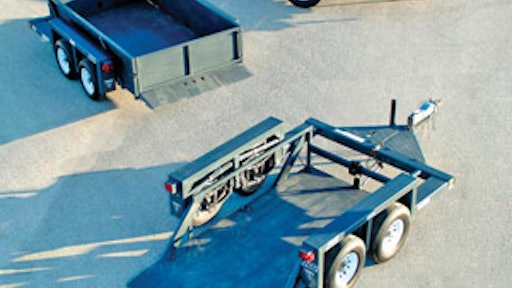 Terex Load King SA70
The 70,000-lb. SA70 hydraulic sliding axle trailer includes a 12,000-lb. line pull winch (20,000-lb. optional) and a 6.5° load angle.
15° dump angle
20 D-Rings and multiple chain slot design
Features 80/100 KSI steel, cambered deck beams, crossmembers on 8-in. centers and Apitong decking
Hendrickson Turner HT air ride suspension
Trail-Eze T70XT Low Load Angle Trailer
The T70XT low load angle trailer offers a 70,000-lb. distributed and 40,000-lb. concentrated capacity in 10 ft.
48-ft. overall length and 102-in. overall width
12,000-lb. winch and wireless remote control
Long tail with 10° load angle and full tilt bed
Eight 235/75R X 17.5 radials (H) rating
Trail King Advantage Series SA
The wheels on the Advantage Series Sliding Axle (SA) trailer can move forward 212 in., allowing the deck to tilt down for a 6.5° load angle.
Well-suited for loading and unloading equipment with low ground clearance
New tapered design of the tail portion of the deck
Hydraulic cylinder system eliminates the need for traveling hydraulic lines
Flexible track system protects air and electrical lines
Bil-Jax Escalate Hydraulic Lift Trailers
The Escalate hydraulic lift trailers lower and raise the deck to and from the ground.
6° ramp angle
ET 7000 with 7,000-lb. capacity
ET 12000 with 12,000-lb. capacity
Leaf spring suspensions
Welded, heavy gauge, powder-coated steel used to create a rugged frame
Featherlite Model 1610
The Model 1610 features Premium Advantage wood flooring with high moisture resistance.
Contractor package includes a side door, protective gravel guard, stabilizer jacks, dome light, six recessed tie-downs and e-track on the walls for securing tools and equipment
Corrosion-resistant aluminum construction
Available in 8- to 18-ft. lengths
Optional rear load ramp
JLG Triple-L Trailers
Triple-L trailers feature the Power Deck hydraulic system, which lowers and raises the deck in less than 15 seconds.
20 models in flatbed, utility and fully enclosed configurations
2,000- to 10,000-lb. capacities
Deck sizes in 4-ft. 4-in. to 6-ft. widths and up to 16-ft. lengths
Two lockable steel compartments
Quick-adjust tongue jack
12-volt system powers the hydraulic pump used to lower and raise the deck
Transcraft Lower-deck Height Option
A lower-deck height option of 36 1/2 in. in the unloaded condition is now available on the DTL3000, DTL2100 and D-Eagle drop-deck trailer models.
Allows for transport of taller loads, plus provides easier access to the lower deck area
Eliminates need to deflate or remove equipment tires to ensure proper legal height of load
Towmaster Contrail C-14LS
The Contrail C-14LS is a deck-over style trailer designed to transport mid-sized equipment and larger skid steers.
Hauls 14,000 lbs.
Two 7,000-lb. Dexter Torflex axles
235/85R x 16 - 10-ply tires
8' x 16' or 18' deck
Wood-covered 5-ft. beavertail and 5-ft.-long, side-adjustable ramps
TerraMarc Load-N-Lift Trailers
The Load-N-Lift hydraulic trailers are suited for a variety of low-clearance, compact and mobile equipment.
Completely lower the deck to the ground for ease of loading and unloading
Electric hydraulic or manual hand-pump
51- to 81.5-in. widths
10-ft. 10-in., 15-ft. 6-in. and 18-ft. 2-in. lengths
Advance Metalworking Lo Riser Trailer
The 6,000-lb.-capacity Lo Riser trailer features a 74" x 11' 4" load carrying platform that can be hydraulically lowered to ground height.
Built-in ramp for drive-on access without any crown point
Minimum 5° angle when lowered
Constructed of High Strength Low Alloy (HSLA) steel
7,950-lb. GVWR
Combination of hydraulic and rubber suspension
Best TB82x16T Tandem Tilt Bed
The TB82x16T tandem tilt bed trailer can be rated up to 16,000-lb. GVWR with a 13,000-lb. capacity and 12° load angle empty.
Dampening cylinder for tilt-mode cushioning
7K torsion axles
Sealed beam lighting
Powder-coated finish
Adjustable hitch
Eliminates need for ramps
Felling IT Series
The Industrial Tilt (IT) Series offers simplicity of design along with durability.
10° to 14° loading angle, dependent upon deck length
True actuating tilt bed
9,980- to 18,000-lb. GVWRs
Dual cylinder tilt cushion
Deck lengths from 14 to 20 ft.
Landoll 900 Series Traveling Tail Trailer
The 900 Series traveling tail trailer is available in 35- or 50-ton capacities.
One hydraulic control for three hydraulic functions
No hydraulic lines, hinges or pins behind the tail to maintain
Tandem or triple axle
12-, 14- or 15-ft. tail lengths
Low load angle to as low as 11° possible with 15-ft. tail
Standard powder coat paint, LED lighting package, 12-in. crossmember spacing and more
Eager Beaver Paver PT Series Trailers
The Paver PT Series is designed to safely load rollers, pavers and milling machines.
Low front approach
Tapered ramps and gradual slope
Low load angle
Companies in this article