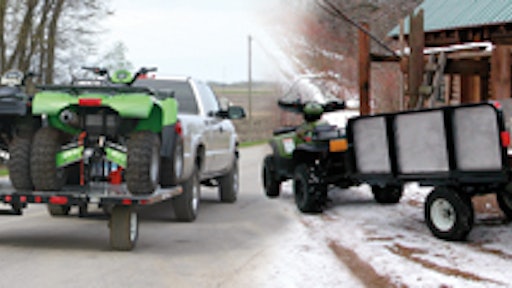 Transcraft
Transcraft Drop-deck Trailers
The DTL 2100 and DTL 3000 drop-deck trailers feature standard beavertail ramp systems or a level-deck option.
Can be loaded to the end of the trailer with the addition of 4x4 timbers
Designed to haul heavy equipment payloads at lower fuel costs
Adjustable ramps allow them to be placed the full width of the trailer
Spring-assisted lift package standard
Hiniker Company
Hiniker Dual Track
The Dual Track is designed to be two trailers in one.
Quickly converts from 64-in. axle in highway mode to 40 in. in trail mode
Constructed of formed tubular steel
1-ton load capacity
Best Trailer, Inc.
Best Trailer TB82x16T Tandem Tilt Bed
The TB82x16T tandem tilt bed trailer can be rated up to 16,000-lb. GVWR with a 13,000-lb. capacity and 12¡ load angle empty.
Dampening cylinder for tilt-mode cushioning
7K torsion axles
Sealed beam lighting
Powder-coated finish
Adjustable hitch
Eliminates need for ramps
Travis Body & Trailer Inc.
The Mule from Travis
The Mule horizontal discharge asphalt trailer from Travis Body & Trailer was specifically designed for hauling and unloading asphalt.
 

ÒWaveÓ body design -- a dual-walled smooth-sided aluminum trailer -- horizontally discharges asphalt into paving machine or transfer vehicle by using a Walking Floor system made by Keith Mfg. Co.
28-foot-long, four-axle trailer, legal for 80,000 pounds gross in 37 states, weighs 10,998 pounds
Typical payload of 27 tons
Stahl Commercial Truck Equipment
Stahl Service Trailer
The Stahl Service Trailer (SST) combines the organized side compartment storage of a service body with the full-height interior storage of a trailer.
Exterior doors allow access to lower compartments, and tools can be positioned where needed
Large, walk-in interior storage area features open floor storage and adjustable side shelving
Available in 12- and 16-ft. models
Optional features include compartment lighting and ladder racks
Dakota Mfg. Co Inc./Trail-Eze Trailers
Trail-Eze T70XT Low Load Angle Trailer
The T70XT low load angle trailer offers a 70,000-lb. distributed and 40,000-lb. concentrated capacity in 10 ft.
48-ft. overall length and 102-in. overall width
12,000-lb. winch and wireless remote control
Long tail with 10¡ load angle and full tilt bed
Eight 235/75R X 17.5 radials (H) rating
Dethmers Mfg. Co. Inc.
DEMCO DT6000 HD from Dethmers
Aluminum tilt-bed trailer
5,980-lb. GVWR
Overall trailer length of 20 ft.; 14-ft. bed length
Maximum loading degree incline of 15 degrees
Surge brakes on all four wheels with self-adjusting uni servo brake shoes
Felling Trailers
Felling Trailers Pan Series
For skid-steer loaders
Various deck options
8,000- to 16,000-lb. GVWRs
Towmaster Trailers
Towmaster Contrail C-14LS
Deck-over style trailer designed to transport mid-sized equipment and larger skid steers
Hauls 14,000 lbs.
Two 7,000-lb. Dexter Torflex axles
235/85R X 16 - 10 ply tires
8- X 16- or 18-ft. long deck
Wood covered 5-ft. beavertail and 5-ft. long, side-adjustable ramps
Dakota Mfg. Co Inc./Trail-Eze Trailers
Trail-Eze TE70XT
Low loading angle with no moving axles
Small-tire equipment loads as easily as larger equipment
No worries about axle alignment, parts wearing out or not being able to push back under the load
Landoll Corp.
Landoll 900 Series Traveling Tail Trailer
The 900 Series traveling tail trailer is available in 35- or 50-ton capacities.
One hydraulic control for three hydraulic functions
No hydraulic lines, hinges or pins behind the tail to maintain
Tandem or triple axle
Available with 12-, 14- or 15-ft. tail lengths
Low load angle as low as 11 degrees is possible with 15-ft. tail
Standard powder coat paint, LED lighting package, 12-in. crossmember spacing and more
Felling Trailers
Felling Rigid Neck Semi Tilt Deck Trailer
The Rigid Neck Semi Tilt Deck trailers come in three sizes ranging from 35- to 50-ton payload capacities.
Tilt deck has standard 9-ft. top deck with tapered angle for smooth transition from the main deck when loading/unloading
8-ft. 6-in.-wide white oak decking with overall deck length ranging from 38 to 53 ft.
Uni-mount 8-bolt hub pilot wheels
200,000-lb. twin two-speed landing gear
Spring brake chambers on all axles