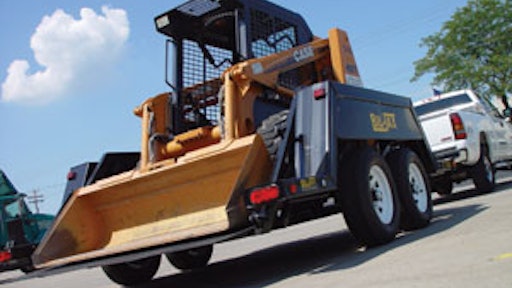 With the hectic pace a rental business endures, it's sometimes hard to keep maintenance schedules current for all your equipment. But you know, without proper maintenance, your customers won't get the highest productivity they need from your equipment and will look elsewhere for solutions to their problems. It's the same with trailers. But for some reason, trailers are sometimes ignored or forgotten until a crisis — like the brakes not working — happens.
To get long life, safe operation and to meet your customers' expectations, scheduled preventive maintenance needs to be applied to trailers just like any other equipment in your fleet.
"In the rental industry, success is about product lifecycle," says Clint Lancaster with the Trailer Safety Institute. "The longer the product lasts, the longer income can be generated. Preventive maintenance will extend the life of a trailer as well as extend the income for the rental business.
"The consequences of poor maintenance not only includes lost rentals, but also excessive cost in extra repair time as well as time lost retrieving broken down trailers from customers on the road. The worst case scenario, of course, is litigation from an accident caused by a poorly maintained trailer."
Where to start
"Trailers are pretty simple equipment," says Chuck Hutchinson with bil-jax. "If you follow a timely, routine maintenance schedule, you'll be fine. It's when they're neglected that little things turn into bigger costs."
The first step is knowing your trailer and its maintenance requirements. Read the owner's manual carefully and review it with your staff. Inspect the trailer and become familiar with it. Make sure your employees receive proper training as well.
A good visual inspection of the trailer when it's returned from a rental is the next step. A walk-around or inspection checklist will identify any damage or repairs needed after a customer uses the trailer.
The third step is scheduled maintenance, which will vary depending on the usage level of the trailer. Scheduled maintenance will include inspecting items such as tire tread, lights and undercarriage on a quarterly basis; brakes, hydraulics, hoses and wiring on a semi-annual basis; welds and steel supports annually; and every three to five years, blasting and repainting the unit, which will help prevent rust and keep the fleet looking sharp.
Don't forget to maintain accurate records. Documenting the maintenance history of your trailer fleet can help track costs and determine serviceability, says Lancaster.
The critical points
There are a number of critical points on a trailer that cannot be ignored. "Any of these are not only a real safety concern, but they can also cost the business a lot of time and money," says Gary Knudsen with Towmaster.
Tires are probably the most often overlooked item. Tires can be visually checked when loading to see if they have excessively low air pressure or have no tread left on them. You can also find the correct tire pressure for your tow vehicle in the owner's manual or on the tire information placard.
Underinflation reduces the load-carrying capacity of your tow vehicle or trailer, might cause sway and control problems, and can result in overheating, which can cause blowouts or other tire failure. This can damage other parts of the trailer — wiring, fenders or crossmembers to name a few — driving the cost of a simple tire problem way up.
Overinflation causes premature tire wear and also affects the handling characteristics of the tow vehicle and trailer.
Brakes can malfunction due to adjustment, worn parts or broken wires. Malfunctioning brakes are a serious safety problem, of course, but can also be costly in other ways. An insurance claim due to malfunctioning brakes can raise rates for years. Worn parts if not replaced soon enough, can wreck other parts like brake drums or cam shafts and can cause a wheel to "lock up" and ruin a tire.
Hydraulic actuators (or surge brakes) are a popular braking system in the rental industry. By confining the braking system to the trailer it allows the rental customer to tow trailers and equipment without installing expensive devises or controllers normally needed for electric brakes. However, since it is a self-contained system, good maintenance and upkeep is vital to safe and reliable operation. The key to successful and lasting operation of the surge brake unit is to keep the master cylinder free of contamination and always maintain proper levels of brake fluid, says Lancaster.
"Inspect the master cylinder for proper fluid level and use only DOT-3 or DOT-4 brake fluid from a sealed container," he notes. "Improper fluid level is one of the most common causes of hydraulic brake failure but also the most easy to prevent. If the fluid gets too low, or goes empty, you will have to bleed the complete brake fluid system. This is not an easy task and might never have to be done under normal operating conditions. Refer to the manufacturer's owners manual for fluid requirements."
Lights and wiring can be damaged by road salt, debris, age, etc. Wiring issues can be as simple as a light not working or as extreme as having no brakes. The wiring system should be inspected, repaired or replaced as needed.
Make sure connector-plug prongs and receptacles, lightbulb sockets, wire splices and ground connections are clean and shielded from moisture. Lightly coat all electrical terminal connections with nonconducting (dielectric), light waterproof grease.
Clean the prongs with very fine sandpaper, being careful not to damage the contact area. And clean the surface deposits in the connector holes. (Make sure the lights are off to prevent blowing a fuse.) Clean off only the deposits and lubricate lighting with dielectric, light waterproof grease.
Hitch and coupler. Check the nuts, bolts and other fasteners to ensure that the hitch remains secured to the tow vehicle and the coupler remains secured to the trailer. The connection point might require periodic lubrication to permit free movement of the coupler to the hitch ball. The coupler is the main securing component to the tow vehicle. It's the only thing holding the trailer and cargo to the vehicle. It should be the right size and capacity for the job.
Every trailer is unique, so be sure to check your specific owner's manual for the proper maintenance of your particular trailer.
Click here to view PDF version of the trailer maintenance checklist.
The hub bearings require grease on a regular basis. "This is often one of the most overlooked items and simplest to maintain," says Lancaster. Failure to maintain greased bearings can cause the hub and axle to seize — which means the wheel and tire won't rotate.
Several suppliers offer hydraulic load and lift trailers to the rental industry. "These types of trailers need to be maintained on a more regular basis, because they have more moving parts in addition to a complete hydraulic system," says Knudsen.
The hydraulic system oil level should be checked at least once a month, if not more often. The oil should be inspected for moisture and changed, along with the filter (if there is one), if any moisture is detected. The hinge or pivot points should be lubricated and checked for wear or cracking as well as any other mounting points.
The final word
Trailers are some of the most overlooked and abused pieces of equipment in a rental fleet. Customers don't always operate trailers carefully and often overload the unit. To make sure your customers continue to have a safe, productive rental, scheduled maintenance for your trailers is a must.
"Often rental businesses have more invested in the equipment on the trailer than in the trailer itself," says Jeff Ford with JLG Industries Inc. "Trailers might not be a tool to get a job done, but they're a necessary component to get the tool to the job, so don't forget the trailer."
Additional information for this article was provided by bil-jax, JLG Industries Inc., Towmaster Trailers and the National Highway Traffic Safety Administration, www.nhtsa.dot.gov.
Stahl Service Trailer (SST)
Combines the organized side compartment storage of a service body with the full-height interior storage of a trailer
Exterior doors allow access to lower compartments, and tools can be positioned where needed
Large, walk-in interior storage area features open floor storage and adjustable side shelving
Available in 12- and 16-ft. models
Up-N-Atom Retriever Truck Body
Curved and hinged bed
10.8-degree shallow loading angle
Non-CDL trucks can handle as much as 13,000-lb. payloads and tandems a full 30,000 lbs.
Air system raises and lowers the deck and bi-fold ramp
Advance Metalworking Lo Riser Trailer
74" x 14' 8" load carrying platform can be hydraulically lowered to ground height with the flip of a switch
Built-in ramp allows easy, drive-on access for loading and unloading
Minimum 5-degree angle when lowered
Transports up to 10,000 lbs.
12,000-lb. maximum payload capacity
Six D-ring tie-downs
JLG Triple-L Trailer
Hydraulic system allows operator to lower and raise deck in less than 15 seconds
Capacities range from 2,000 to 10,000 lbs.
Deck sizes up to 6 ft. wide by 14 ft. long
Two lockable steel compartments
Heavy-duty tie down rings
12-volt system powers hydraulic pump used to lower and raise the deck
Dethmers Solid Axle Rent-A-Kaddy RK200
Synthetic fenders with rubber mounted lights
Balanced radial tires
Safety chains for tow dolly and towed vehicle
2-in. ball coupler
3-point tie-down straps and ratchets
3,500-lb. GVWR on RK200 unit
Trail-Eze T70XT Low Load Angle Trailer
70,000-lb. distributed, 40,000-lb. concentrated capacity in 10 ft.
48-ft. overall length and 102-in. overall width
12,000-lb. winch and wireless remote control
Long tail with 10-degree load angle and full tilt bed
Eight 235/75R X 17.5 radials (H) rating
Towmaster Contrail C-14 Drop-Deck Trailer
13,600-lb. capacity
Oak wood deck
7,000-lb. Dexter Torflex axles
Spring-assist ramps
Auto-Latch ramp hold-ups
Jet Tag Trailers
For small dozers, backhoes and excavators
10-, 15-, 20- and 25-ton capacities
Bent D-rings for stronger vertical anchor point
Spring-assisted ramps are self-cleaning and adjustable
Featherlite Model 1610
Advantage wood flooring with high moisture resistance
Corrosion-resistant aluminum construction
2-in. radius aluminum roof rail
3/8-in.-thick Advantage wood lining on sidewalls
8- to 18-ft. lengths
Optional rear load ramp
Bil-Jax Escalate Hydraulic Lift Trailers
6-degree ramp angle
ET 7000 with 7,000-lb. capacity
ET 12000 with 12,000-lb. capacity
Leaf-spring suspensions
Welded, heavy gauge, powder-coated steel used to create a rugged frame
Donahue Utility Trailers
Frames are constructed of 2 in. by 5 in. tubing with 3 in. channel cross-members
Equipped with 16-in., 10-ply tires, the two 7,000-lb. axles have electric brakes on each
Full-width ramps are spring assisted and can act as a tailgate or accommodate equipment
Available in 81.5-in. inside width in 16- or 20-ft. lengths
Maurer Gooseneck Tiltbed Trailer
16 ft. of tilting bed and 6 ft. of stationary bed
12,000-lb. GVWR
102-in. bed width with rub-rail
34.6-in. bed height
17 degrees of tilt
Bri-Mar HT-820 Deck Over
Low deck height
13-degree deck angle
96 in. wide
Power up/power down
Landoll 435/410 Four-Beam Trailer
Triple- or tandem-axle, four-beam trailer is available in 48-, 50- or 53-ft. lengths
Wider main beams for greater stability
6.5-degree load angle
LED lights, additional crossmembers and two-speed landing gear standard