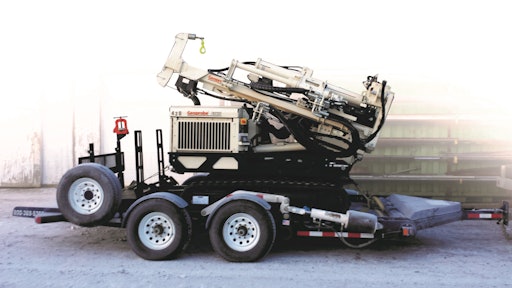 Discovery Drilling Inc., Anchorage, AK, is drilling contractor specializing in geotechnical and environmental services, including in remote access and offshore locations. This can present some unique challenges for mobilizing its equipment.
To address some of these challenges, the contractor invested in Lo Riser inclining platform trailers from Advance Metalworking. The trailers hydraulically lower the platform to ground height with the flip of a switch. Their built-in ramp provides a 4° minimum angle, allowing smooth, drive-on access, ideal for low ground clearance or reduced gradeability vehicles.
"Since acquiring multiple Lo Riser trailers, the way we mobilize equipment has changed dramatically," says Discovery Drilling. "We have a multitude of rubber track-mounted drill rigs that we are continuously moving from jobsite to jobsite, and our Lo Riser trailers have turned this into a very safe and efficient practice. We no longer need to use awkward ramps to load and offload equipment as the Lo Riser does the work for us."
Working in Alaska, equipment typically gets a fair share of abuse and the trailers are no different. The Lo Riser trailers, however, have proven "bulletproof." "Their level of dependability, utility and overall convenience have been a real boon for our operations," says Discovery Drilling.
The trailers have also become somewhat of a spectacle wherever they go. "When showing up at a jobsite, it is not uncommon for other contractors or our clients to watch and be amazed at how the Lo Riser trailers function with such ease," says Discovery Drilling. "They really are outstanding pieces of equipment, and I would absolutely recommend them to anyone who actively uses trailers for commercial or personal use."
Companies in this article