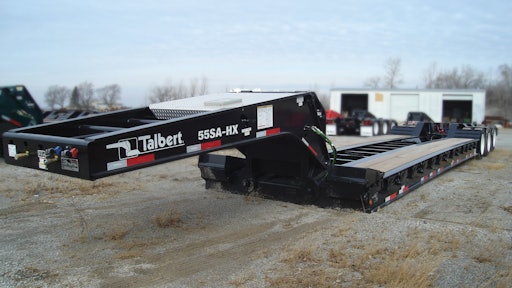 By Troy Geisler, vice president of sales and marketing, Talbert Manufacturing
Optimizing the safety of drivers and others when hauling large equipment, such as excavators, crushers and conveyors, begins long before the wheels start spinning. It must start at the very beginning of the planning process.
The first safety consideration should be choosing a trailer that's built for an operation's specific load requirements. A trailer designed to handle the load safely eliminates the risk of structural failure as well as associated accidents and injuries.
Choose Wisely
When it comes to matching the trailer to the load requirement, capacity is a key criterion, but state laws and regulations, such as bridge laws and kingpin-to-axle distance guidelines, must also be factored. Generally, the load concentration, or the length of the deck that can handle the rated weight, is the main thing to keep in mind.
A 26-ft., 50-ton lowbed can haul 50 tons, but how much of the deck those 50 tons occupy is just as important as the weight itself. One manufacturer might rate the entire length of the deck at 50 tons, while another might rate its trailer for 50 tons in a 16-ft. span, and another that same weight in half the deck length.  
In addition to load concentration, a trailer's safety rating helps paint a more comprehensive picture of load capacity. A safety rating is an indicator of how much stress a trailer can safely handle. That stress comes from driving over uneven ground or off the road, hitting chuckholes, bouncing over bumps and crossing railroad tracks. Historically, magnification of payload weight on a trailer due to road dynamics is a 1.8:1 ratio. On average, the stress placed on a 50-ton rated trailer by a 50-ton load when the rig hits those bumps, chucks and tracks equals 1.8 times 50 tons, or 90 tons.
It's important to keep in mind that the 1.8 multiplier is only an average. On any given haul, the stress placed on the trailer can go above that level multiple times. If no cushion is built in to the trailer to handle those spikes in stress, there will be more potential for long-term, progressive structural damage. This can lead to trailer failure off or on the road, as well as diminish the life of the trailer.
Since there is no universal measure for safety ratings, they vary from manufacturer to manufacturer - from no margin to an industry high of 2.5 to 1, which is considered ample cushion.
A safety rating should never be used to determine how much weight can be added over the capacity rating and still keep the load, driver and other vehicles safe. In other words, a 2.5:1 safety rating on a 50-ton lowbed should not be used to justify loading a trailer with 125 tons of cargo.
It's important to take trailer capacity seriously. Each time a trailer is overloaded, the dynamics of the steel changes, much like a rubber band. Eventually, the steel will break, increasing the risk for cargo damage, accidents and injuries.
Purchasing the right trailer can be complicated but many manufacturers know capacity from top to bottom and can help you select the best trailer for your application.
Pre-Trip Inspection
Once a trailer is matched to the load, a pre-trip inspection is in order and should be done prior to taking off with each load.
Walk around the trailer and ensure there is no damage or cracks in the unit's frame. Look for visible damage, such as chafed hydraulic hoses, which could spring a leak and cause the system to fail. Inspect tie-down equipment, such as chains, binders and straps, for broken parts and pieces and make sure they are rated appropriately. These ratings can be found on the equipment being hauled. Also ensure the trailer isn't leaning or sagging to one side.
Check brakes and confirm the tires are properly inflated to the recommended psi. Over- or under-inflated tires won't have the proper load rating so they won't carry the weight like they should, which adds stress to the trailer. Traveling with improper tires can also cause a blowout when hauling heavy loads. Drivers can find the psi, size, ply and load rating on the manufacturer's VIN tag.
For a detailed list of inspection requirements refer to the Federal Motor Carrier Safety Administration's part 396 webpage and the Driver-Vehicle Inspection Report. The Motor Carrier Safety Compliance also outlines pre-trip inspection guidelines here as does FleetClean USA.
Because safety is just as important once the trailer is on the road, in addition to state regulations, keep in mind that trailers have a speed rating. Manufacturers usually state a 55- or 65-mph rating. The slower a rig travels, the less added weight or stress is placed on the trailer. The key is to select a unit that will perform at a fleet's normal operating speed.