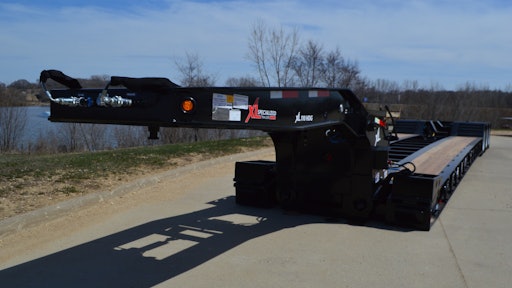 The XL 110 and XL 120 Low-Profile Hydraulic Detachable Gooseneck (HDG) models feature a relief cut out in the gooseneck, which provides additional space between the trailer and the truck.
Low-profile design provides versatile equipment hauling, even enabling scrapers to load over the top for significant weight savings
XL 110 rated at 110,000 lbs. in 12 ft. and the XL 120 rated at 120,000 lbs. in 16 ft. and 110,000 lbs. in 10 ft.
13-ft.-long neck is easily removable and offers a five-position ride height
Deck can be leveled as needed based on neck position and load with the adjustable wheel area ride height 
XL 110 now available with deck heights of 15, 18 and 24 in. 
[VIDEO] XL Low-Profile HDG Trailers
Request More Information
Fill out the form below to request more information about
XL Low-Profile HDG from XL Specialized Trailers