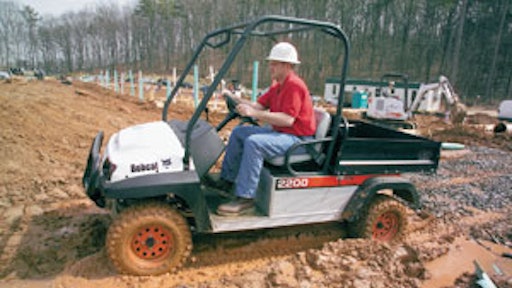 Utility vehicles and smaller crawler carriers can be an ideal choice for moving people and materials around large jobsites, maneuvering on slopes or traversing tough underfoot conditions.
Here is a look at some of the latest models.
Bobcat 2200 Utility Vehicle
The 2200 4x4 features the IntelliTrak drive system with automatic locking differentials. The unit has a 1,200-lb. vehicle load capacity, and is equipped with a standard 800-lb. cargo box. An optional 1,100-lb. cargo box and electric box dump are also available. Power is supplied by a 20-hp Honda gas or Kubota liquid-cooled diesel engine. Features include an all-aluminum tubular frame and standard four-point ROPS canopy or optional cab enclosure
John Deere Gator T-Series Models
The Gator T-Series includes three models with a top ground speed of 20 mph. The Gator TS features a 10-hp Kawasaki engine and a 40-in.-long, 500-lb.-capacity cargo box. The Gator TX offers all-wheel suspension, a 13-hp Kawasaki engine, 44-in.-long, 600-lb.-capacity cargo box and a 1,000-lb. payload/towing capacity. The TH 6x4 has a 19-hp Kawasaki engine and a 44-in.-long, 1,000-lb.-capacity cargo box with a 25-in. load height. Its total payload/towing capacity is 1,400 lbs.
IHI Crawler Carriers
IHI crawler carriers range from 4,620 to 29,000 lbs. with payloads from 5,500 to 22,000 lbs. Average ground pressure spans from 3.7 to 5.6 psi. All four models feature two-speed travel, self-bleeding, water-cooled diesel engines and two-range hydrostatic transmissions. Travel speeds range from 3.75 to 7.5 mph. Available attachments include insulated personnel lifts, digger derricks, winches and hydraulic swivel dump buckets.
Yamaha 2006 Pro Hauler 700
The 2006 Pro Hauler 700 incorporates a V-belt automatic transmission with reverse and automotive-style controls. Power is supplied by a 357cc OHV, single-cylinder engine with forced-air cooling. Bed capacity is 250 lbs. with a 500-lb. towing capacity. The forward/reverse transaxle is equipped with helical gears, heavy-duty axle splines and a dog clutch. The tubular steel robotic-welded frame and dent-resistant thermoplastic body panels and bed provide added durability.
Yanmar C50R All- terrain Track Carrier
The 10,800-lb. C50R supplies an 8,379-lb. payload. Its reversible hydraulic travel lever and one-touch reversible seat combine to turn 180° to ensure the operator is always facing in the direction of travel. An automatic parking brake further enhances safe operation. The Constant Horsepower Mechanism automatically controls power and speed according to the load, minimizing stalling risk. A 65° dump angle helps assure full load discharge. The unit comes with a canopy or optional ROPS/FOPS cabin.
Kubota RTV900
The RTV900 features a three-range variable hydrostatic transmission, hydraulic power steering and four-wheel drive with two-wheel-drive selection. Power is supplied by a 21.6-hp Kubota three-cylinder, liquid-cooled diesel engine. Front and rear wet-type disc brakes provide reliable braking power. A 77.4-in. wheelbase ensures added stability. A retractable seatbelt and OSHA-certified ROPS are standard. Over 25 accessories are available, including a factory cab, snow blade, rear hitch and hydraulic cargo bed.
Polaris Ranger Series
The Ranger two-wheel-drive, 4x4 and 6x6 utility vehicles incorporate a Lock & Ride cargo system, which combines a multi-functional cargo box with Polaris accessories that lock in place in less than 10 seconds. The units offer 750-, 1,000- and 1,250-lb. cargo capacities and payload capacities from 1,250 to 1,750 lbs. The 6x6 model also has 15 cu. ft. of cargo volume, a 1,750-lb. towing capacity and a top speed of 41 mph. A SpeedKey control option allows maximum speed to be set based on which key is used.