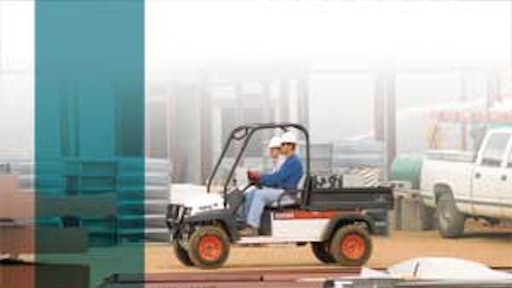 The John Deere Gator that Dan Emerson purchased about five years ago was initially used to haul firewood around his home. But now it has turned into a hard--working partner for his family's construction company, KW Emerson, based in San Andreas, CA. Today, instead of hauling wood, it hauls people and pipes, and carries GPS equipment used to create topography maps for building residential subdivisions.
"We've found that it's easier to maneuver around a jobsite in the Gator than in a truck," he says, "especially where curbs and gutters are already poured.
There's also less wear and tear on our other vehicles. Everyone in the company always wants to use it."
Emerson isn't the only contractor realizing the value of a utility vehicle. Construction and utility companies, municipalities and even parks and recreation departments across the country have begun to see the benefits, says Mike Packer, vice president of sales at Ingersoll--Rand's Club Car division. "Utility vehicles have become very handy tools for contractors," he adds. "They can take them most anywhere. They're easy to get on and off of, and they can carry a sizeable load. When it comes to moving people and things, a utility vehicle is hard to beat."
Safer Than An ATV
Compared to an ATV, utility vehicles are safer, Packer notes. They typically have a slower operating speed with a wider stance and wheelbase.
Paul Miller appreciates these safety aspects. When New Jersey Natural Gas purchased a John Deere Gator about eight months ago, the well--being of its employees played an important role in vehicle selection. "We considered an ATV," he says, "but we felt that it was too powerful and too fast for employees to use in the woods. A typical ATV will travel about 50 mph; the Gator does about 20 mph. That's a considerable difference. We are concerned about employee safety, and we don't want to put anything into their hands that can potentially be misused."
Miller also likes the carrying capacity of the utility vehicle. The cargo box gives him the ability to carry line markers, shovels and other light cargo that is used to inspect and maintain transmission lines in several shoreline counties in eastern New Jersey.
Less Costly Than A Pickup Or SUV
Compared to a pickup truck or SUV, a utility vehicle is less costly to purchase and less expensive to run and maintain.
"A four-- or six--wheel--drive utility vehicle costs about one--half to one--third the cost of a pickup truck," says Jan Rintamaki, marketing manager for the utility vehicle division at Polaris Industries. "When you consider that you can add a cab enclosure and heater; carry up to 1,000 lbs. including three people; and tow up to 1,500 lbs., it's no wonder more people are using them."
Plus, he relates, insurance costs are lower because a utility vehicle can be carried on a general insurance policy rather than requiring a special automotive--style policy.
"With a utility vehicle, you also remove the temptation for employees to take the machine off--site when the weekend comes," Rintamaki adds. "For a business owner, the idea of greater predictability, lower insurance costs and lower capital acquisition costs mean a utility vehicle makes a lot of sense. When contractors realize how much cheaper it is to operate a utility vehicle than a pickup truck, we see them substitute utility vehicles for trucks."
Durable and Maneuverable
A utility vehicle also combines durability with the ability to traverse rough terrain.
Larry White at Texas--based Chapman Construction uses three Polaris six--wheelers to access remote areas to build transmission power lines. "We go off--road on the right of ways into rough, rocky and hilly areas, as well as low, wet areas and everything in between," he says. "Our utility vehicles are easier to get around in than a four--wheel--drive pickup truck because they're smaller. They have definitely proven to pay their way."
Durability and maneuverability were two important reasons Marco DePalma, superintendent for JF White Contracting, a heavy construction general contractor in the Boston area, chose to use a Gator rather than an SUV on a current project for the Massachusetts Water Resources Authority. The five--year design/build project started as a heavily wooded, 33--acre site with a lot of rough terrain and small walking paths. It will end this November with construction of a three--celled covered concrete holding tank for drinking water that is 1,340 ft. long, 630 ft. wide and 30 ft. deep.
"I knew I needed some type of ATV to get around the jobsite," DePalma says. "I needed to be able to travel through all the paths to see where to locate the tanks and to identify which trees to remove. I possibly could have gotten a truck down some of the paths, but not many of them.
"The Explorer I typically use on jobsites just wouldn't work here because of this site's size and condition," he adds. "It would have been ruined within a year."
DePalma's crew typically uses the Gator for transporting people, but also finds it useful to haul equipment such as generators and small tools. "It's a very versatile piece of equipment, especially in remote, rough areas where trucks can't go," he says. "We can also hook trailers to the Gator to bring out to the site. We've gotten our money's worth out of it. It's been worth every penny."
More Options, Higher Horsepower
Utility vehicles continue to evolve with their growing popularity. More manufacturers are entering the marketplace, and options continue to expand.
Currently, contractors can choose between two--, four-- or even six--wheel--drive machines with gas or diesel engines, higher horsepower ratings and heavier payloads than previously offered. Many can be equipped with attachments such as winches and plows for even greater versatility.
"As more and more people become aware of utility vehicles, we've seen their usage expand into areas that we as manufacturers hadn't even predicted," says Packer. "Overall, sales are soaring. While recreation continues to lead the market, construction usage is also increasing."
Rintamaki sees that same phenomenon at Polaris. "Towing, hauling and payload capacities of modern utility vehicles are approaching that of half--ton pickup trucks," he says. "And four--wheel--drive capabilities in many cases are superior to pickup trucks. We make a six--wheel--drive vehicle that will go through 27 in. of standing water. Where you'd expect to use a pickup in the past, people are now using utility vehicles."
Utility Vehicle Applications
In an informal survey of subscribers to Equipment Today's electronic newsletter*, we asked contractors if they are currently using utility worksite vehicles on their jobsites and, if so, how. Of the total respondents, 56% said they are using these vehicles for the following tasks:
Transport small tools, equipment and materials
Transport people around the jobsite
Towing small equipment to jobs
Other

To subscribe, visit www.equipmenttoday.com.