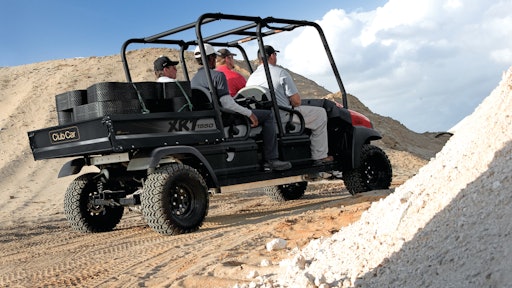 Utility vehicles are everywhere, although they often go unnoticed because of the behind-the-scenes type of work they do. If you pay attention, however, you'll find these four-wheeled workhorses at sporting events, local festivals, performance venues, and of course, construction sites, where they're quickly gaining ground as the mode of choice for transporting workers and equipment.
Because the term "utility vehicle" encompasses work, transport and some street-legal low-speed vehicles (LSVs), the range of applications is broad and growing. "Commercial applications represent about 20 to 30 percent of the UTV market, with grounds and facility maintenance, construction and rental being the biggest subsets," says Kurt Meyer, commercial/industrial marketing manager at Club Car. "Utility vehicles are also widely used in government applications, industrial plants and for security and parking enforcement."
"They're like worksite taxis," says Joel Stevens, director of product strategies at Cushman. "It's easy to get 4x2 and 4x4 vehicles back and forth to take construction workers to their cars and around the jobsite with their equipment."
Utility vehicles are very popular among facilities managers, landscape and construction contractors, local governments, hotels, resorts and more. "Most commercial renters prefer two-wheel drive vehicles," Meyer says. "Four-wheel drive vehicles are most commonly used by construction companies and landscapers." 
Can they replace a pickup?
UTVs are more powerful than ever, and that's making it easier to switch from trucks on construction jobsites. While the average UTV's payload is about 800 lbs., the largest models can carry almost a ton, so they can accomplish jobs that once required a pickup truck. And Stevens notes there are benefits to the higher ground clearance that UTVs offer. "When pickups go off road, it can really tear up the chassis," he says. "UTVs are more rugged and there are safety and durability packages available."
He continues, "Unlike pickups, you can install skid plates on a UTV to keep dirt from getting into the suspension. It's like body armor for the UTV."
Then there's the issue of fuel efficiency. "You'll spend less on gas with a UTV than with a pickup," Stevens says. "Pickups serve a dual role - traveling and pulling loads. They can't be optimized for just speed or torque. Most UTVs are geared for torque to pull a load, and that makes them more efficient with fuel."
Meyer adds, "Even our largest gas and diesel models are much more fuel efficient than trucks. UTVs also come in quiet, zero-emissions electric models that perform like gasoline vehicles, yet cost only pennies a day to operate."
When built on rust-proof, corrosion-resistant frames, utility vehicles can also outlast trucks, even in very harsh environments like mining and construction.
"Unlike trucks, a lot of UTV maintenance can be done on site, reducing lost time," Meyer says. "In fact, UTVs can cut overall jobsite cycle times and let contractors get in and out more quickly."
UTVs are generally less expensive to buy, operate and maintain than trucks. They also reduce insurance costs and prevent personal offsite use and the liability that might ensue. They don't require driver training, license plates or driver's licenses, except for street-legal low-speed vehicles (LSVs).
Overall, UTVs cost significantly less to purchase outright than a pickup truck, Meyer says."When you consider fuel costs, repairs and maintenance, UTVs typically are one half to two thirds the cost of ownership of even a small pickup truck."
Stevens at Cushman agrees. "You could just about buy two UTVs for every one pickup," he says. "So you could have more vehicles on the jobsite and run more cycles."
He continues, "UTVs are more rugged. They're built for the purpose of work, they're not overdesigned for their application. There's less general maintenance." 
Their compact size is another plus, when compared with a pickup truck. "You can park right up next to the door with a UTV," says Daniel Muramoto, product manager for utility vehicles at Kubota. "Their size and maneuverability are a real plus on construction jobsites and in many applications such as snow removal and landscaping."
And customization is an option as well. "Customization can increase efficiency, productivity and safety. It also allows you to "fit" the vehicle to your renter's environment, even if it's in a mine a mile beneath the earth," Meyer says.
Ready for rental
There's little debate that utility vehicles are in demand, particularly in large-scale construction settings, so could they be a profitable item for your rental inventory?
According to Meyer, the answer is yes, largely because they are becoming more powerful, automotive and comfortable. "We're seeing especially strong rental growth in our 4x4s, particularly our four-passenger vehicles, because they let contractors get more done in less time and compress jobsite cycle times. Renters are seeing the value proposition," he says.
At Cushman, we're up 50% year over year in rental," Stevens says. "We're seeing a much higher adoption rate."
Features such as electronic fuel injection (EFI), quick-change attachment systems and fit-to-task bed box designs are also driving the growth.
"As an example, the Subaru engine in our new Carryalls increased horsepower by 30 percent and fuel efficiency by 50 percent over previous models," Meyer says. "Since there is no choke or carburetor, EFI engines are much easier to use. They start right up, even in cold weather."
He continues, "Multi-passenger vehicles are also increasing in popularity, especially in outdoor environments like construction sites that don't have maneuverability constraints. And convention, fair and events planners are also shifting from vans to multi-passenger utility vehicles. It just makes business sense to rent additional vehicles for large events rather than maintaining a big on-site fleet."
Stevens says that while UTVs are growing within the rental market, you see them mostly in the large fleets of the national chains. "We do see independents nibbling at the market, though," he says. "At the last Rental Show, we saw a lot of interest from independent rental centers."
The thing to remember, he says, is contractors don't want to own this type of equipment. "They favor renting them locally where their project is," says Stevens. "They can save so much in logistics."
Make your selection
To find out if UTVs make sense for your rental inventory, identify your target markets and how and where they will use the vehicles, then shop accordingly.
"Look for true work vehicles," Meyer says. "Recreational vehicles are often marketed as work vehicles, but they can reach speeds of up to 50 mph, a hazard on a jobsite. What's more, their suspension systems are built for speed, not weight. So they tend to sag when fully loaded. Vehicles built for work are slower, but their suspension systems are designed to carry loads."
Look for ease of use when selecting 4x4s. It's the single most important factor. Offer true all-wheel drive models that sense the ground they're on and shift automatically. With these systems, there are no levers to push or buttons to pull.
Offer gasoline vehicles with electronic fuel injection that boosts power, cuts fuel costs and simplifies operation. This helps renters make the switch from trucks to UTVs.
"Don't shop by price alone," Meyer says. "Look for vehicles with frames made of rustproof, corrosion-resistant materials like aluminum and beds lined with durable materials like those used in pickups so they can stand up to various environments."
Shop for ease of maintenance access, from the top down, so there is little need to go under the vehicle or remove components. Check the belt-driven continuously variable transmission (CVT) to make sure the units are shrouded or sealed. Look for clean, unobstructed air intake. Make sure renters understand and follow the vehicles' gross combination weight ratings.
"Partner with a supplier that delivers the tools for success," Meyer advises. "Look for a strong technical training program, a dedicated rental sales force, and in-stock parts that can be shipped when your customer needs them. All this can help keep your vehicles on rent longer."
Look for versatility. Renters often waste hours jerry-rigging the beds of their vehicles for specific applications. "We've addressed this by creating an industry-exclusive optional track-based attachment system for our UTVs," Meyer says. "It organizes and safely carries tools, ladders, coolers, blowers and other equipment, freeing valuable bed space. Yet it can be easily removed when it's not needed."
When renting to construction sites, look for 4x4s with standard accessories designed to make the car "Rental Ready" and help it survive the construction environment. These accessories, combined with a strong warranty program, can help you retain more residual value in your assets and improve your bottom line.
Look for electric vehicles with no-excuses charging to help renters avoid lost time due to charging errors. The best of these come with an on-board high frequency charger with cord retractor. The vehicles can be charged at any 110- or 240-volt outlet, and issue an audible alert when charging begins, so they prevent common user errors.  
Protect your vehicles from renter abuse with heavy-duty brush guards and skid plates.
Look for the longest, strongest warranty you can find, and buy from a manufacturer with an extensive dealer network and easy access to parts. This can be a real problem with vehicles made abroad.
"Overall, users want UTVs with more automotive styling, ergonomics and performance," Meyer says. "They also want increased power, more efficient battery charging, a durable bed box, and greater versatility."