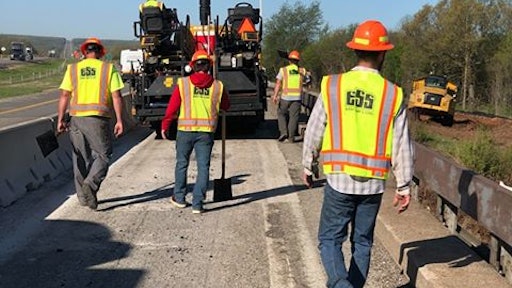 Kevin Smith/Facebook
Design innovation might not be on your radar today, but asphalt contractors should consider bringing alternative methods and improvements to the table to help better position themselves for success in the future. Those companies who are continually pushing the industry forward through innovation and new construction practices will only see benefits to their business.
In this webinar, three industry experts bring a unique perspective to the topic of innovation in the asphalt industry. They offer real world advice and solid ideas contractors can take away from this webinar and implement tomorrow to make more money. 
The link to view the webinar is below.  
Presenters Include: 
Ross Bentsen, P.E., Senior Engineer, Quigg Engineering Inc.
Ross Bentsen, P.E. is employed by Quigg Engineering Inc. and for the last 13 years has provided materials and construction engineering consulting for the Illinois Tollway. In the time, Ross has helped implement numerous asphalt construction innovations at the Tollway, including fractionated RAP, recycled asphalt shingles, warm-mix asphalt, asphalt rejuvenators, and longitudinal joint sealant. Full scale test sections, field and laboratory analysis, specification development, and Tollway-wide implementation have all been part of the successes.


Timothy R. Murphy, P.E., President, 
Murphy Pavement Technology, Inc.
Tim Murphy, President of Murphy Pavement Technology, Inc., promotes best management practices within the asphalt industry on the local, regional, and national levels. He works collaboratively with agencies, associations, consultants, material suppliers, and contractors to assure asphalt quality in roadway, runway, and commercial and industrial construction.
Tim assisted in the writing of the Asphalt Institutes MS-22 Construction of Hot Mix Asphalt Pavements and currently travels the country training asphalt professionals for the National Highway Institute on asphalt plant production. Most recently he served as a writer and outside reviewer of the Asphalt Institute MS-2 Asphalt Mix Design Methods, 2015 version. Tim works throughout the world on asphalt efforts and success stories.
Some great past jobs included working for Illinois DOT, The Asphalt Institute, and Chicago Testing Laboratory.
Brandon Strand, Executive Director, Wisconsin Asphalt Pavement Association
Brandon Strand is the Executive Director of the Wisconsin Asphalt Pavement Association (WAPA), a statewide non-profit organization representing the interests of the asphalt industry.
Strand is responsible for WAPA's administrative operations, member services, strategy development, public relations including education on the advantages and benefits of asphalt pavements, and more.
Prior to joining WAPA, Strand worked in communications and legislative assistance for the Wisconsin State Senate and most recently served at the Department of Administration.
View Webinar