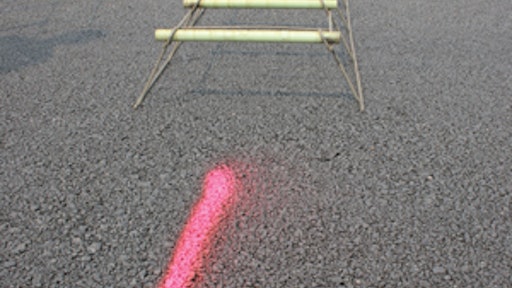 Those flying the "friendly" skies since 9/11 have more than likely experienced the hassles associated with security measures designed to keep us safe. If you think it's difficult flying, try being a paving contractor working on the runways, taxiways and aprons at the airports. Security clearance, background checks and escorts are just the tip of the iceberg. Paving contractors working at airports have stricter mix design standards, smoothness and elevation specs, and scheduling nightmares to deal with.
North Liberty, IA-based paving contractor, L. L. Pelling Company, recently completed its portion of a $6.7-million project at the Eastern Iowa Airport in Cedar Rapids. As a paving subcontractor to Streb Construction Company Inc., the general contractor, Pelling had to juggle its asphalt schedule between the dirt contractor, Streb's concrete paving itinerary and the contract's October 2007 deadline. "It was a little difficult getting our paving crews on the job, since the unusually wet conditions this summer delayed the dirt work," says Chuck Finnegan, president of the L. L. Pelling Company.
The project called for the complete reconstruction of a major portion of Taxiway B and tying it into the crosswinds runway 13/31 and Taxiway A. Previously running diagonal to main runway 9/27, the new Taxiway B now runs parallel to it.
While the surface to Taxiway B is portland cement concrete (PCC), the base of the concrete pavement will consist of a four-inch asphalt open drainage layer, requiring 5,800 tons of a P-401C "popcorn" asphalt mix that includes little to no fine material. "We were competing with a cement stabilized base at the airport, but the asphalt drainage layer was cheaper and more flexible," Finnegan explains. The specs for the drainage layer required Pelling to lay a mat that allows four gallons of water to flow through a two-inch tube in 60 seconds.
The popcorn mix was placed over six inches of a dense-graded P-403 asphalt. Additionally, the P-403 mix was used to pave 25-foot wide asphalt shoulders along the left- and right-hand sides of Taxiway B, laid in two, three-inch lifts.
An additional 5,000 tons of a P-401 mix serve as a surface lift for the crosswinds 13/31 and Taxiway A.
Pelling's paving train for the project was led by a Cedarapids (now Terex) CR561R rubber track paver equipped with a Stretch 20 diesel screed, capable of paving widths reaching 30 feet. Although paving widths varied, Pelling laid an 18-foot wide mat for much of Taxiway B. When it came time to pave the surface lift, a 25-foot Topcon non-contact ski was attached to the paver to help achieve final smoothness.
A breakdown IR DD130 tandem vibratory roller, intermediate Dynapac pneumatic tire roller and a DD110 tandem vibratory roller (operating in static mode) served as the rest of the paving train. Through the use of this paver/roller combination, Pelling was able to beat spec densities and smoothness numbers of seven inches per 1/10th of a mile segment with a zero blanking band.
Stringless paving
When paving the mainline or any other roadway for that matter, it's standard practice for concrete pavers to get their grade off of a stringline. It's a labor-intensive and costly practice that nine times out of ten the asphalt paving contractor does not have to worry about.
That tenth time comes into play when working for the Federal Aviation Administration. Making it more difficult to pave at an airport, the FAA typically requires asphalt contractors to use a stringline. "The specs call for us to lay a stringline or use other approved methods for making grade," Finnegan says. Standard grade control systems used in mainline paving are not on the FAA's approved list. So asphalt contractors will typically go through the time, expense and hassle of running the stringline.
However for this project, Pelling came across a unique grade control system, Paveset, which was designed primarily for use on asphalt equipment completing airport work. "Paveset has been used successfully on more than 100 FAA paving jobs in the United States - including Denver International Airport, Chicago O'Hare and Kennedy Airport - and over 1,000 projects worldwide," says Rick Zgol, operations manager for Paveset America, LLC. Denver, CO. By equipping the CR561R paver with this system, Pelling was able to eliminate the need for a stringline.
Developed by surveyors in Australia, Paveset can be attached to asphalt pavers and milling machines. "It can be used with any brand of paver or cold planer. The only requirement is the machine must have electric-over-hydraulic controls," adds Zgol.
Installation of the system varies depending on the type of equipment, but according to Zgol, it can be added to most pavers in about an hour. Finnegan adds, "The system hooks into the same place as our Topcon controls. It really wasn't that hard to set up and have our operator trained to run it."
The system consists of a measuring wheel to track paver positioning; a five-foot long ski with sensors; a relay control box; and the Paveset computer that includes the grade control program. The length of a runway or taxiway is divided into 25-foot stations. Survey data at each station is inputted into the Paveset computer. "The operator can load the information from an Excel program or manually enter the information into the computer," Zgol advises.
According to the manufacturer, a single operator can input half of the runway's station information into the computer before two men can set 200 feet of stringline. All station numbers are entered as "compacted thickness." A compaction factor is added to each of these numbers to allow for the proper asphalt roll down.
Prior to paving, the operator enters the starting point station I.D., the offset and paving direction. The measuring wheel keeps track of paver positioning relative to each station. As the wheel approaches the next survey point, the grade control system pulses the paver's tow point solenoids up or down, depending on the thickness required at the station.
The system's payoff for Pelling was speed and accuracy. Finnegan estimates that the use of Paveset versus running a stringline cut labor costs by 25 to 30 percent and sped up production by 110 percent. This is significant, since weather played a factor in limiting the opportunities for Pelling to pave.
It also eliminated the hassle that accompanies the use of a stringline with an asphalt paving train. "When we are paving a 25-foot width, the stringline is not much of a problem, since we can back one truck in while the other is pulling away from the paver," Finnegan mentions. "But when we are paving at 18 feet, we can only get one truck in at a time without the fear of hitting the lines, so the trucks tend to get lined up in front of the paving train."
Since it works off of actual survey data, Paveset allows the paver and crew to accurately hit spec grade. Pelling used the system when paving the P401C "popcorn" mix and base course of the P403 design. "We were so accurate with our grade on the first run of the drainage layer that the concrete guys asked us to back off our numbers a bit, so they could be sure their core structure met the minimum 16-inch depth," Finnegan says.
Through the use of its tried-and-true paving equipment equipped with the Paveset Grade Control system, Pelling was able to complete its portion of the Eastern Iowa Airport paving job on time and within budget, while meeting spec densities and smoothness. By laying a subbase open drainage layer that matched spec grade numbers, Pelling's crew also helped Streb save money by keeping concrete yield for Taxiway B to within about four percent.
Rick Zettler can be reached at zcomm@mchsi.com.