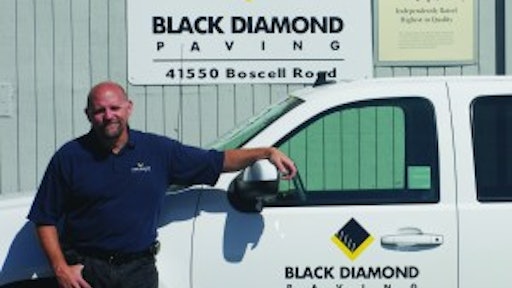 In 1996 when Pavement Maintenance & Reconstruction first met Black Diamond Paving the Fremont, CA, contracting company was 10 days old. It was the brainchild of Megan Reger and Joanne Devlin, two women who had worked for paving companies for four and 10 years respectively and who left to start a company on their own.
Initially they took a conservative approach, renting equipment instead of buying, for example, and hiring crews on an as-needed basis as jobs came through. Through their sales efforts Devlin and Reger were able to keep paving and sealcoating crews in the field almost the entire first year and after that year had enough money to acquire some equipment, hire two pavers, and begin building the company. Soon a new salesperson was brought on board, office help was hired, and Black Diamond Paving was on its way.
"What they proved is that you didn't have to know how to pave to have a paving company," says Jeff Reger, Black Diamond president and husband of owner Megan Reger.
Today, after buying out Devlin several years ago, Megan Reger is the owner of a $7 million pavement maintenance business that employs 25 people doing paving, sealcoating, repair, and striping for commercial properties, homeowners associations, and planned communities.
And while the contractor is thriving, the process of getting to this point was intermittently difficult, and in at least one instance managers wondered if they were going to survive. Reger says that when he became president he realized Black Diamond needed to change from the initial business philosophy because the original approach made it difficult for the company to compete.
He says, for example, that initially Black Diamond employees were paid for holidays - unheard of in most markets. Another example: Reger says most contractors pay their employees from the time they arrive at the job until the time they leave. At Black Diamond employees were paid full wages from the time they clocked in at the yard until the time they clocked out.
"Originally the two women were really generous to the crew, maybe too generous, so we took a look and decided we had to make some decisions that might be unpopular, but they are decisions I think were in the best interests of everyone concerned," Reger says.
So paid holidays were out, and employees receive minimum wage starting when they clock in and their regular salary once they reach the jobsite. "Those changes enabled us to be competitive because we were no longer paying for things our competition wasn't paying for," he says.
Another change Black Diamond made was to hire a full-time operations manager with construction experience.
"Up until that point we lacked really strong construction knowledge when it came to the nuts and bolts of it, and his background got us instant credibility and respect that otherwise would have taken years to develop," Reger says. "That helped us become competitive almost immediately."
With those and other tweaks Black Diamond was generally successful and growing steadily, but seven years ago management realized they and their crews were working awfully hard for what they considered to be less-than-optimal dollars.
"Through 2001 and 2002 things were going great and we thought we knew everything," Reger says. "In 2003 we had a really bad year, and we figured we'd better get some help in here or we're not going to make it."
He says they had brought in consultants prior to 2003 but had never committed to the recommended changes. In 2003, Black Diamond brought in Jeff Stokes, Next Level Contractor System, who guided them through a comprehensive look at the business. Ever since then Black Diamond Paving has been on a mission to revamp and refocus itself.
Reger says one of the first steps was to change the way they looked at the market and, consequently, the way they approached the market.
"We challenged ourselves to think about marketing and sales in a different way," he says. "We were bidding and doing a lot of work, such as schools, that was hyper competitive, and we made a decision that wasn't work we really wanted to be fighting for."
So what kind of work did they want to fight for? "We had done a lot of homeowners associations and planned communities and we decided that was the place to be," Reger says. "We like HOAs because the work there is relationship based and that's something we're very good at. It's work that's not based on the lowest bid, and we decided that was the type of work we wanted to pursue if we were really going to be successful. The more we looked into that the more we realized we had found our market."
Since then, Black Diamond Paving worked hard pursuing that market, joining trade associations, speaking at facilities conferences such as a recent California Association of Community Managers meeting, and conducting "lunch and learn" educational programs for prospective customers.
Reger says that as a result of this shift in emphasis 60% of Black Diamond Paving's work is now with homeowners associations and planned communities. These refocused efforts in the market forced Black Diamond to approach that market in a different, more professional way.
"When we started we were designing and producing all our own marketing materials, and we were designing them in the office and printing them on color copiers. That was fine for 10 years ago but if we wanted to make any inroads we knew that was a change we had to make."
So they hired a marketing company. And as they changed their marketing approach they made a corresponding change in their sales efforts, deciding to emphasize sales instead of simply trying to bid everything that came their way.
"That," Reger says, "is still a work in progress, but we're headed in the right direction."