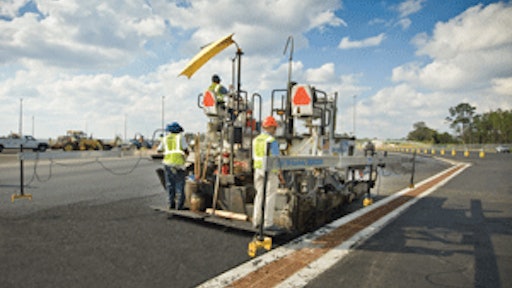 Placing 254,000 tons of hot-mix asphalt over a 125-acre container/trucking terminal in 9.5 months would be a monumental accomplishment for any paving contractor, but doing so while maintaining a one percent slope for surface drainage is a challenge that even the best paving contractor would be hard pressed to deliver.
Yates, a division of Yates Construction, did just that this past year during the construction of the new Jacksonville Port Authority's Port TraPac Container Terminal at Dames Point in Jacksonville, FL.
Yates, which operates three asphalt plants and three paving crews out of Jackson, MS, accomplished the task using skilled paving crews and a Trimble PCS400 Paving Control System.
The terminal will be used by Tokyo-based Mitsui O.S.K. Lines and its terminal operating partner, TraPac, to load and unload container ships sailing to and from ports in Asia. The terminal has enough capacity to handle 1 million 20-foot containers annually
Initial earth work was completed by International Underground using a Trimble GCS900 Grade Control System configured with dual GPS and laser augmentation. Work by the grading subcontractor, who delivered a final grade that was within +/- 1/100th to slope specifications, proved significant in meeting the tight one percent drainage slope requirement and minimizing any asphalt production overages that would be required to correct any slope deviations when placing the three lifts of asphalt required to cap the terminal.
When Yates' paving crew took over and began placing asphalt, the Trimble PCS400 allowed them to further fine tune the slope requirements and ultimately deliver a warranty project not many contractors would consider.
Located at Dames Point, a highly sensitive protected area for wildlife on the St. John's River, the project had environmental concerns as well as tight tolerance issues. And, the work had to be completed by the end of 2008 in order to begin receiving cargo ships in January.
Ready to pave
After International Underground completed grading the sandy base and before crews could begin placing asphalt, the entire site was covered with a geo-grid material and a new stabilized aggregate base developed by Yates and called Easy Base Plus, which is comprised of limestone aggregate and (boiler) flash material from a nearby power plant.
Once the aggregate, flash and water are mixed in a pug mill and placed in two 4-inch lifts over the geo-grid material, it forms a hard concrete-like base ready for asphalt. The project called for seven inches of asphalt - three inches of 19mm base course mix, two inches of 12.5mm binder course mix and two inches of 12.5mm surface course mix, with a polymer additive used in areas subjected to heavy cranes used to transfer containers.
The reason grade work was so important to the success of the paving operation is because of the difficulty in maintaining a one percent cross slope in the final laydown of the asphalt. One percent equates to a one foot drop across a 100 foot wide surface, whereas a two percent slope (commonly used on highway paving projects from centerline to the shoulder) equates to a two foot drop across a 100 foot wide surface.
"It's extremely hard to hold that tight of tolerance accuracy on a paving project," notes Paul Sowa, project engineer. "Most contractors won't warranty a project that's under two percent. And on this project we had some areas (around the drainage grates) where we had to maintain a .58 and .63 percent slope. But by using the GPS with the laser augmentation system on the grader and the Trimble Control System during paving, we were able to deliver those tight specifications."
Sowa explained how he used the Trimble Business Center software to develop cross-sections of the project, which he then provided slope information to paver operators who were able to enter that information into the slope control units on the paver.
"When you're dealing with such minimal slope specifications, it would be practically impossible to achieve without the technology. You would always have the potential for birdbaths (small puddles) if you tried to constantly manually adjust the slope while still trying to pave a surface that's nearly level," Sowa explains.
Using a Roadtec RP 185-10R paver equipped with the Trimble PCS400 Paving Control System, Yates paving crew had no trouble in maintaining the required one percent grade slope right to the installed drain system. The paver was equipped with dual averaging skis and six Trimble ST200 sonic tracers (three on each side) to match asphalt slope requirements to the drain grates, and the averaging system input from the non-contact sensors allowed the crew to gradually work out the roughness that existed around the drain openings.
The system also allowed the paving crew to hold the grade while traveling over the drain grates. Other systems Yates used on the project did not provide that capability because the sensors would take readings off the steel grates and off the openings in the grates, constantly moving up and down adjusting the depth the sensors were picking up.
Ease of use
Along with increased productivity and eliminating rework, the Trimble system, according to Sowa, is easy to transport, easy to install and easy to use.
"With a mechanical ski system, every time we turn the paver around we have to bench the coordinates and that usually takes 15 to 20 minutes," Sowa says.
"With this Trimble system, we just turn and go because we can quickly switch the operating parameters to the other side of the paver."
And bringing paver operators up to speed on the system's operation is also easy to do.
"It only took about five minutes to learn how to operate the system, and I spent a little more time with it in order to learn how to calibrate it," Sowa notes. "It takes about a half hour to calibrate the valves and everything when it goes down; and whenever you remove the system from the screed, you'll have to recalibrate when you hook it back up. Other than that, if you teach the guys how to check the hours, how to bench it, set it out, put it in manual or auto mode, change the setting on it, they're good to go in 15 to 20 minutes."
With the size and scope of container terminal project that had to be completed by the end of the year, keeping the production on schedule and avoiding any rework was of primary concern. Along with the Trimble-equipped Roadtec paver, Yates also utilized a Cat 1055 paver equipped with another paving control system and a fleet of various rollers to maintain daily production quotas.
"When we made the first pass down the crown of the project, we made that run with a stringline," notes Loyd Merryman, paving superintendent, "but after that run we used the control system to maintain the correct slope of each subsequent run."
"The combination of the SPS930 Universal Total Station (MultiTrack technology locks on and tracks passive prisms) and PCS400 Paving Control System made it possible for us to constantly monitor what we were doing," Sowa states. And when you're constructing such an expansive paving project that measures approximately 550-feet wide by ½-mile long, collecting data and making any required adjustments is crucial to the final outcome.
As a 17-year paving veteran, Merryman has had the opportunity to use a variety of different paving control systems, and as good as they are he says you still have to check the slope (manually) every 25 to 50 feet with a level.
"This Trimble system was really simple to train our guys on how to use it and within a week they were really proficient in operating it," Merryman says. "They also liked the fact that the sensors are tough, not affected by rain, and deliver accurate information. Whenever you do a check with a level, the sensors were right on with the information they were providing.
"What I also like about the fact that we didn't have to waste time re-benching the system every time we turned the paver around," Merryman adds. "We were able to increase our production by about 300 tons a day as a result of that, and that enabled us to put down 1,200 to 1,300 tons a day, and even 1,600 to 2,000 tons on some days when we didn't have to perform a lot of hand work around structures (like the electrical hookup pedestals). I'll be anxious to get this system out on a road project. The port project was a good place to test it, but I think it's going to perform really well on road projects."