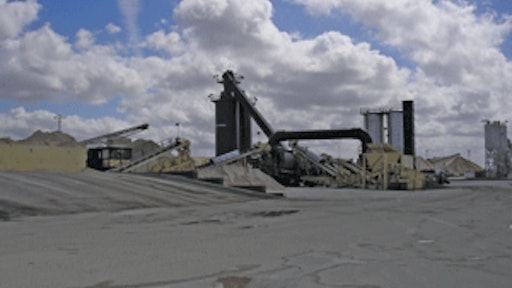 Reading the business headlines today, it appears as if no new equipment is being purchased and all construction activity has come to a grinding halt. This holds especially true in the Fort Myers-Cape Coral, FL, metro area, where the unemployment rate was 10% in December. President Obama even made a stop in Fort Myers on his recent tour to promote the need for economic stimulus.
While the country is in the midst of challenging economic times, there are bright spots to be found. For example, Tallahassee, FL-based asphalt producer and contractor, C. W. Roberts Contractor Company, is successfully navigating the rough waters of Florida's turbulent economy and is growing.
Last year, the company operated five Terex Triple Drum asphalt plants along Florida's west coast, reaching from the Panhandle to near Fort Myers. Each plant produced an average of 150,000 tons per year to supply asphalt for the company's crews and for other paving contractors.
After recently acquiring Cougar Contracting Specialties Inc., C.W. Roberts officials saw a need for a sixth plant and an opportunity to lower operating costs.
"Cougar had grown to where they were purchasing approximately $8 million of asphalt in a year," explains Geoffrey Thaw, area plant manager for C. W. Roberts. Paving upwards to 100,000 tons of asphalt in a year, "we needed a plant for internal consumption as well as to develop an FOB market (selling asphalt to other contractors)," he adds.
First Terex hot/ warm mix plant
For years, Cougar Contracting focused its efforts on local government and private work in the Fort Myers market. After the acquisition, C. W. Roberts envisioned the paving contractor expanding to state highway and interstate projects. Therefore, the new Fort Myers plant had to be flexible enough to run a wide variety of mix designs, including Superpave, and accept from 25 to 30% RAP, while meeting environmental regulations.
Beyond the traditional considerations, C. W. Roberts also wanted a plant that could produce warm mix asphalt.
"The Florida Department of Transportation is encouraging contractors to make a change to warm mix asphalt where possible," comments Thaw.
While there are several different warm mix designs available today, the producer's warm mix objectives ruled out all but two systems. The company decided against warm mix additives from the start.
"Why go to the effort and expense to install asphalt bins and other components if you're not saving money," asks Thaw. "The cost of the additives would have offset the savings gained by running warm mix."
After considering all of the factors, C. W. Roberts purchased a new Terex E3-400 counterflow drum mix plant, capable of producing up to 400 tons per hour. Also purchased were two EMS200, 200-ton silos with a DC-190 dragslat conveyor and truck scale and an RA418 baghouse offering up to 18,144 square feet maximum cloth area to meet environmental regulations.
Other components included two, 30,000-gallon vertical AC tanks; six-bin cold feed system; RAP system, complete with a screen and crusher; and energy center with Terex Impulse II Control System.
Setting this plant apart from the five others C. W. Roberts operates, the new E3-400 plant was purchased with the warm mix asphalt system already installed. It was also the first Terex plant ordered from the factory with the warm mix option.
"We have dozens of warm mix systems operating in the field, but those were field retrofits," says Steve O'Neal, asphalt plant district manager for Terex Roadbuilding.
The Terex warm mix system features single-point mixing of water and hot liquid asphalt. Upon exiting the expansion chamber, foamed asphalt is immediately injected into the drum to thoroughly and evenly coat heated aggregate. Proven to reduce mix temperatures by up to 90 degrees F, this system delivers production capacities reaching 600 tph.
The simple-yet-sophisticated design of the Terex system offers much lower operating costs than additive systems. "It's easy to operate and maintain, and I like the fact that it's not complicated," says Thaw.
Savings realized
The new plant was put into operation last December, and the first warm mix test was to pave at the plant site. The producer used an S1 mix, similar to a 12.5 mm Level C design, with 25% RAP content.
The plant produced both hot and warm mix versions of the mix. "It was very easy to make the switch from hot to warm mix, and the only visual difference was the lack of smoke with the warm mix," mentions Thaw.
The notable differences were in the fuel and asphalt usage. The plant operator ran the warm mix asphalt at 265 degrees F - compared to 315 degrees F as hot mix - and burner positioning dropped from 55 to 40 percent. Thaw estimates a savings of 0.8 gal per ton of fuel oil and 0.2 to 0.3% lower AC content in the warm mix.
The paving crews noticed significant differences in warm mix asphalt workability. While finish rolling of the hot mix design averaged 180 degrees F, the warm mix asphalt remained workable to an impressive 145 degrees F.
"The crews loved working with the warm mix," adds Thaw.
With the successful test and the Florida DOT encouraging use of warm mix, C. W. Roberts plans to use warm mix asphalt wherever possible.