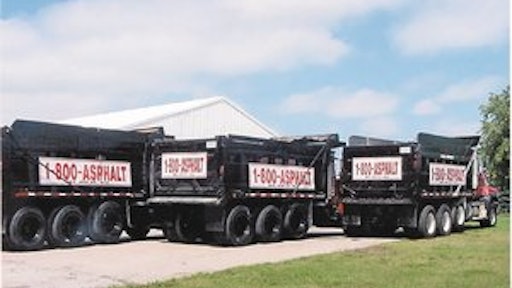 1-800-ASPHALT
1-800-ASPHALT
1-800-Asphalt is designed to increase advertising response up to 14 times.
Overcome area code confusion
Own multiple area codes in your state
Keep customers out of the phone book
Easy number to remember
1-800-ASPHALT
1-800-Asphalt
52-in. Flexbollard System
Use in place of parking blocks
Impact resistant with 360 degrees of flexibility
Delineates when hit at speeds
Mounting hardware for asphalt, concrete, or natural ground surfaces
Flexpost, Inc.
Audio Learning
Five CDs of audio learning courses
"Improving Teamwork Through Communication," "Effective Decision Making," "Driving Jobsite Performance," Turning Leaders into Trainers," and "Grading Your Thoroughbreds, Fence-Sitters and Carp"
Pinnacle Development Group,Inc
Clean Streets Program
National insurance program exclusively for the pavement maintenance industry
Comprehensive and competitive coverage package including automobile, general liability, property/equipment, workers compensations, umbrella liability, and surety bonding
Designed for contractors who perform power sweeping, paving, line striping, sealcoating, crack filling, and/or catch basin cleaning
Provide program participants with industry specific knowledge, loss prevention services, and literature including specialized claims handling
Pavement Maintenance Insurance Agency, Inc.
Decorative Bollard Cover
The Ideal Shield Decorative Bollard Cover is a polyethylene thermoplastic cover that slides on over existing steel posts. The bollard covers are available in hundreds of colors and multiple sizes; custom colors are available to match any color scheme. You can also create your own look with pillars, emblems, rigns, grooves, or whatever you need.
Ideal Shield LLC
FastMeasure
KTP's new line of mobile distance measuring devices can be vehicle mounted or in a scooter package.
Vehicle-mounted device mounts on a dashboard and is designed to quickly and accurately measure parking lots, roads, utilities, and more from the comfort of the car up to highway speeds; can also be mounted onto striping machines, crack routers, concrete saws, etc.
Scooter package includes a 450-watt electric scooter with a mounted FastMeasure device, paint wand, and clipboard; the scooter travels up to 15 mph and can fold to fit into a car or pick-up truck
KTP Enterprises, Inc.
GX Series
Overhead valve engines
21 models in the GX series
Available in either horizontal or vertical shaft and single cylinder or V-twin versions
Certified to all existing CARB and EPA emissions standards
American Honda Motor Co.
Muck-Truck
Carries three conventional wheel barrow loads, up to 550 lbs.
Less than 28 in. wide
Four-wheel drive
Four forward speeds, 0.5 mph - 3.5 mph, and one reverse
Honda GXV 160cc 4-stroke engine
Attachments include vacuum, flat bed, snow plow and more
Niche Product Sales
Pro200
Pro200 Measuring Wheel
12.5 diameter
Handle-mounted mechanical counter with "hold" button
Piston grip with non-slip cushioned coatin
Sealed ball bearing construction
Adjustable telesceoping aluminum handle
Hard carrying case with accessories
Meter Man, Inc.
Side-mounted Reels
The modified Series RT enables the reel to be mounted on its side, making it suitable for mounting in cabinets and other tight spaces.
Heavy-duty side mount plate replaces the standard base
Stainless torsion spring and latch are mounted on the arm
Guide arm is easily moved to one of four positions, using only standard tools
Reelcraft Industries
Turf Mat
The 3' x 6' portable AlturnaMat is designed to protect against turf damage resulting from vehicles weighing up to 60 tons.
Measures 1/2 in. thick and weighs 51 lbs. each
Easy to handle via two hand slots on each side
Bold cleat tread design with cleats on one or both sides, or smooth on both sides
Designed to save repair costs to soft turf, as well as virtually eliminate vehicles getting stuck in mud
Alturnamats
Vanity Numbers for Contractors
1-800-BLACKTOP
1-800-SEALCOAT
1-800-SWEEPING
1-800-PAVEMENT
1-800-PAVEMENT, Inc.
Companies in this article