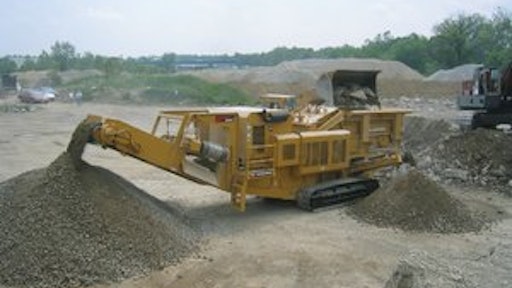 4043T Impact Crusher
The 4043T impact crusher features standard Caterpillar tracks with high-speed travel and a 300-hp Caterpillar C-9 ACERT Tier III diesel engine.
40" x 43" horizontal impact crusher and 43" x 32" feed inlet opening
Three-stage crushing utilizes two interchangeable and replaceable anvils and one fixed anvil
Fully remote controlled operation
Split housing design allows for blockage clearance during operation and ease of maintenance
Screen Machine Industries, Inc.
BR580JG-1 Mobile Jaw Crusher
The BR580JG-1 mobile jaw crusher has an operating weight of 108,000 to 112,440 lbs., and is powered by a 345-flywheel-hp Komatsu SAA6D125E-5 Tier III-certified engine.
Vibrating grizzly feeder moves material elliptically to separate and feed it evenly into the KCJ4430 jaw with load-presetting semi-automatic feeder system
Fully automatic discharge adjustment system
42-in.-wide, high-speed, large-capacity conveyor belt
Includes the latest Komtrax technology (Level 2) and HydrauMind fully hydraulic drive system
Komatsu America Corp.
C50 Model Jaw Crusher
The C50 model heavy-duty, track-mounted, 50-in. jaw crusher features a 50" x 26" single toggle jaw developed in partnership with Telsmith Inc.
300-rpm crusher speed
350-hp Caterpillar Tier III-compliant engine
Track chassis or track with wheel bogie
Integrated hydraulic folding hopper and hydraulic folding stockpiling conveyors
8.9-cu.-yd. feed hopper
46.5" x 169" grizzly feeder with adjustable speed up to 975 rpm
Open chassis design for ease of maintenance
McCloskey International Ltd.
Extec C12+ Mobile Crusher
The C12+ mobile crusher features a standard extended tail conveyor for even greater stockpiling capacity.
Diesel hydraulic power via a 350-hp Caterpillar C-9 industrial engine
Large vibrating feeder with grizzly and discharge conveyor for fines
Hydraulic system automatically coordinates the flow of material from the vibrating feeder to the jaw
Fast track system ensures the clear flow of reinforcing bar when concrete is crushed
Self propelled by remote control or umbilical control hand set
Sandvik Mining & Construction
Fintec 1080 Cone Crusher
The 1080 track-mounted cone crusher system features a Sandvik 385-hp H3800 crusher, developed with the CSC (cubical shape crushing) technique.
6.5-cu.-yd. hopper capacity and a 7 1/2-in. maximum feed opening
Level monitor controls the feed rate to ensure choke feeding of the crusher
Semi-automatic setting regulation system optimizes production and tracks liner wear
40-in.-wide hydraulic-folding feed conveyor
Hydrostatic crusher drive controlled by a remote radio console
Sandvik Mining & Construction
Hybrid Traxx
The Hybrid Traxx track-mounted impactor plant features diesel electric power for both the impactor and the plant, with hydraulic operation powering the tracks.
UltraMax II 4144 next-generation impactor with hydraulically adjustable curtains for precise product control
Features a 5/8-in. steel hopper, 42" x 32" feed opening and 25-hp variable speed feeder control
42" x 40 conveyor fixed at a 10-ft. discharge height for direct loading of trucks
325-hp diesel engine
Wireless hand-held remote control with a 30-ft. tether backup
Eagle Crusher Co. Inc.
Lokotrack LT106
The Lokotrack LT106 jaw plant is built around the Nordberg C106 jaw crusher, which provides up to 10% more crushing efficiency.
28" x 42" crusher feed opening with a 24-in. maximum feed size

300-hp Caterpillar C9 diesel Tier III-compliant engine

User-friendly IC500 process automation system features complete automatic crushing process controls, single-button process startup and advanced fault diagnostics

8- or 12-cu.-yd. feed hopper available

Lokotrack LT106S features a single-deck, detachable screen module
Metso Minerals Industries, Inc.
Pegson XH250 Trakpactor
The Pegson XH250 Trakpactor crushes concrete/asphalt rubble, C&D debris and limestone with low to medium hardness.
Four blow bar horizontal impactor with mono block upper apron design and 33.4? x 33.4? rotor provides a throughput capacity of up to 250 tph
Slow speed, high stroke vibrating grizzly feeder with under-screen and load-sensing control system
Incorporates a Caterpillar C-6-6 Tier III engine, heavy-duty I-beam chassis, heavy-duty bolt-on tracks, fixed Hardox hopper and overband magnet
Standard product conveyor features hydraulic raise/lower and a maximum 125-in. discharge height
TEREX
Portable Jaw Crusher Plant
The portable jaw crusher plant is available in a full range of sizes with various crusher brands and diesel or electric power.
Chassis frames built with high-strength, wide-flange steel beams
Hoppers have 3/4-in. plate wall construction with heavy angle reinforcing
Grizzly feeder has hydraulic hydrostatic drive for variable speed control
Six independent hydraulic legs provide fast setup and operational support
Grasan Equipment Co., Inc.
QuarryTrax Model TI6060
The QuarryTrax Model TI6060 track-mounted primary impact crushing plant is designed for high-capacity production of up to 800 tph.
Model PA6060 primary impact crusher with heavier, solid-type rotor capable of consistently crush 40-in. stone or concrete slabs
Hydraulic system provides fingertip control of apron adjustments
PLC allows operation in an AUTO mode that automatically returns the apron to preset spacing and track wear parts consumption
Trax-Max control system monitors and controls plant operations
Hand-held wireless remote maneuvers plant and provides crusher, feeder, engine and conveyor controls from a safe distance
Telsmith, Inc.
V-Slam Impactor
The V-Slam Model VS-88 vertical shaft impactor features innovative housing and rotor designs and an easy access low-profile split swing lid.
Optimal hydraulic drive system offers variable mill speeds
Size reduction ratio up to 15:1 with speeds up to 12,500 fpm and a capacity range from 5 to 500 tph
Equipped with an indexing feed tube and anvil ring and an automatic recirculating lubrication system
Easy to replace distributor plates, shoes and other impeller components
STEDMAN MACHINE CO. INC.
Companies in this article