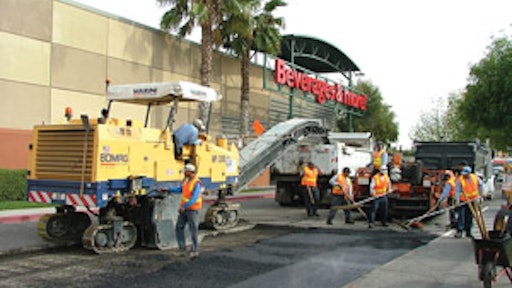 Dryco's "Christmas in April" party isn't the reason many of the California contractor's 125 employees have stayed around so long - but it is a symbol of the reason they stay. The Christmas party, delayed for five months each year so employees can spend time with their own families over the actual holiday, features typical kid-focused activities, silly adult games, mechanical bull riding, and good food at a country-and-western bar they rent for the day. It's held before the season kicks into high gear,
"We're a very family-oriented company. Family first, that's the secret for us," says Daren Young, president. "We're the kind of company that loses sleep when we run out of work - not because we're not making money but because we have a bunch of people who depend on us. If we run out of work they're not working."
But something is working. Dryco, which last year became a member of the Pavement Network, has grown steadily until it became a $21 million company in 2000. It hit a few bumps of its own but today is established as a full-service paving, concrete, and pavement maintenance business that succeeds not only because it knows how to do its job but in large part because it cares for its employees and its customers.
"People don't care how much you know until they know how much you care," Young says. "Because if you care, it shows, and that applies to your customers as well as your employees."
Initially Young worked as a laborer for his father. "The more I learned, the more I learned the guys my dad had weren't very good," Young says. "Once we started this company I knew I wanted people who knew what they were doing, people who wanted to do a good job not just get a paycheck."
Eventually Young's father tired of running a struggling business, so he suggested his son start his own business and then hire the father. So in 1985 Daren Young did just that, and Dryco began doing driveways in the Bay Area's high-end Peninsula residential community. It took three years to dig out of the hole his father's company had dug, but he worked hard, returned phone calls, showed up when he was supposed to - and he did a good job.
"We started with less than zero - we had no insurance when my first child was born - so it was tough, but that's what gave us the discipline to get where we are today," Young says. "I just hustled. I went to our suppliers and worked with them on a cash basis, and paid off my Dad's debt a little bit every month. I told them that when I got it paid off I want them to give me credit and they all went 'Whoa! Of course we're going to give you credit if you pay this off,' and they did."
He incorporated in 1988, finishing the first year with $750,000 in sales, jumping to $1.1 million, then $1.7 million in sales, a pace Dryco would continue until 2000.
"It turned out that many of the people who had big driveways also had big properties, and many had several properties, and they asked us to bid their other properties," Young says. "We transformed ourselves over 15 years from a driveway contractor to a commercial pavement maintenance contractor."
Eventually Dryco added concrete services, tennis court construction and maintenance, and small grading and underground work. Today Dryco generates $21 million annually from a mix of grading and paving (60%), concrete (30%) and coatings (10%, which includes sealcoating, pavement marking, and tennis court work). The grading and paving division employs 50 people, 30 people work in the concrete division, 25 people work in the coatings division, and another 25 work in the office.
Young says 95% of Dryco's work is on commercial or industrial properties, and about 40% of that is through general contractors. Dryco worked to transition into the commercial and industrial market by marketing and advertising to it, but it was a steady process rather than a quick switch.
"Growth and additions came along as the need for it arose," Young says. "We grew by necessity, not by planning; that's the safe way to do it. You're not going to get hurt if you don't extend yourself until you really need to."
Young says 80% of Dryco's work is from repeat clients.
"We get that work because we do a quality job, but if we let up on quality that's work we're not going to get. And let me tell you it's much easier to keep an existing client than it is to go out there and find a new one," Young says. "You can bust your butt trying to generate 10% new business, but if you just take care of your current customers you can make life a lot easier on yourself, and you can still go after the new customers."
Dryco's biggest accomplishments
Young says Dryco's ability to retain the best employees is one of the main reasons the company has continued to grow.
"We have good employees who are pretty loyal, and we do what we can to make sure we have as little turnover as possible," he says. "We want better people so we'll pay a little bit more, but we expect more, too, from a quality standpoint and from a production standpoint."
Part of Dryco's efforts to retain employees is its benefit plan, which includes a 401(k) that the company usually matches, a bonus program, and full insurance coverage including medical, dental, and vision. From the level of foreman on up Dryco pays for entire family's insurance. After 10 years Dryco pays 50% of family benefits, then 60% in year 12, and 100% after 15 years.
"It's a huge cost for me. If you want to lose control of your profitability just keep adding insurance benefits because they're going through the roof," Young says. "But we take our health care benefits very seriously because we know our employees take it seriously."
Young is proud of the fact that four of the original six people on board when he founded the company are still there. (The two people that are no longer with the Dryco each own their own company.)
"Our employees know we care about them," Young says. "They know by the way we treat them, they know by the way we communicate with them, and they know by the way we pursue work when we don't have any business. We've told them flat out, and this is true since the day we started, that we wanted to have a stable company where we could work, where they could work, and where even their kids could work. That's always been a guiding focus of Dryco."
Young says the nature of the construction industry, especially the seasonal nature of the work, is a topic of constant communication between management and the employees.
"We talk about saving money in the summer to help get them through the winter, and that's not any different than when we started," he says. "When we started we were six people and had the same types of meetings because we all had rent to pay.
"We emphasize that in the summer everyone has to work OT and pitch in and do what they have to do when the work is here," Young says. "Yes, it's a long season and, yes, the days are long, but if we hired more people for our busy times everyone would work fewer hours, which would make it more difficult for them to survive through the slower months. Plus, we'd certainly have to lay people off at the end of the season. We try to make that clear to everyone so they understand that there's value in working such long days and long stretches through the summer.
"It's a culture we talk about, and in a union environment I don't think that exists. We talk about it a lot, work, family, mortgages, and some of my fondest memories at work are watching my employees achieve.
"I can remember the first day one of my guys bought a new truck, a Ford Ranger, and we about shut the company down and declared a holiday that day," Young says. "We have another guy here who's been with us more than 20 years and he owns a couple of investment properties, not huge but duplexes and four-plexes, and that's a great thing. To see one of my guys buy a new truck or a new house, those kinds of things are a big accomplishment for me. That's what I think owning a company is all about."
The best thing that happened
In the early years Young and Rafael Torres, part owner of Dryco, both worked in the field, with Young handling most of scheduling, crew management, bidding and estimating.
Young says that when Dryco had just three crews he was doing all the scheduling, including personnel, dates, even who gets which piece of equipment on which job.
"It's like a chess game," he says.
But when he was doing the scheduling Torres always got the short end of the stick, and for a good reason.
"I gave Rafael the cats-and-dogs jobs. He got all the lousy jobs because I knew he could do it. The other crews got the easier jobs, and probably got the better equipment, because that way I knew those crews could handle those jobs. But that wasn't fair to Rafael, and we eventually argued about it because he was tired of doing the hard jobs all the time, and I really couldn't blame him.
"He told me I couldn't schedule, so I said, 'Fine, you do it. I'll do the bidding and estimating and you handle the scheduling. You do this and I'll do that.' It was the best thing that happened because he does schedule better that I did, and I could focus on the bidding."
And that division of work was the first step in developing a system that made it possible for Dryco to grow.
"Even though I worked in the field I never really got good at the skills. I never got to be good in the field with the rake or the roller -Rafael is very good - because I worked doing the measuring and collecting the money," Young says. "I'm pretty good with money. I'm cautious. I'm not cheap, but I'm not stupid."
Young says that realization that he and Torres should divide job responsibilities spawned the first important change in the company.
"One of the things I learned early on is that you can't run a job from a piece of equipment. You really need to run the job from the ground," he says. "So even if you're the best roller operator you need to get someone else to run the job for you, or you have to teach someone to be a better roller operator than you are so you can get off the roller and run the job.
"It took me a while, but I finally realized that if I could get the crew the right material at the right time, then they could do the job better than I could. I learned delegation, to teach people to do the job better than you can do it, and then you get a better job at the end. That's what I learned."
Soon Dryco also hired a dispatcher.
"We've just naturally kind of evolved…and it's always based on too much work," Young says. "It gets to the point where you just can't keep up with it. That's when you need to put a group of people around you and take some of the burden off yourself."
The group of people Young relies on includes David McLeod, who oversees operations; Torres and Bob Schaefer, who share grading and paving management; Kent Hudson, who manages the concrete division; Rick Flores, who manages the coatings division; and Ron Saisi, who is sales manager and is responsible for the company's sales. Ron manages a staff of 10 estimators (including himself, Young, and two junior estimators).
"All bidding and estimating has been taken over by people who do that job much better than I ever did," Young says. "My guys are cradle to the grave with customers. They spec the job, estimate it, bid it, then run the job through to completion. This requires a completely different set of skills than simply selling a job."
Since 2000 Young's role has been to develop long- and short-term strategies for the company. Now he prefers to involve himself in marketing, nurturing customers, business development, and relationship building.
"I primarily bid only if I'm working with a new customer or working to train an estimator. I'll bid the job, and I can do it because I've done it for so long, but eventually we'll pass that account along to a salesperson to handle on a regular basis."
But even the operations and plans of well-run companies with long-term plans and loyal employees can get blind sided and the company put into a tailspin, and Dryco is no exception to that.
Breakdown!
"We're in Silicon Valley, and you just wouldn't believe how hard we got hit when the dot-com bubble burst," Young says. "For a long time you couldn't do anything wrong and we made a lot of stupid money. It was 'when can you do it I don't care what it costs.' But when that bubble burst we went from everything 'on' to everything 'off.' Sales dropped dramatically and we did have to downsize, just to save ourselves, and that's the part that really hurt."
He says Dryco went from sales of $1 million annually to $21 million annually over a 15 year period, then almost overnight went from $21 million to $16 million.
"For a family-oriented company that was a very tough thing," he says. "We concentrated on recovery to keep people working; but there was only so much we could do. So much of our industry is controlled by leases in the buildings, and all the buildings were empty so no one was doing any pavement maintenance on parking lots in front of empty buildings."
Plus, as the company grew, some of the things that were the heart of Dryco became more difficult to monitor and retain.
"Rafael and I have always wanted to do quality work. We always wanted it to be as good as it could be, and we never really had to talk about it. In fact, none of us ever talked about quality at the start; nothing was needed to be said," Young says. "But when you get up to 125 people you have to put processes in place, people have to be on time, they have to be honest with their hours, and we never had to worry about that before."
When should a contractor put processes in place?
"There's no magic trigger," Young says. "It's not the dollars, it's the people. We were creating multiple crews and creating divisions. In the beginning, as we grew we were doing sealcoating on the weekend. Then we created a primary paving crew, and a patch crew that also did sealcoating, then two patch crews and one sealcoating crew. Then we added concrete and decided we needed to hire a concrete specialist. During the more rapid time of growth things kind of got out of control, and that's what happens. When you have a lot of people, people can find places to hide - if they're that kind of people."
And while the dot-com bubble burst powered down Silicon Valley, it became obvious some of Dryco's processes were being short-circuited. Young had been focusing his attention on strategic planning, essentially removing himself from the day-to-day components of the business. With the business struggling he decided to get more involved.
"As I got more involved in the day-to-day operations I realized that a lot of the processes we had put in place had been dropped," he says. "Over and over again I found myself saying 'Wait a minute, when did we stop doing that?'"
A good example is Dryco's approach to patching. The Dryco process involves a 4-in.-deep patch in which the pavement is saw cut and removed. Subgrade is compacted, edges are broom swept to remove loose material, and then tack-coated 4 in. deep. The crew places 2 or 3 in. of mix in the hole, which is compacted, then the edge is re-tacked and a final lift is placed and compacted for the finished patch. They then tack the finished edges and sand them.
"I went out on some jobsites to view the crews on the job and we were digging and plugging the patch with 2 or 3 in. of mix, but no one was sweeping the edges. And we weren't applying the tack until the last lift went in. And we had stopped tacking and sanding the edges. They'd taken those steps out and I'm asking 'Why aren't we tacking the edges?'
"Well, things had been going great, and we had plenty of good work. And we were doing so much work so fast for so long, plus the fact that we brought in so many new people during that time, that we kind of got run over by those people," Young says. "They didn't understand the reason for sweeping the edges; they didn't understand the reason you tack the entire 4-inch face of the patch wall. They figured that coating the top 2 inches or so of the patch wall was okay, but they didn't realize they were damaging the bond of the first layer of the patch. What they were doing certainly was faster, but it didn't produce a quality patch, and it certainly didn't produce the quality patch we're known for installing."
So at the jobsite Young began "directing" some of the crews. "I asked them, 'Is that doing the best job? Tack the edge!' Then I thought to myself, 'If we're not doing that, how many other small things aren't we doing? Is that the quality we want? People were getting lazy on us, they were going so fast, and we were making so much money that no one was paying attention."
But Young started paying attention, close attention. He brought Torres into the discussion and the two harkened back to the original start-up company, which had a goal of being a quality, production-oriented contractor, but a contractor who didn't cut corners.
Young and his managers worked to refocus attention on Dryco's processes through a series of meetings involving different departments. Then Torres started to show up on each job to see how they were progressing.
"Then Bang! All of a sudden it starts happening like it should," Young says. "I want the edge swept so all that loose stuff comes off. I want the full edge tack coated so it improves the bond and helps that patch last longer. I told the guys, 'This isn't rocket science, it's just good, quality work' and it didn't take long to turn it around."