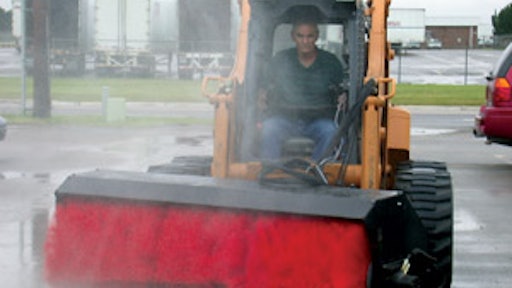 Coneqtec AB Angle Broom
The Coneqtec-Universal AB angle broom features a tilt function that maintains surface contact during angled sweeps.
Unit can tilt +/- 12 degrees and angle up to 30 degrees
Hydraulic "on the go" angle adjustment
Multiquip MTX-Series Rammers
The anti-vibration system on the MTX-Series gasoline-powered rammers significantly cuts vibration to the user.
165-pound MTX-70 has a 3-hp Honda GX100 engine and delivers 2,900 pounds of force on 645 to 695 bpm
183-pound MTX-80 has a 3.5-hp Robin EH-12-2D engine and generates 3,100 pounds of centrifugal force
196-pound MTX-90 has a Robin EH-12-2D and generates 3,500 pounds of force on 660 to 700 bpm
All models feature recoil start, travel speeds up to 36 fpm and diaphragm carburetors
Trail King Advantage Series Asphalt Trailer
The Advantage Series Live Bottom trailer delivers over 2,000 pounds more payload than previous trailers.
Lightweight, modular, high-strength design
60-degree sloped walls
36-inch, heat- and oil-resistant, two-ply rubber continuous belt moves entire load to rear for discharge
Options include manual and electric tarp systems, various tailgates, multiple-axle configurations, air-ride and air-lift suspensions and a 102-inch-wide body
Pine SuperPave AFG2Gyratory Compactor
Pine's new AFG2 is its third generation gyratory compactor which incorporates the newest technology that laboratory technicians need in a gyratory compactor.
Built-in angle measurement capabilities
Designed to account for frame compliance and dynamically compensates for varying mix stiffness.
Internally stores results from 20 previous tests, including gyration number, specimen height, angle of gyration, consolidation pressure and sheer per gyration (optional)
Quest Impact Attenuator from Quixote
Quixote Transportation Safety introduces the Quest impact attenuator crash cushion for low impact areas.
Fast and simple installation
18-foot 10-inch-long by 24-inch-wide footprint
Meets MCHRP 350, TL-3 criteria and performs effectively at speeds up to 62 mph
Topcon Total Station Series
Designed as complete robotic systems, the GTS-900A and GPT-9000A series include the FC-200 field controller and RC-3 tracking system.
GPT-9000A provides precise reflectorless measurement to more than 6,500 feet and can easily focus on small objects like power lines
GTS-900A series reflector-only instruments offer the same components
X-TRAC technology with instantaneous re-acquisition of target lock
Completely cable-free design
Large color, tough-screen interface
Caterpillar M-Series Motor Graders
The M-Series includes seven models featuring a joystick-operated, electro-hydraulic control system.
Two three-axis, low-effort joysticks simplify control and reduce operator arm and hand movements by as much as 78 percent
125- to 500-hp Cat C-Series Tier III engines with ACERT Technology
Direct-drive countershaft transmission (excludes 24M) with Electronic Clutch Pressure Control
All-wheel-drive option delivers 42 percent more torque
Trimble Spectra Precision Laser Grade Lasers
The Spectra Precision Laser GL412 single-grade laser and GL422 dual-grade laser offer fast, easy horizontal level, grade and vertical plumb setup with no manual leveling.
Send a continuous self-leveled 360-degree laser reference over an entire work area
Grade range of -10 or +15 percent enables use for various slope applications
Two-way, full-function remote control with built-in backlit grade display
Rugged design can withstand a 3-foot drop directly onto concrete