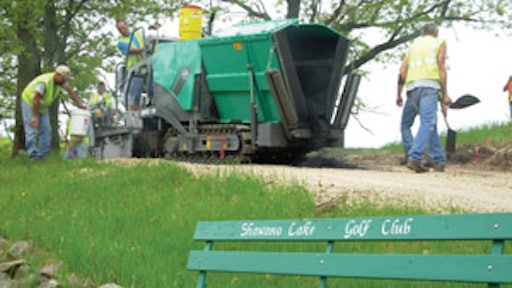 Vögele Super 700 Paver
Drive through an opening less than 4 ft. wide, pave within 2 in. of boundaries, drive in a 113-in. footprint
5.5-ton hydraulically operated hopper
Basic paving width ranges from 3.6 to 6.5 ft. with paving depths to 6 in.
Vögele
Leeboy 8510 Conveyor
12-in.-diameter casted augers and a 7.5-ton hopper with large radius wings for enhanced material flow
Vibrating, heated Legend Screed System
Two-speed hydrostatic drive allows up to 6-in. paving depths at infinitely variable widths from 8 to 15 ft. and speeds up to 150 fpm
Leeboy
Puckett Mfg. 560
6-ton capacity
4 1/2 to 13 ft. paving width
Economical exhaust-heated screed
Also 540 and 550 models
Puckett Mfg. Inc.
BOMAG 3313
Gravity-fed 3313
Single-speed drive motor provides travel and working speeds up to 250 fpm
8- to 13-ft. paving widths
6-ton- gravity-fed hopper
Full-width floating screed with heat and high-speed vibration, plus two 30-in. adjustable hydraulic extensions
BOMAG
Layton D-550 Tow-behind
Single-lever controls of independent augers, screed depth, extensions.
Up to 12-ft.-wide paving
Manually adjustable hopper wings
Layton
Mauldin Classic 550E Paver
Crawler and rubber tire models
Extendable augers for laying 6-in. mat to a full 13-ft. width without use of shovels
Gear-driven steering system
Paving speed of up to 140 fpm
Calder Brothers Corp.
Dynapac F5CS
Optimal for cycle-tracks, side walks, pavement extensions, car parks, sport fields and close car park buildings
Convenient operator platform
Independent hopper arms
Screed widths from 47.2 in. which can be hydraulically extended to 94.4 in.
Dynapac
Roadtec RP155
Designed to work in all types of subgrades and paving applications
8-ft. electrically heated vibratory screed
Hydraulically raising engine hood
Goodyear rubber tracks
Roadtec Inc.
Gehl 1448 Plus Power Box
Track-type asphalt paver
Fully-extendable screed extensions
Use on driveways, recreational ball courts, bike paths, and parking lots
Full-floating, adjustable, vibratory 8-ft. screed heated by engine exhaust
Gehl
IR 3120 Asphalt Paver
15,800-lb. commercial paver
Standard Liberty Screed
8-ft. paving width to 15-ft. width with front-mounted hydraulic extensions
8-ton hopper and dual independent auger and conveyor systems
Ingersoll-Rand Co.