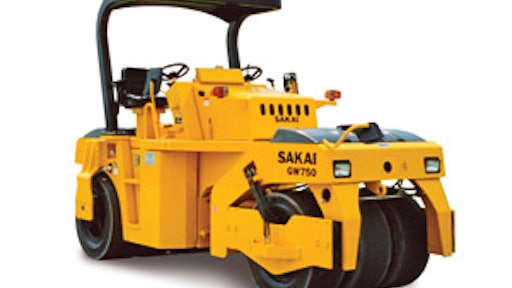 The World of Asphalt 2007 Show & Conference will be held March 19-23 at the Georgia International Convention Center in Atlanta.
Focusing exclusively on the asphalt industry, the show features in-depth industry-focused educational programming and exhibits showcasing the latest technologies and innovations in asphalt-related equipment, products and services.
Some 4,000 visitors from around the world are expected to attend World of Asphalt 2007. The event is geared toward asphalt, highway maintenance and traffic safety industry professionals from all types of companies such as small to large contractors, materials producers, state and agency specifiers, maintenance companies, manufacturers and service providers.
There will be several educational opportunities during the show and conference. These include:
Asphalt Pavement Alliance (APA) Asphalt Pavement Conference,
March 19-20
People, Plants and Paving Training
Program, March 20-22
OSHA 10-hour Course for Construction Workers and Traffic Control Technician Course
Over 225 exhibitors using 70,000 net square feet of exhibit space will be in attendance. On the following pages, you'll find some examples of products and services that can be found on the show floor.
For more information on the World of Asphalt 2007 Show & Conference, visit www.worldofasphalt.com.
Sakai GW750 Roller
The GW750 vibratory rubber-tired roller is suitable for tender mix Superpave applications, stiff HMA mixes and SMA.
Develops an equivalent of up to 55,000 pounds of compaction effort in a 20,000-pound package with a 77-inch rolling width
Pavement integrator achieves compaction from top to bottom of a typical HMA lift
Multi-amplitude eccentric weights in front and rear axles
Hydrostatically driven axles
Articulated steering system
Booth #801
MB Companies FLB Sweeper
The FLB sweeper attachment from MB Companies is designed for clean-up after milling operations.
Fits skid steers, compact wheel loaders, tractor loaders and backhoe-loaders
Low flow, hi-torque motor available
Bi-directional brush rotation
25-inch-diameter brush with 5-, 6- or 7-foot broom width
Booth #1331
Bomag 4413 Paver
The new 4413 self-propelled asphalt paver from Bomag Americas is powered by a 60-hp Cummins water-cooled diesel engine.
Load-sensing hydraulic system
Working speeds up to 160 fpm
Track drive system uses welded-steel crawler-style components
Dual operating positions
8- to 13-foot paving widths
7.5-ton hopper capacity
Full-floating screed
Mega-Feed dual auger system
Booth #611
Stone WolfPac Asphalt Rollers
The WolfPac line includes four models suited for confined area compaction.
1 1/4-ton WolfPac 2500 static roller features an 11-hp Honda engine
WolfPac 3100 has an 18-hp Honda or 20-hp Kohler diesel engine, centerpoint articulation, double-drum drive and 35-in.-wide drums
24.8-hp WolfPac 4100 has dual 40-in. drums with selectable front, rear or double-drum vibration
33.5-hp WolfPac 6100 vibratory roller offers double-drum drive and a 47-in. footprint
Booth #1101
Ace Wear Parts for Pavers
The Ace Group manufactures high-quality aftermarket wear parts for pavers, milling machines, material transfer devices, windrow elevators, shuttle buggies and elevating scrapers.
Augers, burner boxes, chain, flights, cutting edges, sprockets, screed and floor plates, chain and bar assemblies, track pads, track and chain and track rails
Booth #1350
Ingersoll Rand MT-2000 Milling Machine
The Ingersoll Rand MT-2000 is a four-track, front-load, half-lane milling machine.
600-hp Tier III Cummins engine
Three distinct drum cutting speeds: standard cutting speed, high-speed selection, and deep-cut power bulge
Can run both 78.75- and 86-in. drums
36-in.-wide gathering and discharge conveyors are independently controlled with variable speed adjustment
Booth #111
BLS TUFPADS Blues
The TUFPADS Blues track pads are now available in a bolt-on style designed to save replacement labor and parts costs, as well as deliver 25 to 30 percent longer wear life.
Bolt directly to the pre-drilled triple grouser
Easily removed and installed
Reusable steel grousers
Now standard parts for all new Roadtec milling machines
Booth #1301
TransTech Shoulder Wedge Maker
The Shoulder Wedge Maker mounts on the screed extension face against the end gate of an asphalt paver.
Able to form a compacted, tapered edge fillet at an angle less than 45 degrees
Designed to develop a 30-degree slope off the edge of the mat
Leaves a smooth, durable, beveled surface to facilitate re-entry of a vehicle to the
original travel lane
Kit includes wedges and mounting hardware for both left and right sides of paver
Booth #931
Broce MK-1 Transfer Sweeper
The Broce MK-1 Transfer sweeper is designed to pick up and transfer material to a truck in a continuous operation .
Loads to a height of 10 foot 6 inches straight ahead or to either side
Booth #921
Bergkamp M2 Series Pavers
Bergkamp offers the M2 series of truck-mounted slurry seal/microsurfacing pavers.
Deliver a mixture of aggregate, emulsion, water and additives in a smooth layer over existing pavement
Designed to extend the life of the surface up to seven or more years
Booth #755
WEM Plant Automation Systems
WEM Automation offers a full line of PC/PLC-based plant controls for complete drum, batch, loadout and scale ticketing operations.
Ethernet network
Off-the-shelf parts
Windows XP Professional OS
ODBC database
IBM or Dell PCs; Allen Bradley PLCs
Built-in redundancy for minimum downtime
24/7 no charge phone/modem service
Booth #440
Asphalt Reheat Systems Split Box Infrared Heater
The Split Box infrared heater features chambers for 2x4 or 4x4 heat areas.
One- to two-person asphalt repairs with ease
For asphalt printing
Working temperature in only a few minutes
Booth #101
ADM Roadbuilder Series
The Roadbuilder Series has a parallel-flow design to maximize drying as it moves the moisture-laden aggregate in a rotating, veiled pattern away from the flame.
Produces 110 to 350 tons per hour
Drum diameters from 62 to 96 inches
Booth #448
Caterpillar RM-500
The new RM-500 provides high productivity in both asphalt reclamation and soil stabilization applications where the mixing depth does not exceed 20 inches.
Three rotor options
Can be configured for different applications and depth specifications
Booth #811
Astec Phoenix Phantom Burner
Astec's Phoenix Phantom burner is designed to meet the lowest emission requirements.
Predicted emissions performance of nitrogen oxides (NOx) is at 18 ppm (at 3-percent oxygen) and of carbon monoxide (CO) is at 200 ppm (at 3-percent oxygen); in all other areas the performance is essentially identical to that of the standard gas burning Phoenix.
New mixing method involves injecting gas into 3-inch-diameter turbulent mixing tubes as air passes through the tubes, which provides superb mixing that is the key to achieving ultra-low nitrogen oxide and carbon monoxide emissions without flue gas recirculation
Meets the more stringent requirements of those parts
of the country designated as "nonattainment" areas
Booth #850
Dynapac PL2000 S
The PL2000 S cold planer from Dynapac features an 80-inch cutting width.
Water spraying system keeps the drum cool, reduces dust levels and cleans the bits
Four control panels on the left and right sides make it possible to monitor and control the planing operation from ground level as well as from the operator's platform
Electronic feedback control system controls the cutting depth allowing unit to compensate for uneven areas of ground and to comply with preset nominal values
Booth #901
Coneqtec/Universal AP Cold Planers
These AP heavy-duty cold planers are designed to chew up the road into chunks, not powder.
High torque, direct-drive motors
Fast cutting drum head available
Skid steer weight placed directly on drum
12- to 48-inch width sizes available
Booth #346
Reliable Asphalt Products
Reliable Asphalt Products offers a complete line of new, used and reconditioned equipment for HMA producers looking to improve their operations.
Supplier visits site and evaluates needs
Can supply new batch and drum plants; stationary and portable arrangements are also available
Large database of used plants and components; all listings have been pre-qualified for quality
Booth #955
Dillman Duo-Drum Plants
Dillman Equipment's Duo-Drum Plants feature independent
aggregate dryers and separate mixing drums.
Dryer has large combustion volume zone and more dryer length
Mixer captures all by-products of mixing, such as fumes and light ends, and sends them to the dryer burner to be incinerated
Stantionary, skid mounted and portable configurations
Produces 650 tph with high recycle percentages
Booth #100
SealMaster CrackPro 125
The SealMaster CrackPro 125 oil-jacketed kettle and applicator is designed for hot pour cracksealing.
125-gallon capacity
13-hp Kubota diesel engine
Full sweep agitation
Heated hose chamber
Booth #461
Etnyre Falcon Series
The Falcon live bottom trailers and truck-mounted bodies are designed to unload where others cannot go.
Patented conveyor system
For sand, gravel, hot mix asphalt, recycled materials,
low slump concrete and more
42-inch-wide belt
Booth #401
Wirtgen W 2200 Cold Milling Machine
The W 2200 is designed for continuous cold milling projects in which a pavement must be removed mile after mile.
87-inch standard cutting width
14-inch cutting depth
180-fpm cutting speed
900-hp output
Four large D-6 crawler tracks
Milling drum with high-efficiency mechanical belt drive
Front loading system
Booth #601
Humboldt Roughometer II
The Roughometer II can be used to assess paved and unpaved roads by providing objective and repeatable data regarding the actual roughness level of the surface.
Easily mounted to almost any vehicle
Gathers data and transfers it to a PC
Displays information in International Roughness numbers in both
graphic charts and tables
Data can be transported to spreadsheet and database programs
Booth #941
Roadtec Shuttle Buggy
The Shuttle Buggy MTV eliminates temperature and material segregation problems and helps contractors meet smoothness specs.
300-hp Tier III Cat engine
Dual operator's stations
Patented remixing auger
55-degree paver loading conveyor swings to either side
Booth #841
LeeBoy 8515 Asphalt Paver
LeeBoy's 8515 asphalt paver features the Legend electric screed heating system as an option.
Heavy track assembly and undercarriage with poly-pad or continuous rubber tracks
Hydraulically raised hopper bed
85-hp Kubota diesel engine
Two-speed hydrostatic drive
Paves up to 6-inch depths at infinitely variable widths from 8 to 15 feet
7.5-ton asphalt receiving hopper
Dual operator station
Booth #200
Eagle Crusher UltraMax 1600-69
The UltraMax Series 1600-69 portable high-volume, primary/secondary impact crushing and recycling plant features a sculptured three-bar rotor made of solid steel.
68" x 20' feeder
Can also consume various concrete and aggregate materials
69-inch feed opening
Resulting products are cubical and highly uniform for all spec crushing applications
Booth #120
VSS Emultech Emulsion Plants
The VSS Emultech emulsion plants are available in 8, 16, 24, & 40-tph sizes.
Wide range of custom designed solutions for batch, continuous, or semi-continuous emulsion production
Fully equipped to produce anionic, cationic, nonionic, or clay-based emulsions
Booth #104
Hauck EcoStarII Burner
Hauck's EcoStarII provides flame stability with superior performance and BACT for low emissions.
Fuel saving and reduced emissions through enhanced air/fuel ratio control
Simplified design for ease of installation, fuel handling and operation
Pre-piped, skid-mounted fuel manifolds with integral safety and manual shutoff valves, orifice/flow meters and control valves
Optional motor/impeller vibration monitor for preventive equipment maintenance
Booth #444
Terex CR662RM RoadMix
The 50,800-pound Terex/Cedarapids CR662RM RoadMix switches from material transfer vehicle to paver in a matter of hours.
As a paver, unit offers a 16.7-ton receiving hopper which can be increased to 25 tons with hopper insert; Smartrac; three different screed options; and paving widths reaching 30 feet at depths up to 12 inches
As an MTV, unit features the Remix Anti-Segregation System with two sets of two counter-rotating augers that reblend 100 percent of the asphalt; 18-inch-wide rubber-track drive; the ability to be used on every paving lift, including the base course; and a swivel sensor that senses mix height in the paver's hopper and automatically stops and starts the hopper augers and transfer conveyor system as needed
Booth #131
Gilson SP-55 Quartermaster
Designed to handle large samples required in Superpave specifications, Gilson's SP-55 Quartermaster divides any hot mix asphalt samples for quality control analysis.
Field samples of 120 pounds are quickly reduced
Large hopper reduces handling of hot material between procurement of initial field sample and production of lab samples
Rugged steel construction
Booth #1039
Libra Quantum Drum Mix Control System
The Quantum drum mix control system features fully graphic operator interface.
Animation shows plant status at-a-glance
Live trending graphs
On-screen control buttons help the operator to quickly view plant status and identify and solve process problems
Tracks equipment maintenance and re-calibration schedules
Displays production totals, ingredient totals and mix history for any date range
Booth #860
PHCO Lo-Density Fuel Oil Preheaters
Process Heating Co.'s lo-density fuel oil preheaters are designed to cut expenses for asphalt plants operated with heavier or reclaimed fuel oils.
Reduces viscosity to ensure a smooth flow for improved combustion
Available in various sizes
Weatherproof, pre-wired U.L.-listed industrial control panel
Heat at a rate of 5 to 7 watts per square inches
Total accessibility to the heater terminal box
Booth #1330