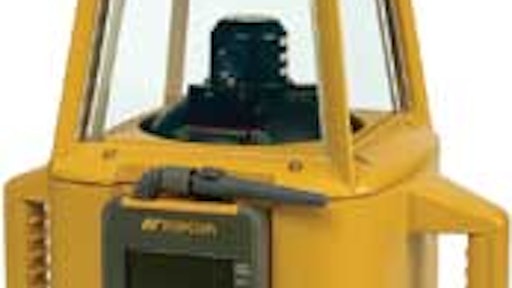 Topcon RT-5SW Dual Slope Laser
The long-range, dual-slope RT-5SW laser has five-arc-second accuracy, less than 1/32nd of an inch per 100 feet.
SmartLine automatic guide alignment system
Automatic grade matching
Remote control enables operation from 1,000 feet
Verify adjustments from machine cab
Despatch RTF Oven
The Rolling Thin Film (RTF) asphalt oven from Despatch is designed for testing effects of heat and air on moving film of asphalt in accordance with ASTM and AASHTO designations.
Maximum temperature of 400 degrees F
Digital temperature controls
Quest Impact Attenuator from Quixote
Quixote Transportation Safety introduces the Quest impact attenuator crash cushion for low impact areas.
Fast and simple installation
18-foot 10-inch-long by 24-inch-wide footprint
Meets MCHRP 350, TL-3 criteria and performs effectively at speeds up to 62 mph
IMT SiteStar Lube Skid
The SiteStar lube skid delivers contaminant-free oil, coolant and water to jobsites.
Fits in the back of IMT Dominator mechanics trucks
Consists of impact-resistant polyethylene tanks and hose reels
Three integrated lift points allow for easy removal
220-gallon capacity split between 55-gallon tanks available in eight possible configurations
50-inch width allows for installation in any properly rated truck
Caterpillar IT38G Series II
The IT38G Series II integrated toolcarrier has been redesigned to provide improved lines of sight to the quick coupler and work tools.
160-net-hp Cat 3126B engine with ATTAC
32,156-pound operating weight with a 24,750-pound breakout force
Full turn static tipping load increased 14 percent to 19,106 pounds
Expanded line of buckets ranges from 2.75 to 3.5 cubic yards
Electro-hydraulic system for the quick coupler enables expanded work tool capabilities
Pine SuperPave AFG2Gyratory Compactor
Pine's AFG2 is its third generation gyratory compactor which incorporates the newest technology that laboratory technicians need in a gyratory compactor.
Built-in angle measurement capabilities
Designed to account for frame compliance and dynamically compensates for varying mix stiffness.
Internally stores results from 20 previous tests
Cardinal Guardian Hydraulic Truck Scale
Cardinal's Guardian hydraulic truck scale protects against various conditions, including:
Water
Lightning
Power surges
Corrosion
Shock loading
Extreme temperature fluctuations
Deere Worksite Pro Cold Planers
John Deere's Worksite Pro cold planers are compatible with John Deere 300 Series skid steers.
For milling asphalt and concrete surfaces damaged by cracks, frost heaves and potholes
Available in standard and high-flow models
The Mule from Travis
The Mule horizontal discharge asphalt trailer from Travis Body & Trailer was specifically designed for hauling and unloading asphalt.
"Wave" body design — a dual-walled smooth-sided aluminum trailer — horizontally discharges asphalt into paving machine or transfer vehicle by using a Walking Floor system made by Keith Mfg. Co.
28-foot-long, four-axle trailer, legal for 80,000 pounds gross in 37 states, weighs 10,998 pounds
Typical payload of 27 tons
EZ Road Temporary Ramps
EZ Road's temporary butt joint ramps are designed for use at end-of-day paving, steel plates and milled butt joints.
Consistent safe ramp for drivers to use
3-foot sections interlock for any width of road
Ramp tapers from 1/4 to 1 1/2 inches
Two lanes installed in 20 minutes by one person
Removal time is less than 10 minutes
Ramps have expected life of over 50 uses