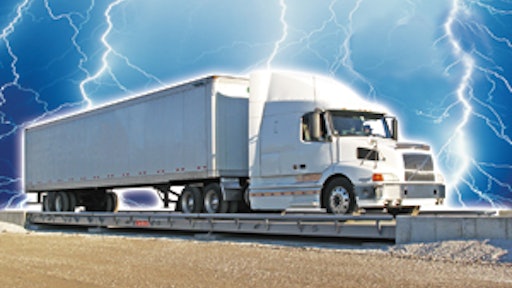 Cardinal Guardian Hydraulic Truck Scale
Cardinal's Guardian hydraulic truck scale protects against various conditions, including:
Water
Lightning
Power surges
Corrosion
Shock loading
Extreme temperature fluctuations
New Holland Motor Graders
New Holland motor graders range from 140 to 200 hp with standard blade lengths from 12 to 14 feet.
Operator cab mounted behind articulation point for greater visibility to both ends of the blade
69-inch-diameter steel moldboard circle with full 360-degree rotation
Moldboard can be angled up to 90 degrees for slope or ditch work
Standard five-position moldboard saddle
Heavy-duty box-section frame construction
North Shore Safety Seal
The Safety Seal heavy equipment tire repair kit from North Shore Laboratories is designed to permanently repair flats in the field and prevent equipment downtime.
Includes everything required to make repairs "on the wheel," including 18 Safety Seal repairs, metal T-handle insertion tool, sprial probing tool to determine the puncture path, lubricant and instructions
Large insertion tool inserts up to three 16-inch-long repair strips into puncture
Items are packed into an impact-resistant plastic carrying case that fits under a seat
Zanetis RS10 Road Saw
The RS10 Road Saw can be used to cut expansion joints, pavement patchwork, utility laterals and traffic loops.
2.5- and 4.5-inch cutting widths with 10-inch cutting depth capability
Hydraulic depth and side shift control
Front access door eases tooth and holder replacement
Carbide cutting teeth
Flush-mounted planetary torque hub
Ashland 25SS Scraper
Ashland Earthmovers introduces the 25SS track loader scraper, which has the ability to move 2.5 cubic yards of material.
Designed for backfilling around curbs and foundations, paving jobs, ponds and more, the unit is controlled by one auxiliary hydraulic remote
Heaped rating of 2.5 yards
Weighs 2,900 pounds
Case E Series Loaders
The 721E, 721E XT and 821E are powered by fully electronic Case 6.7-liter Tier III-certified engines rated from 183 to 213 net hp.
30,644- to 37,844-pound operating weights
3- to 3.78-cubic-yard bucket capacities
Choice of three power curves and four work modes
Cube-shaped mid-mount cooling module with hydraulically controlled, reversible fan
Ergonomically designed ISO-mounted cab
Standard Ride Control
Interlaken Test System
Interlaken Technology offers a compact, servo-hydraulic test system that can perform a range of static and dynamic tests for both soil and asphalt.
Fulfills the requirements of ASATM, AASHTO and SHRP specifications
Several pre-programmed software applications are available with the system; custom test procedures are available
Accessories and fixtures include environmental chambers, indirect tensile fixtures, magnetic-mounted extensometers and various load cells and triaxial cells
Enviro Tech EnSolv EX
EnSolv EX is a safe, effective extraction solvent that is used to replace Trichloroethylene for asphalt testing.
Non-chlorinated, non-flammable, non-hazardous, non-carcinogenic and non-regulated
Proprietary, azeotropic formulation is easy to use and provides longer chemical life and less regulatory hassle
AASHTO approved and conforms to ASTM D2172, D6368 and D5404