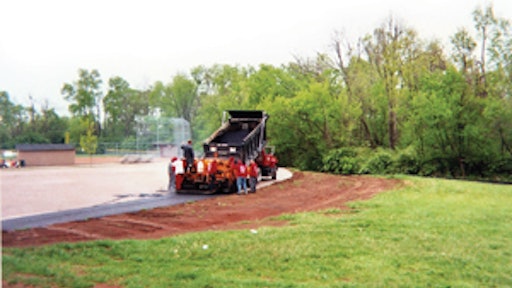 C&R Asphalt has done a lot of work for Shillito Park, a local city park with four baseball diamonds. In fact the Lexington, KY, paving and pavement maintenance company has donated enough paving, patching, and other pavement maintenance services to the Shillito Park that the company is recognized on a billboard in the park's outfield.
But the donations C&R made over the years pale in comparison with their recent donation: buying the mix and paving an entire baseball diamond, called Toyota Bluegrass Miracle League Field, as part of the national Miracle League efforts to enable children with disabilities to play the game of baseball.
"It all started when I learned about Kevin Weaver, a local attorney, who had seen the Miracle League video and who decided it was his calling to get these fields built," says Rick Roy, co-owner with Steve Coleman of C&R Asphalt. "We felt it would be neat to be able to see these kids play ball so we decided we would donate our services and the hot mix asphalt for such a good cause."
Coleman, who originally planned a career in the restaurant industry, found his way into the pavement maintenance industry when he was sealcoating driveways while going to college and enlisted his friend Roy to help. Like many contractors they started with 5-gallon buckets and graduated to 55-gallon drums, eventually buying an old paint mixer to mix the concentrate. They ran the business that way for three years in a small town of Bryan in Northwest Ohio.
Coleman gave his chosen career a shot, but after a brief stint managing restaurants in Lexington, he wanted out. In 1993 he bought a striper to stripe a Toyota manufacturing test track in Georgetown, KY, paid for the striper in one job, and started striping and sealcoating full time in 1994. In 1995 Roy moved from Bryan to Lexington and they decided to get into the paving business. Early in 1996 they bought into a small paving company.
"By the end of the year we actually bought them out, and things escalated from there," Coleman says. "You go through your growing pains when you grow as fast as we did, there's no doubt about it. But we really tried to hold the growth down at times to maintain the quality and to make sure we could bring in quality people and not just people.
"When you start growing at the rate we were it's kind of like you're holding fistfuls of sand in your hands and everything is just slipping through your fingers."
Today the fast-growing contractor employs 70 people and provides basic pavement maintenance services to property managers and general contractors. Paving generates 60% of sales, excavating generates 30%, and the remaining 10% is generated from a combination of sealcoating, cracksealing, and striping. The company also recycles concrete using its own portable crusher. Roy says C&R now produces 90% of their own rock for crushed stone base, last year producing 100,000 tons of rock from their own crusher.
Coleman learned sealcoating through trial-and-error and he picked up some paving basics when he worked on another contractor's paving crew. Coleman says he and Roy learned most of what they know in the business "through school of hard knocks."
"But we were also smart enough to hire a few people who had more experience than we did and we were able to build off them and learn from them," Coleman says. "We were able to keep them around and learn for ourselves."
Excavation was different. "We learned that blind and through hard knocks," Coleman says. "But we learned."
Roy says 95% of C&R's work is on commercial and industrial pavements with the remaining 5% performed on residential driveways and subdivision streets.
Building the diamond
The baseball fields for all the Fields of Dreams ballparks are designed to accommodate wheelchairs to enable children with virtually any disability to play ball. Fields must be smooth and surfaces must be consistent, so all fields are constructed of hot mix asphalt and then covered with an artificial turf.
Like many Miracle League fields, Toyota Bluegrass Miracle League Field measures 120 feet from home plate to both outfield corners and to the outfield fence all the way around. Bases are 60 feet apart, and base lines are extra wide.
Roy says C&R Asphalt was brought in by Back Construction, the general contractor on the job which also donated to the project and who subbed out the construction of the aggregate base. "The rock was already installed and they did a real good job with it," Roy says. "There was good drainage from the center of the field toward the sides so we worked off that and made sure the drainage was maintained."
C&R's paving crew used a LeeBoy 8500 paver to install 194 tons of hot mix base 2 inches thick and 147 tons of surface mix 1 ½ inches thick. A Bobcat S250 was also on hand to help throughout the job.
"We own eight Bobcats and they're used just about every day," Roy says. "Each paving crew has its own with a broom, tooth, and smooth bucket and milling heads are available. The guys get dependent on them because they can do so much with them."
Roy says C&R Asphalt ended up donating $15,000 worth of hot mix from local HMA producer ATS Construction, which also donated $3,500 worth of material.
"It was a little bigger area than we had anticipated," he says.
The configuration of the field required C&R to come up with a plan to pave the area as efficiently and to produce as high-quality pavement as possible. The C&R crew made its first pass on the curve just inside the outfield fence from corner to corner. The second pass was made from the outfield toward home plate on the first base side, and the next passes were made parallel to that from the outfield toward the third base line until most of the field was paved. The final two passes were from the outfield toward home plate on the third base side of the field, tying all the other passes together.
"Once we made the long initial pull across the back of the outfield we started working back toward home plate to form a kind of rectangle," Roy says. "It made it easier to pave instead of paving on the curve for the whole project."
He says crews followed the same pattern paving the base and the surface course, but they staggered the location of the joints so they weren't situated on top of each other. Crews used a 4-ton Vibromax vibratory roller and a 2-ton Wacker finishing roller on surface course to compact the job.
The entire job took C&R one-and-a-half days to pave.
"Typically it would have been about a one-day job but weather problems forced us to delay the start on the first day so work extended into the second day," Roy says.
Part of the delay was that all the work is being done within the park, which includes nice grassy areas the park didn't want damaged. So because the ground was wet C&R waited for it to dry somewhat before bringing in equipment.
"We knew we were going to have to be careful paving because we were working in a park and we didn't want to damage the area," Roy says. "So we changed the way we delivered mix to our pavers."
First C&R restricted use to light duty trucks to haul mix into the park.
"We approached the paving part of this job very differently from what we normally do," Roy says. "Typically we pave like most contractors, pushing the dump with the paver as the mix is dumped into the hopper," Roy says. "But this job was much slower than a typical paving job. For a lot of the application had our pavers drive up to the truck, fill the paver with mix, then drive back to place it to pave."
Coleman and Roy say a big reason for C&R Asphalt's success is the people they employ. "They care about their job, they care about the company, they understand the program and where the company is headed," Coleman says. "That all works together to help us grow."
The company's employees also support the company in its charitable efforts, "We believe it's important to try to give something back to the community, so we try to do that regularly," Coleman says. "Our experience is it comes back 10-fold."
In addition to work donated to Shriner's Children's Hospital and Ronald McDonald House, they raised money for Hurricane Katrina relief. The company matched employee donations, sending a check for $5,000 to a Hurricane Katrina Relief fund.
"When our employees heard that we were donating the time and material for Miracle League Field a few of them wanted to donate their time," Coleman says. "But we paid them for that work, thanked them, and said next time we take donations hopefully they can contribute in some way."
Quality & crew management
Roy says C&R sends between seven and 10 crews into the field each day, and at least two of the crews are paving crews. Paving crews consist of seven people including the paver operator, one person each on screw, two laborers, one or two roller operators, plus a truck driver who is also trained on the roller and works as a helper.
"We believe in everyone pitching in on a crew to get the job done and our people believe in that too," Roy says. "So usually five people in every seven-person crew are cross-trained so they are able to do just about every aspect of each job."
He says C&R runs several sealcoating crews each day totaling 10 – 12 people, with each crew responsible for surface preparation, crack repair, sealcoating, and striping.
Roy says the crews remain basically stable once they are put together for the season, with little shifting from one to another.
"We don't like to mix crews," Coleman says. "We try to keep the guys focused on one aspect of the job and have them hone their skills in that one area. I learned that on the crews I worked on when I was working for another contractor. People didn't seem to like moving from one type of work to the other, and when they did have to move back and forth they never got very well versed in any one area. So this way we think they're not only happier but they improve their skills so our job quality stays high."
He says the company does as much work on their own as they can.
"Anything to do with paving and pavement maintenance we do ourselves. The only thing we sub out are big curb and gutter work jobs, otherwise we do our own curb and gutter," he says. "We try to do it all in house and that helps, both from a quality standpoint and from a scheduling standpoint. If you do the work yourself and something falls apart you only have yourself to blame. If you control it yourself you have 100% reliability."
He says C&R's paving crews have been together for several years, and they work together well.
"They know what we're trying to accomplish, they understand the job, and they understand their role on the job. They all pitch in and help where it's needed, they don't just sit on a roller and wait to roll. They all work together, which helps the job go smoothly and gets us quality job.
"When everyone works together with the same goal you get more production, you're more conscious of quality, the quality is more consistent, you cut down on drainage issues, and you have fewer callbacks," he says. "When you get a group of guys who get along and who work well together it's like the pieces of the puzzle and it all comes together."