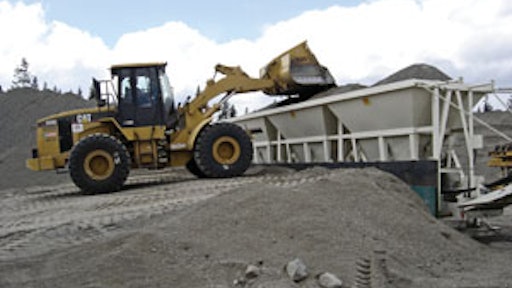 If you think the Maytag repairman gets lonely, try working the territory home to Kamloops, British Columbia-based Dawson Construction, Ltd. For nearly 85 years, the Canadian construction and highway maintenance contractor has covered a market area focused on central British Columbia, ranging in size to more than 31,000 square miles.
This market is large in geographical size only. The sparsely populated region consists of about 500,000 people, averaging roughly 16 people per square mile. With only small, out-of-the-way towns like One Hundred Mile House and Burns Lake dotting the landscape, it's a challenge for Dawson Construction to find a local source for asphalt.
"About 90 percent of the roads that fall under our highway maintenance contracts have no local asphalt supplier for the region," says Gord Procknow, operations manager for Dawson Construction. So Dawson Construction's crew has to take the asphalt with them.
The asphalt producer and paving contractor operates one stationary plant strategically located in the territory's largest city, Kamloops. Since 1996, the company has traveled the region with a portable Terex PTD300, 300 ton-per-hour (TPH) asphalt plant, profitably paving projects in the 15,000- to 100,000-ton range.
But a new, 10-year highway maintenance contract covering the territories of Cache Creek to Williams Lake and Jasper to Blue River signaled a change in the size for some of Dawson Construction's paving projects. With a number of the far-reaching destinations requiring less than 10,000 tons of asphalt, the company needed a portable plant that could be quickly and cost-effectively mobilized up to 500 miles for the small jobs.
Matching efficiency
The new maintenance contract includes 7,500-lane miles of asphalt roadways spanning central British Columbia. "We needed a portable plant to profitably cover the projects in the 2,000- to 15,000-ton range," explains Procknow.
The counterflow plant the company was operating served them well on the larger jobs in excess of 15,000 tons. However, the plant's multiple loads and a minimum of a three-day move meant that it was too large to cost-effectively move for the new smaller projects.
Additionally, it was not efficient utilization of the plant's 300-plus TPH production capability. "Most of the time we cannot lay asphalt at high production tonnages," says Procknow. "We often pave at less than 120 TPH due to traffic flow concerns."
With a large counterflow portable plant like the PTD300, this results in nearly 200 TPH of production capacity going to waste on the low-tonnage jobs. Many of the towns within the maintenance contract territory include populations of less than 2,500 people, so this leaves little opportunity to make up the lost production capacity by selling asphalt to local paving contractors.
Procknow started looking for a new low-load, super portable asphalt plant in which the plant's production capacity was more closely tied to the paving train's production. Additionally, he was looking for a plant with a low cost to move and took only a day or two to complete a moving cycle.
Counterflow technology required
Complicating Procknow's search further were British Columbia's strict emissions regulations, which made it difficult for most super portable plant designs to be permitted in Dawson Construction's territory. "With today's strict emissions regulations, it's too hard to get a parallel flow plant permitted in British Columbia," says Mark Spicer, director of asphalt plant sales for Terex Roadbuilding's Asphalt Plant Group.
This is especially true for a plant's gaseous emissions. The maximum numbers for organics and carbon monoxide are 125 and 250 parts per million respectively and are the same general limits specified by the state of New Jersey, which historically have been considered among the most stringent in the United States.
This meant the company needed a portable counterflow plant configuration in order to operate in this territory. With a counterflow drum, aggregate travels through the drum toward the burner flame. Liquid asphalt injection and RAP mixing occurs behind the burner, shielding the mix from the hot flame. Any hydrocarbons generated from the process are pulled back into the flame and incinerated before exiting the mixing drum.
Until recently, the majority of the low-load, super portable plant configurations were limited to parallel flow designs. However, Dawson Construction concluded its search for a super portable plant by purchasing a new counterflow Terex E150P portable drum mix plant from Terex Roadbuilding.
The E150P features production capacities reaching 150 TPH, more closely matching the production needs of Dawson Construction's highway maintenance program. The standard base E150P package can be moved in only four loads. The primary load consists of a unitized counterflow drum mixer and baghouse on the same chassis. "The drum and baghouse on the same chassis is the key to the design for quick set-up with fewer parts," says Procknow. "It is also safer for our crew, since they don't have to run any ductwork and can set up the plant without a crane."
The drum is equipped with a standard RAP collar, which will help Dawson Construction with future projects that include mill-and-fill operations. With the inside-the-drum mixer counterflow technology, the E150P can run up to 25 percent RAP while still meeting the Province's tough emissions standards.
Rounding out the standard base plant configuration is a control house and oil tank chassis, four cold-feed bin and weigh conveyor chassis and a self-erect silo. On top of British Columbia's tough emission standards, the Province has strict weight and length regulations. This required Terex Roadbuilding to modify the plant's standard configuration and customize it for Dawson's needs. Even with these changes, the producer still moves the entire plant operation in only eight loads, including all plant components, the generator, loader and fuel tank.
Any mix design
The most recent project for Dawson Construction's E150P portable plant was a hot-in-place recycling application in Lac La Hache. With no asphalt supplier for the small market, the producer moved in its plant for the 4,500-ton application, which required a 20-percent admix asphalt for the hot-in-place process. Even though plant production averages only 33 TPH for this project, it is still, according to Procknow, economical to run.
Not only is the plant economical, but its highly portable design is relatively inexpensive to move. "We can move the plant for $10,000 to $15,000," claims Procknow. This is nearly 1/3 the cost of moving the company's larger portable plant, which Procknow estimates at $30,000 – $40,000, and a significant reason the producer can profitably move the E150P for jobs as small as the Lac La Hache application.
The E150P's controls package, used on the Lac L Hache hot-in-place project, is capable of making a wide variety of mix designs, including Superpave. "The Impulse X package includes the same controls that run the larger 300-plus TPH portable plants," explains Ken Cosby, manager of computer controls for Terex Roadbuilding's Asphalt Plant Group.
The controls will make any asphalt design the plant components are capable of mixing. With its programmable logic controller (PLC) design, the controls and software can be easily expanded to accommodate any future components Dawson Construction may add to the plant.
Modular construction of the E150P's switchgears and controls enhance the plant's portable design. "Most small portable plants will have 40 to 60 cable connections," says Cosby. "We've reduced the standard E150P configuration to only 14 plug-in cables to improve set-up and tear-down time."
With a 31,000-square-mile territory to cover and very few local plants from which to buy asphalt, Dawson Construction will need every advantage possible to lower moving and production costs for those low-tonnage jobs in far away places. So far the E150P has helped the company to profitably tackle jobs less than 5,000 tons within its highway maintenance contract.