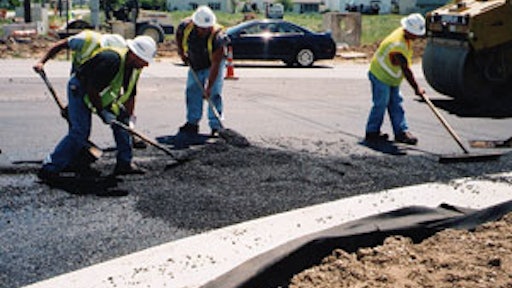 Perhaps building a quality pavement is like cultivating a fine wine; perhaps one should build no road before it's time. That's one of the significant decisions Milestone Contractors of Indianapolis made when planning reconstruction and expansion of an intersection, and it was one of the factors that lead to the success of the job, which was recognized with a 2005 Quality in Construction Award from the National Asphalt Pavement Association.
The complicated job centered on reconstruction and widening of more than two lane miles of asphalt pavement at the intersection of Main Street and Graham Road in Greenwood, an Indianapolis, IN, suburb. Lynn Shireman, Milestone general superintendent, says that as with most intersection work, the roads could not be shut down so the work had to be done in stages.
"This intersection serves an industrial park and that park had to remain open for business," Shireman says. "So we had to work around their schedule."
But even while working around the industrial park's operations, and even with the challenges that are inherent in most intersection work, Milestone constructed a top-quality pavement that more than passed inspection, was finished well ahead of the deadline, and still looks great more than a year after completion.
"We scheduled it the way it needs to be built, and you can't always do it that way," Shireman says. "But that's one of the things we try to do and one of the things we learned on this job: If you can schedule the job the way the job ideally should be done, you're going to end up with a quality finished pavement - and there's a good chance you'll end up finishing the job before the deadline."
And possibly long before the deadline. Milestone started the job in March 2003, and though the project was scheduled for completion in November 2003, Milestone finished by the end of August.
"We wouldn't have made the Nov. 15 deadline and it wouldn't have looked as good if we'd have had to do it piecemeal, the way many projects like this are done" Shireman says.
14 HMA plants,1,200 employees
Part of the Indianapolis-based Heritage Group, Milestone Contractors is a highway, heavy construction, and site development contractor that employs 1,200 people during peak season. The company has offices throughout Indiana in Indianapolis, Lafayette, Columbus, and Richmond and operates 14 hot mix asphalt plants throughout the state. Most of the mix it produces is used on Milestone jobs, but about 30% is sold to area paving contractors. Five asphalt plants in the Indianapolis area supply eight Milestone paving crews (11 during peak season) with mix for about 10 months of the year.
Shireman says Milestone has the advantage of being a large contractor that offers a broad variety of construction services, so all parts of the company can act as a general contractor for other parts of the company.
"It often depends on which part of the job is the largest," he says. "On this intersection job in Greenwood the paving was the largest part so the paving part of the company acted as the general contractor for the earthmoving and other operations. We can plan, schedule, and control the work so we weren't relying on someone else to get something done."
Shireman says this particular paving job was done by "one of the better crews in the Indianapolis area." Milestone's standard eight-person crew (seven if a material transfer vehicle is not used) is directed by supervisor Terry Riker and includes Dennis Kingery, lead man on screed; Roger Pageant, paver operator; Kris Hilt, roller/screed operator; Kevin Pullins, shuttle buggy operator; Jason Werner, roller operator; Larry Hersch, water truck /fuel truck/laborer; and Ronald Chapman, laborer.
Delay for efficiency, appearance
Perhaps the biggest decision Milestone made, with the support of the city of Greenwood, was to delay repair of the intersection for a year.
Shireman says that typically there is little coordination among cities, paving contractors, and utility companies. So what often happens is the pavement is under construction and then the paving contractor has to stop work while a utility company places its lines or pipes underground. The result is an inefficient and costly construction operation, and a patchwork pavement that doesn't look very good and possibly could already have built-in joint problems.
Another possibility, if the paver is allowed (or required) to finish construction before all utilities are in place, is that once construction is finished, one or more utility companies follow close behind and make utility cuts to place their lines or pipes underground. Again, a patchwork of pavement repairs is left behind, and the top-quality pavement the city was paying for is not to be.
"Utilities are one of our biggest headaches because the ground is full of them," Shireman says.
Shireman says that because Milestone saw the potential in this project, and because they had worked on so many jobs disrupted by poor planning or a lack of cooperation, they asked Greenwood to delay the work.
"We delayed a year because we didn't want to start and then have to stop because the utilities had to be put in. This was the first time we really made a push to get them all in before we started, and it was truly beneficial to wait until the city had the utilities in."
Beneficial and it helped Milestone give Greenwood an award-winning pavement. "It's easier to work with people who want it done right and Greenwood wants it done right," he says. "Greenwood understands what good work is, which is one of the reasons this project was done the way it was done."
Rebuilding Graham Road
Shireman says that for a variety of reasons, intersection work is possibly the trickiest paving work any paving contractor undertakes because:
Intersection works involves a lot of traffic traveling in many different directions.
Intersections offer a variety of distractions not present on straight stretches of road.
Traffic control is essential and involves more than making drivers aware of workers.
Intersections rarely can be shut down.
Intersections typically involve four pavements coming together.
These varied pavements can be of different thicknesses, quality, and even age and often must be wedged or leveled before the finished paved surface is placed.
Work on the Graham Road/Main Street intersection was no different, and Milestone divided the job into four phases, each encompassing an area of the intersection, to ease management and streamline operation.
"You have to stagger the paving and keep the traffic flowing as much as possible. It takes time and patience but in order to do it right you have to do it that way," Shireman says.
Even though they delayed the work to reconstruct the intersection as smoothly as possible, Milestone still had to do the work in stages. Work on Graham Road involved a complete reconstruction, including two weeks spent improving the stability of the subgrade.
"The crew cut everything down to the subgrade, eventually hauling 20,000 yards of dirt off Graham Road," Shireman says.
He says that at one point to boost productivity and save money, Milestone decided to switched from using its scraper to a standard loader/dozer and haul truck operation.
"We originally felt the scraper would do the job but we soon realized that our dozer and truck operation would be more productive," he said.
Shireman actually credits the inspector with helping make sure that the city got the quality job they had contracted for.
"The importance of getting a good foundation to get a good finished product can't be overstated," Shireman says. "A quality pavement is built from the ground up, and a good inspector really knows the importance of a good subbase."
So when Greenwood's inspector visited the site, he conducted a proof roll "the way it should be done" before Milestone started paving.
"When you're doing a proof roll and the subbase moves or flexes, it needs to be fixed," Shireman says. "Most contractors know that and most do it, and the inspector to his credit told us to repair it. He didn't say 'bridge over that' he said 'replace it.' We fixed anything he found or we found. We removed the problem area and added material anytime we saw anything soft or any time we saw pumping."
Once the subbase was in place, Milestone installed 6 inches of 2-inch aggregate and 4 inches of quarter-size aggregate mixed with lime, in one day running 50 trucks and putting down 4,000 tons of stone. Once the stone was fine graded, curbing was installed and the intersection was ready for paving.
Complex Main Street work
Work on Main Street was more complex, requiring adding a travel lane on the south side of the street, two travel lanes on the north side - and only three weeks to complete it because it all had to be pieced together during live traffic.
"Main Street was the hardest part because we had to keep the existing asphalt and mill and reconstruct around that," he says.
The result was drop offs and uneven pavement, which Milestone had to correct to ensure a smooth surface course.
"If multiple lifts are required in different areas of a job you have to change materials more often," Shireman says. "That puts more importance on planning and scheduling and makes it even more important that the paving contractor has some control over the job."
The reason, he says, is simple.
"If you are paving that many different levels in a number of different areas with a number of different mixes it's just not a very efficient approach, so the more control you have over the process and the schedule the better job you're going to be able to do and the more efficient your company is going to be," Shireman says. "It will never be as efficient as if you could shut the whole area down, but good planning and scheduling and control over the project can improve the efficiency - and the finished product."
To achieve a smooth pavement throughout the intersection, the mat depth must be consistent, so Milestone's crews spent at least a full day constructing wedges and leveling the pavement, particularly on Main Street. The crew ran automatic grade and slope controls on each side of the paver, using two skis to wedge and level the base, then went to only one ski and the automatic slope to monitor it better.
Once the wedges were constructed and the base leveled off, the job was ready for paving, which Shireman says went very smoothly, largely because the crew could pave uninterrupted. Milestone's crew installed a 6-inch base course followed by a 2-inch binder and a 1-inch surface course.
"We planned the job so that once the asphalt crew got there they wouldn't leave until it was done," Shireman says.