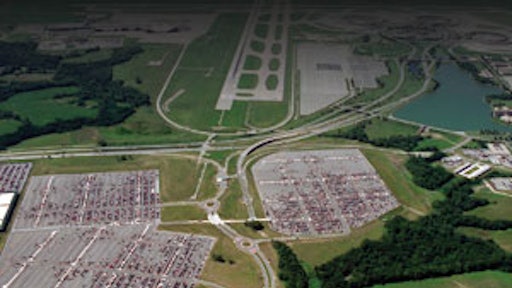 When Superior Bowen Asphalt bid the Economy Parking Project at Kansas City's International Airport (KCI), the contractor knew it was going to have to rely heavily on its subcontractors and the engineer to get the job done right and in a tight 18-month schedule.
Formed by the merger of Bowen Construction Co. and Superior Asphalt Co. five years ago, Superior Bowen Asphalt employs 300 people and operates seven hot mix asphalt plants, all in the Kansas City area. A paving and milling contractor, Superior Bowen generally works as a subcontractor on this type of project.
"We concentrate on paving and cold milling for a broad range of commercial, residential, or public agency projects," says Bob Jewett, estimator and project manager for the airport parking lot project. "We are the prime contractor only on jobs where the asphalt paving work is the dominant item, otherwise we are a subcontractor. The reason we got this job is because we did the general contracting as well."
But that meant coordinating a broad variety of work among the owner, KCI; the engineer, SK Design Group; and a number of subcontractors. It is that coordination, combined with a well-designed project, and quality paving efforts that earned a Quality in Construction Award from the National Asphalt Pavement Association.
A complex job
KCI is laid out with three separate terminals, A, B, and C. Originally one parking lot served all terminals with a bus route connecting the parking to the terminals. The problem was that anyone departing from Terminal C had to ride the bus and wait out stops at terminals A and B before getting to his destination. Under the new plan each terminal has its own parking lot with a bus route connecting that parking lot to its appropriate terminal.
So the Economy Parking Project was constructed on a 300-acre site that included construction of 30 bus shelters, five bridges, three box culverts, a bus operations building, a 10-lane exit plaza with eight attended booths, and much more.
It included 130 acres (more than 300,000 tons) of hot mix asphalt paving, including streets, several highway ramps, boulevards, upgrades and improvements at five intersections, construction of three roundabouts, 93,000 feet of curbing, 4,000 feet of guard rails, and more than 100 miles of striping that included 15,000 parking stalls (paint) as well as road striping (thermoplastic). The crews moved 1 million cubic yards of earth, and installed 11,000 feet of 8-inch and 16-inch water lines, more than 35,000 feet of 12-inch to 54-inch storm sewers, and 11 miles of underdrains, miles of power, telephone, security, and data lines.
"This was a complex job with a lot of different elements, but it was well thought out and well designed ahead of time," Jewett says. "Things that weren't handled in the planning were handled quickly and easily in the midst of the project. It was a model project from that standpoint."
Sassan Mahobian, president of SK Design Group, Overland Park, KS, which engineered the project, says his firm actually "builds" the job on computer before turning it over to the contractor. So the engineers had worked through many details and tried to avoid many potential problems before the work started.
"That's what we brought to the table, a completeness of drawings and specifications," Mahobian says.
And the thorough planning enabled the work to be completed with change orders totaling less than 1% of the $53 million job.
Support and coordination
"The best way to handle any job is to create a partnering atmosphere in which everyone takes ownership of the job," Mahobian says. "Superior Bowen did a great job creating an environment where everyone felt a responsibility and everyone worked together.
"We're all trying to make money and we're all proud of the work we do, and if we can work together then we're going to end up with a high-quality job brought in under budget and on time," he says. "We had a very good relationship among the whole group - the owner, the contractor, and the engineer - and the project went very well as a result of that."
Jewett says that the subcontractors that Superior relied on were essential to quality of the work and the completion of the job on time.
"Within the restrictions of the bidding process we had some very capable subs who did a great job," Jewett says. "We put some pressure on our subs to give us their best people and it was pretty easy to convince them to give us some of their better people. This was not only a big job for us but it was a big job for them too."
And they cooperated as well.
"At the first preplanning meeting we told them we needed good communication and cooperation if it was going to get done on time," Jewett says. "It was a team effort and they did a great job for us."
Mahobian also credits the subcontractors working with Superior Bowen Asphalt.
"Superior Bowen is an asphalt contractor, but this time they were a prime contractor. That's a very difficult job to take on and they selected a fine group of subcontractors to support them," Mahobian says. "Not only did Superior Bowen do a great job coordinating the work and all the people working on the job, but I really feel we have to give credit to all the subcontractors because they really pitched in and did a fantastic job."
A "vertical look"at the job
One of the first subcontractors Superior Bowen turned to was Jim Kidwell Construction Corp., Greenwood, MO. Adept in CAD work, Kidwell Construction provided Superior Bowen with "vertical" CAD drawings showing the overlap of all the various underground systems, which helped Superior Bowen determine the order of work on each of the parking lots.
For example, after installation of storm and water lines, Superior Bowen had the electrical lines installed at a depth of not less than 24 inches, which protected the lines from the stabilization work that was to come.
"Once we established who was going to go in what order vertically, then we could determine horizontally how the project would progress," Jewett says.
And the plan, guided by field superintendent Ivan Nelson, was to follow electrical installation with, in order:
subbase stabilization,
curb construction,
underdrains,
paving, and
striping.
The parking lots were large enough that more than one job could be done on a particular lot at the same time, which Jewett scheduled and coordinated.
"There often was paving on one half of a parking lot and stabilization going on on the other half of the lot," Jewett says.
The idea, largely successful, was that once a contractor began work on the job, he would be able to complete his work and not have to work in stages.
"There was a lot of coordination on each one of the parking lots and among each of the lots," Jewett says. "We tried to schedule it sequentially so a contractor was at the site and would move from one lot to the next as soon as he was finished. That enabled them to be on the site continuously, which made it easier to coordinate our work.
"We knew if we didn't have areas ready to pave every day we would not get the asphalt paving done in one season."
He says much of the coordination was communicated through small progress meetings Superior Bowen held with the owner, the engineer, and the subs. Jewett says that to streamline the planning process and require people to spend less time in meetings (and help them be more productive), work was divided into three main segments: site work, bridges, and buildings with separate meeting times.
"When we had meetings we only brought in the people who needed to be at those particular meetings," Jewett says. "We tried not to have people waste their time sitting in a meeting they really didn't need to be in and I think that worked well and everyone appreciated it."
Quality from the bottom, up
Jewett says that while many problems can occur in the actual paving of a job, much of the success or failure of a new construction paving job depends on the preparation of the base and subbase. And that was the case with this project.
"By the time we got to the paving work we pretty much had all the problems solved," Jewett says. "There was really nothing unusual about the paving, except the scale of the job."
He says the soil at the airport, where Superior Bowen has done a number of jobs before, required significant stabilization. He says the soft glacial till soil is susceptible to freeze/thaw action, so it was treated with lime (instead of fly ash to limit dust because of the proximity of jet fuel filters). Some areas of sandy soil were treated with cement.
"On some jobs you go in and you don't realize the soil needs to be improved before paving can take place. But on this job the soil was designed to be stabilized from the beginning with a minimum of 9 inches deep of lime stabilization. In a few smaller areas cement stabilization was required, and in several isolated areas two levels (18 inches) of lime stabilization was needed."
Superior Bowen's stabilization subcontractor, Mount Carmel Sand & Gravel, Mount Carmel, IL, stabilized 130 acres of soil at a rate of roughly 10,000 square yards a day. Jewett says the stabilization involved a three-stage process. First the crews applied lime to an area and mixed the lime with the soil 9 inches deep. The soil then needed to cure for a time, and then remixed. Kidwell Construction cut the final grade on the stabilized soil using a motor grader equipped with a global positioning system (GPS).
"This is one of the first times we'd used GPS for grading an entire project. We utilized the expertise of Kidwell Construction," Jewett says. "They had laptops mounted in their pickup trucks and, working hand-in-hand with our surveyors, controlled the grade on the entire project from there."
Ready to pave
And once the grading was done and the curbing was in, the paving could start.
"The paving was pretty standard," Jewett says. "We had total control of when it was going to be ready because we scheduled it ourselves, so it all went smoothly. When you're a subcontractor you don't have total control."
He says one change the company did make was to assign virtually all the paving to one 15-person paving crew, directed by Pat Parker, paving superintendent.
"Our thinking was that if we assigned the job to one crew it would give them a greater sense of responsibility on the job and we would likely get better quality control from start to finish," Jewett says. "It also gave them a little more pride in their work, which is something all our crews have but on a high-profile job like this, that's this big, it can be difficult to feel that pride if there are a number of different crews working the job. It seemed to work out that way, too, as the people on this crew really took control."
Jewett says the schedule called for paving bus lanes first, which had to be thicker to accommodate the heavier vehicles.
"We cut those out and paved those first to bring them up to the subgrade of the parking lot, then we paved over them in the final paving stage," Jewett says.
He says the crews also planned paving to minimize cold joints and to place cold joints when necessary in less-visible areas and not adjacent to traffic lanes.
"Our people did a great job," he says. "And it wasn't only our paving crew. We also set up a new 500-tons-per-hour CMI asphalt plant and Superpave lab near the site. Thanks to plant supervisor Larry Gervy it all operated flawlessly.
"Once we got ready to pave everything went smoothly and consistently," Jewett says. "Once we got started we had plenty of room to work, we controlled the paving schedule, and we placed more than 300,000 tons of hot mix."
And it surprised even him.
"I've been around for a while and getting this type of job done, this well, in this short a time amazed even me," Jewett says.