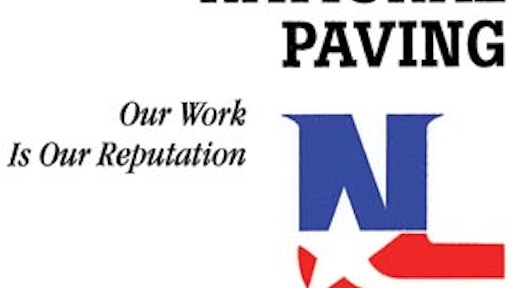 A change in the way national commercial and industrial companies approach the management of their properties has lead some paving and pavement maintenance contractors to reevaluate how to approach their market.
To some extent this approach involves marketing, but in a more profound way it affects the way contractors relate to their customers and prospects—-and also how contractors relate to one another.
A number of factors are behind this change.
National Big Box stores and major retailers have streamlined their management operations while at the same time recognizing the value of regular, often planned maintenance of their properties.
The maturing of the pavement maintenance industry itself has resulted in established mature businesses being sold to people with a business background (but not necessarily a background in pavement maintenance).
The prevalence of so many businesses on the Internet, which has made finding a contractor (or a customer) a 24-hour-a-day process that takes only a few keystrokes.
The recognition by contractors of the fight for market share and efforts to retain or increase their share.
But regardless of the reasons, paving and pavement maintenance contractors are working in a variety of innovative ways to identify and bring their message to their customers.
"The customer wants to see more professionalism, rather than 'Joe' pulling up and handing him a quote on a business card," says Mike Musto, president of 1-800-PAVEMENT. "Marketing helps give credibility to a company and to the industry. It adds to the professionalism."
While marketing is an essential element in how companies go to market, it is the "going to market" that has undergone somewhat of an overhaul. From vanity telephone numbers, to web-based marketing efforts, to formal and informal alliances, contractors have ingeniously re-made the market, in some ways transforming it from a local industry to an industry that literally knows no bounds.
Organizations of contractors such as National Paving of America and the Pavement Network, independent contractors such as Rose Paving, and national brokers such as the Pavement Exchange are engaged in attracting national clients who control multiple properties in multiple states. To service those clients these organizations, working off different models, ally with contractors to bid and then perform the work once the job is awarded.
And while the market approaches discussed here are limited to a few organizations, each of these groups works with a number (often a large number) of independent contractors throughout the country, so the impact is nationwide.
The need for networking
But what is driving this shift in market approach? Contractors have their theories, and often they agree. First and probably foremost is the increased number of national companies that have multiple properties that need regular maintenance. In the past these locally operated businesses sought local help, with the owner/operator letting the bid and making the buying decision.
"But a lot of national companies — Home Depot, Lowes, Coscoe and others — have very few people in facility management to support their network of properties. In fact they might have only one person who manages 80 properties throughout the country and there's no way one person can do that effectively," says Harold Green, Chamberlain Contractors and a member of the Pavement Network. "This person now has to handle not only the pavement maintenance but also lawn and landscape maintenance and building maintenance and more. So that one person needs to leverage his communication with people who can make his life easier and help him get the work done within budget."
So part of this new approach to the market is to streamline the bidding-selection-production decision for the property manager decision maker, and that's a critical element common to most of these new efforts.
Another reason contractors are looking for ways to handle national accounts is that national accounts want it that way.
"They can deal with one central location — us — and that really works for some clients," says Alan Rose, president of Rose Paving and the Rose Alliance. "They are able to buy all their pavement maintenance services from one contractor instead of having each location solicit bids and negotiate with contractors."
Green adds that there often are economies of scale for a client who relies on one contractor to handle all its work.
"That contractor understands the philosophy of the organization, what paperwork is involved, and anything peculiar to that client," Green says. "It's more relationship driven as well as establishing a trust factor between the contractor and the customer. And that's where the industry is migrating toward."
He says that there are still many customers who look for the lowest price either in their market or even across the country. "But many national companies are moving toward situations where price is not the factor but it's a factor, along with trust, performance, responsiveness and service, in getting the job."
National Paving's President Richard Lindholm, takes the analysis even a step further.
"I don't want just a job, I want a customer," Lindholm says. "For me to do this job for you I have to charge a certain amount of money to do it right. I'm not interested in just getting the job and then going down the road to get another job. My feeling is that in America there is room for the honest entrepreneur who wants to build a business on reputation and honesty, and that's how we're approaching National Paving.
"What we're really trying to accomplish is long-term relationships with our customers."
He adds that National Paving is not interested in getting into a bidding war with other contractors for work.
"The person who goes low bid, what is he after? He's just trying to get the job," Lindholm says. "Is he thinking of the needs of the customer or is he thinking about his own needs? If a job is bid properly it's rarely going to be the lowest bid."
So these and other contractors have decided to go to market in a new way.
Networking for growth
National Paving, the Rose Alliance, and Pavement Exchange Group are networking approaches that seek to sell and service national, multi-property accounts. Their business model is based largely on the idea that national commercial and industrial companies don't have the manpower to manage their properties as effectively and efficiently as possible.
"The individual owners get tired of dealing with local contractors on each one of their properties, and the regional managers get overwhelmed," Lindholm says. "If a company has 10 to 15 regional managers, each evaluating property, letting bids, and approving work, we can reduce that for them to one regional manager who deals with National Paving of America. Then we handle the rest. It's a tremendous streamlining opportunity for them. They also improve maintenance of their pavements."
The approach also can help local contractors. Rose says that one of the most important advantages the Rose Alliance provides is simply access.
"We are providing a different solution that a local contractor can't provide for himself," Rose says. "Many contractors in our industry can be good tactically at applying material and getting the work done. The problem is those contractors would have trouble walking into the regional or national headquarters of a national company and getting five minutes with a decision maker.
Some of our clients, frankly, are not going to deal with a local contractor. We have the contacts with the big companies.
"These are very demanding clients who expect the contractors they hire to perform. We work to take that concern off their minds and the contractors we bring into the Rose Alliance have to have the same approach. Our contractors are going to be able to increase their sales and their exposure in their market and in the industry by being a Rose Alliance member," Rose says.
"They're going to do high-profile projects in their town or their area, but they won't have the sales expense or sales effort to try to get those jobs."
National Paving of America, Rose Alliance, and Pavement Exchange "members" are general pavement maintenance contractors, including pavers, sealcoaters, and stripers, and sweepers. There is no fee to be included in any of these organizations.
Each organization qualifies its contractors through some combination of interviews, reference checks, equipment evaluations, on-site visits, and referrals. The current Rose Alliance database nears 1,000 members, but Rose works closely with only 100 or so. Pavement Exchange, which typically performs between 400 and 600 jobs a year, works with 400 contractors.
"Once we identify a contractor we think can work with us we will likely give them a smaller project to start with," says Henry Miller, president of Pavement Exchange Group, Charlotte, NC. "Once they perform well on that job we will move them to larger work."
National Paving, Rose Alliance, and Pavement Exchange can have any number of members in the same market. None of the organizations guarantee any contractor any amount of work, though each say that some members have experienced substantial increases in their work. When a job comes up in a market, any member in that area will be asked to bid it. Those that want to can; those that don't want to, don't have to.
National Paving of America
National Paving of America (NPA) has been gestating off and on for about 5 years, but in the last several years Dick Lindholm and other NPA principals have made enough strides that in 2006 they expect to execute the National Paving concept.
National Paving currently works with a number of real estate investment trusts in Southern California, and National Paving of America represents the national expansion of the work and contacts already in place. Lindholm says National Paving currently covers 25% of the U.S. and plans to be able to cover more than 50% of the U.S.in the near future.
When a bid is available, NPA contractors will visit the properties in their market, take digital photos of the property and of potential repairs, and then bid the job. Eventually member contractors will use a dedicated software program that enables them to submit bids in an apples-to-apples manner. National Paving will then combine all bids for that client's properties into one large bid and submit the package to the client. In addition to bidding the work the customer has requested, NPA member contractors will also propose a possible "best solution" for long-term care.
"That gives the client an opportunity and a choice," Lindholm says. "We hope to involve clients in pavement maintenance plans of three years up to 15 years or longer so they can better budget their pavement maintenance and so we can provide work in the future for our members."
Lindholm says NPA will enable property owners to more effectively manage parking lot maintenance work on a national basis.
He says the proprietary software combined with digital photography will give the property owner instant access to the condition of his entire portfolio of commercial parking structures.
"We feel it will be successful and feel strongly that contractors will see a benefit from national branding, which is really the goal," Lindholm says. "I think this industry will be pulled into national branding, just as the commercial real estate market is evolving into various branches of large regional or national companies, like Century 21."
Pavement Exchange Group
The Pavement Exchange Group was started in 2003 to operate as essentially a broker between property managers and contractors, according to Miller. Pavement Exchange Group does little of the work it bids itself, instead helping match customers with contractors to get the work done. Pavement Exchange receives a fee from each contractor awarded a job through the Exchange.
CEO Mary Miller, Henry's wife, says Pavement Exchange was a planned outgrowth of their pavement maintenance company, which they started 10 years ago filling potholes from the back of their mini-van.
"Business got to the point where customers would ask, 'Can you also do this?' and we'd say 'Yes'," Mary Miller says. "Then we'd have to go find a quality contractor to sub the job to."
Over the years the Millers began to know and value the relationships they had with other contractors, and they realized they could help both property managers and contractors by acting as a consultant of sorts.
So under the Pavement Exchange Group they visit any property being considered for work, then determine the scope of work for each job. Then the Pavement Exchange brings the job to any of a number of contractors, who can bid it or not as they see fit. The Pavement Exchange evaluates the bids, submits them to the client, who selects the contractor. Miller says the Pavement Exchange is involved from originating the scope of work, to qualifying a contractor, to inspection of the final job.
"We bring them the job to bid, they bid it, we evaluate the bids to make sure the customer can compare apples-to-apples, and then the customer makes his choice," Henry says. "After that Pavement Exchange continues to act as a facilitator between the customer and the contractor."
Miller says that since starting in 2003, Pavement Exchange Group has facilitated work in 42 states.
Rose Paving's Rose Alliance
The Rose Alliance was created gradually, initially because there were times when Rose Paving, Bridgeview, IL, couldn't perform all the work it had contracted.
"We were either too busy, or we didn't have enough iron," says Alan Rose, who believes a contractor shouldn't have equipment in the yard if he can't keep it busy five days out of the week. "So we began compiling a database of contractors who we knew we could rely on to help us out and do a good job doing it if we ever got in those situations."
Rose Paving still does most of the work it bids with its own crews, often sending crews to other areas of the country to service the needs of a national client. In the last year Rose has sent its own crews to more than 15 states to perform work.
"There are areas we know we're not going to get to and we want to be able to have somebody represent Rose Paving in those areas the way we want to be represented and who follows Rose Paving's 'best practices'," Rose says. "They do the work for us, and we get what amounts to a commission or project management fee."
Guy Gruenberg, Rose Paving chief operating officer, says among the benefits to Alliance members are:
Insurance. Some national accounts demand a $5 or $10 million insurance policy before they'll allow a contractor to bid and certainly before they award the job. "That's something a smaller contractor would have difficulty affording and we can provide that for them, so they can do work they otherwise would have been unable to do," Gruenberg says.
Quick payment. In most instances Rose Paving pays Alliance members within 30 days of receiving the job invoice. "That takes a lot of pressure off because they don't have to wait for a check to come in. It helps their cash flow," Gruenberg says. "And because they know they're going to get paid right away they don't have to build in any charge for late or long-term payment, making Rose and its Alliance members more competitive in the bid."
Handling of complex contracts. Many national companies have their own contract, drawn up by their attorneys, that they want the contractor to use. Gruenberg says Rose Paving evaluates and interprets the contract for Alliance members.
Rose says the goal is to have one or two Alliance members in every major U.S. market they can go to and get a fair price on a job.
"It takes the legwork out of the process for them and us. They don't have to work to get a chance to bid the job because we've done that already and they just have to bid it," Rose says. "We don't have to go looking for someone to do it, and we don't have to send a crew half way across the country, because we have an Alliance member there ready to do the work the way we want the work done. And our client is happy because he gets the same top-quality job at each of his locations and he only had to deal with one organization, Rose Paving."
Pavement Network
Still another approach to the market is reflected by the Pavement Network, a formal organization of 13 dues-paying member contractors who have more on their mind than how to go to market. But marketing, or better yet client servicing, has become one of the success stories of the group and it is one of the areas the Pavement Network is emphasizing.
"We are moving toward a national organization with coverage of the entire U.S.," says Green. "We're very prudent about bringing in new companies. We want a particular size company with particular goals and a willingness to share and contribute to the other members, not just someone willing to pay the money."
Pavement Network members range in size from $5 million to $30 million annually, and collectively perform all scope of paving and pavement maintenance services. They pay dues of $8,000 a year and attend mandatory face-to-face meetings three times a year.
Green says the initial idea for the Pavement Network was to exchange best practices and develop a financial matrix to which members could compare their own financials. And the Network has been successful in those areas. But perhaps a little unexpectedly the Pavement Network also has had some success with sharing of customers, and the organization will soon hire a national sales representative to take advantage of their relationships.
"Sharing our best customers has been successful, more so for some members than for others," Green says. "But we are now going to the marketplace as an organization that can service all a customer's needs."
He says Chamberlain Contractors, for example, has documented more than $1 million a year in new business from customers referred to him by other Network members.
"The advantage is the clients call up and they already know the reputation of the Network and they just say, 'Here are these 12 properties. Please go look at them and tell me what we need to do. Here's the budget.' And that's it," Green says.
But client referrals aren't the only—or even primary—reason members join.
"Within the Pavement Network success means different things to different people," Green says. "You get to mentor, you can listen to what everyone else is doing, and draw on the experience of everyone else in the group, and that's powerful. When you have 12 or 13 experienced consultants you can draw on, on a regular basis, for any question, problem, or concern you have, that's the real benefit to being in the Network."
But he stresses that success is different for each member. One member doubled his business and increased his profitability by more than 400%; other members have been able to "cherry pick" ideas to use in their own company. A fairly sophisticated marketing campaign developed by one member, for example, enabled another Network member to increase sales more than 30% in a single year. Other members looked at the strengths of some members and added some of those services to their own operation.
"A couple of good examples are concrete work and milling work, which some companies weren't offering before," Green says.
"But because we had members who had strengths in those areas our members could more easily add them without making the mistakes a new service might encounter and make those services profitable lines right away."