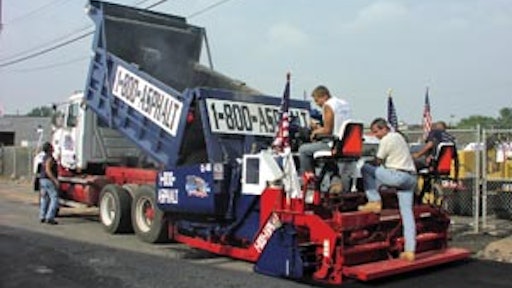 Vanity telephone numbers work to generate orders for local florists via 1-800-FLOWERS and local shipping pickups via 1-800-GO FED EX. Some major companies (1-800-WALMART and 1-800-MICROSOFT) rely on them as a corporate number as well.
Recently vanity numbers have been introduced to the paving and pavement maintenance industry, and contractors are starting to take notice.
Vanity "1-800" numbers are those easy-to-remember telephone numbers where the individual digits can spell out a word or phrase related to a specific company (1-800-STAPLES) or industry (1-800-FLOWERS).
"Direct mail is big but this is better," says Mike Musto, president of vanity number 1-800-PAVEMENT and president for 21 years of U.S. Sealcoating and U.S. Paving. "It's the single most effective marketing tool I've ever used in 20 years."
In fact, Musto says that one study found that vanity 800 numbers are 14 times more effective than numeric 800 numbers.
How vanity numbers work
Two companies now offer vanity telephone numbers (1-800-PAVEMENT and 1-800-ASPHALT) and both services work in a similar manner: Contractors lease the vanity number monthly for a set fee. The numbers are leased by area code, and contractors can lease as many area codes as they like. When a potential customer dials the vanity number, the call connects directly to the contractor's office, providing him with the lead.
"The customer wants to see more professionalism, rather than 'Joe' pulling up and handing him a quote on a business card," Musto says "Marketing like these vanity numbers helps give credibility to a company and to the industry. It adds to the professionalism."
"The number is a marketing tool all by itself," says Tom Fee, president of 1-800-ASPHALT and owner for 44 years of Asphalt Specialists Inc., Indianapolis. "People see the number and it's very easy to remember. You don't have to remember a company name. It's like a rolling billboard. A lot of people, like us, have cut their Yellow Pages ad size by two-thirds and are getting more calls than they were before."
Pavement market success
At 1-800-ASPHALT contractors pay $300 a month for each area code they work in. Contractors don't pay per-minute charges, which 1-800-ASPHALT pays for. Contractors who lease the number receive an information packet that explains how the number works and how to market the number.
Competitor 1-800-PAVEMENT takes a similar approach, leasing area codes to contractors for monthly fees starting at $275.
Started four years ago, 1-800-ASPHALT leases phone numbers to pavement maintenance contractors in 13 states from New York to California. Fee says 22 of the contractors lease more than one area code. Aggregate Industries, for example, leases seven area codes at a cost of $2100 a month; Quality Shopping Center Maintenance leases three numbers.
Fee says 1-800-ASPHALT is designed for paving but at least one 1-800-ASPHALT user is a sealcoating contractor who subs all the paving work to a local paver and retains all the sealcoating work for himself.
"He's told me that this year he's going to the show to buy himself a paver," Fee says. "That's how effective the 1-800 marketing has been for him."
Musto acquired the 1-800-PAVEMENT number early in 2005 and also owns and leases 1-888-PAVEMENT, 1-800-SEALCOAT and 1-800-BLACKTOP.
Musto says that while it's difficult to compare calls from market to market (because of population density), In-Line Pavement Maintenance, DE, is averaging 200 calls per month; and Quality Edge of Staten Island, NY, and Premier Paving & Sealing each are averaging more than 300 calls per month. He says his own call reports ranged from a low of 749 in April to a high of 1,386 in September. He says 1-800-SEALCOAT is averaging 1,250 calls per month.
"These 1-800 numbers make your phone ring," Fee says. "It's up to each contractor to sell the work, but the more calls you get the more work you have a chance at."
Fee says his company used to spend upwards of $30,000 a year on Yellow Pages advertising and "that's an expensive nut to have to cover with your work. We've cut our ad costs to $2,400 a year and we still get plenty of work. And we're a more profitable operation today."
Musto says his number is just as effective. He says a dollar-bill-size Yellow Pages ad in the Boston phone book costs $1,600 a month.
"If you get one job, one decent job, not even a good job but a decent job, it pays for leasing for the whole year," Musto says. "Once you become a 1-800-PAVEMENT member the customers don't need to look you up in the Yellow Pages anymore. They'll remember the phone number. It's just like 1-800-FLOWERS."
Fee says the company tracks the number of calls each contractor receives through the number and calls range from a low of 40 to a high of 160 calls a month.
"A contractor in Arizona doubled his size in his second year and a contractor in Cincinnati doubled his output in a single year," Fee says. "One guy in Illinois had so many calls he couldn't handle them, so he had to cancel the number. I sold the number to one of his competitors who has the same problem but is better equipped to handle it."
Marketing the number
"Marketing is the key to this business. Marketing is everything," Fee says. "If you don't spend back the marketing every month you're going to find yourself in a stagnant situation. And you can't just market one time or two times.
"That's the mistake a lot of contractors make: They run a big ad once or twice a year, usually early in the season, and then they stop advertising. But that's just not effective. They should run smaller ads and run them all the time, that way they can keep their name in front of people all the time."
Musto, who supports his companies' own 1-800-PAVEMENT number with signs on every job and the number painted on the side of his vehicles, emphasizes that contractors who subscribe to 1-800-PAVEMENT also receive marketing assistance from Musto, including how to use job signs, direct-mail postcards, and vehicle signs. One contractor even put the number on a billboard.
Musto also supports the 1-800 number by attending trade shows for facility managers, works to get national accounts, and has made a commercial that 1-800-PAVEMENT companies can use.
Musto says Colorado's Rocky Mountain Pavement, which has leased area codes in the entire state, just purchased 3,000 job signs to support the number, and Texas Asphalt, Houston, also is having success marketing 1-800-PAVEMENT.
"They have to market the number," he says. "They can't just think they have the number and it's going to work by itself. You need to market it."
Creating a national brand
Proponents say that one of the most important advantages to vanity numbers is that the number itself is recognizable nationwide--while the contractors who service the number are local.
"These numbers create a national brand, so that wherever you are, when you see 1-800-PAVEMENT, you know what they do and what kind of work they do," Musto says.
By creating brand recognition, and because the vanity numbers are transferable when a contractor sells his company, that helps build equity in the company, making it more valuable when sold.
"Building equity is one of the most difficult parts of a growing a pavement maintenance business," he says. "By branding your company within a national network you have made it more valuable."
He adds that subscribers also become part of a network of contractors who can be approached to bid work when necessary.
"Eventually we hope to create a network of paving and sealcoating companies who don't compete with each other and who will work with us in servicing national accounts," Musto says. "If Walgreen's or a similar national company calls 1-800-PAVEMENT we can handle their work anywhere we have a subscriber."
"This is all about getting the competitive edge," Musto says. "I'm banking that when a property manager needs work done they'll remember the number instead of my competitor's name."
"1-800-ASPHALT tells them everything they need to know about the business," Fee says. "They know the phone number and they know the kind of work the contractor does. That's all you need to put out there to get the phone to ring."