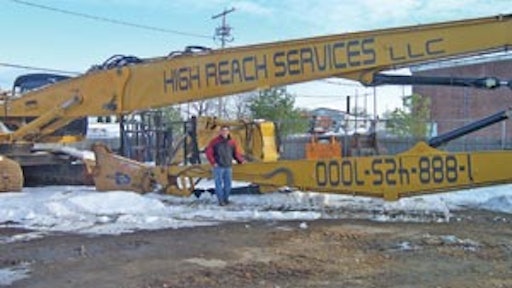 Traditional rental centers carry buckets, forks, hammers and other popular attachments. But with a little effort, many of the more specialized attachments can also be located.
Sometimes this takes a little research. "It is not very easy if you do not know who to talk to," admits Douglas LaCroix, purchasing agent, Cianbro, one of the East Coast's largest construction and construction services companies. "Fortunately, I know who to call and who to talk to when I need something." He adds that you should be able to find vendors of specialized attachments in different parts of the country.
Cianbro owns equipment it uses on a regular basis. This includes cranes, aerial lifts, forklifts, generators, compressors and welders ­— all common rental items for many contractors. But even the largest contractors have a hard time justifying the purchase of specialized attachments.
For example, Cianbro owns over 2,500 pieces of equipment and it may complete $20 or $30 million in demolition work throughout the course of a year. Yet, other than hydraulic breakers, the company doesn't keep demolition attachments in its fleet. "We don't own Universal Processors, shear heads or concrete pulverizers," says LaCroix. "We are a very large contractor, but we are not, per se, a demolition contractor. We are more of a general contractor — heavy civil work."
The carrying cost of demolition attachments just would not make sense. "Obviously, the piece would be under utilized and it would not be cost effective to own," LaCroix states. "It is always good to have at your disposal rental vendors that have this type of equipment. When you are renting a piece of equipment, it is a temporary solution to get the job done."
This allows the flexibility to bid a wide variety of jobs. "Most of the jobs we attain are through the bid process," says LaCroix.
Planning is required before the operations team tries to win the bid. "We will look at lead time and what equipment will be available in the time frame. We may inflate our budgetary numbers if the availability isn't there in case we do have to shift gears and purchase something."
This equipment availability is where Cianbro really counts on the vendors who rent specialized attachments. One such vendor is New Millennium Rentals in New Windsor, NY.
A different approach to rental
"We started in business in June of 2000," recalls Peter Menner, founder/president of New Millennium Rentals. The idea came from a trade article that covered a person in the Mid-Atlantic region who was operating a similar business. The article, combined with nine and a half years of personal experience working at an equipment dealership, helped Menner to realize there was a real demand for specialized attachment rental. "I knew hammers were popular because [the dealership] I worked for never had enough hammers. We always had phone calls. We never had the attachments we needed to satisfy customer needs."
Menner decided it was time to address this need. "I actually sat down and wrote a business plan around being a niche [business] providing excavators with specialized attachments to the demolition, environmental and heavy-highway contractors," he explains.
This focus differentiates New Millennium Rentals from traditional rental stores. "We offer the oddball stuff that some of the guys are looking for," says Menner. It is really tough to rent a shear, a processor or any of the out of the ordinary demolition tools from the general rental center chains. "Some of these rental centers do have hammers and some of them do have grapples, but that's usually as far as they go. They don't get into concrete processors or shears. They don't get into high-reach demolition fronts. They don't deal with a fraction of what we do as far as offering specialized attachments in unique combinations to
the clientèle base."
By the same token, New Millennium Rentals doesn't compete in the general rental business. "I really don't want to chase that business to be honest with you," says Menner. "If somebody comes to me and says they want to rent a bucket machine, for the most part, I will say I don't really do it."
This is partially due to the way New Millennium Rentals handles specialized attachments. These attachments have to be treated as a system with the carrier. They have to be matched to the proper carrier size with the correct flows and pressures to maximize performance. And they must accommodate the pin spacing of the attachment. This means the attachment and carrier must be rented as a set. "I rent the machines with the attachment," says Menner. "I don't deviate from that."
There are also maintenance considerations that favor the system approach. "I change my hydraulic oil every 1,000 hours," notes Menner. If the attachments were rented by themselves, the maintenance of the hydraulic systems would come into question and there would be more opportunity for contamination.
LaCroix says this system approach to rental is common with specialized attachments. "Nine times out of 10 a vendor does not want you to rent just the tool without their machine. You are more apt to find a complete setup from a third-party rental than you are just the demolition tool itself," he explains. "Part of it has to do with the setup and how it pins on. Another concern they have is contamination of the hydraulic oil. They don't want their tool or hammer contaminated. I can understand; they are expensive pieces of equipment."
New Millennium Rentals became a Link-Belt distributor in November of 2003, and also carries Genesis, Breaker Technology International (BTI), Lemac and Geith attachments. Carriers are sized for the most popular applications, from 35,000 to 100,000 lbs. This allows you to choose the best tool for a particular job. When you purchase a carrier and specialized attachment, you often must make it fit the application, whether it is the best size machine for the job or not, in order to maximize utilization.
This is not the case with the rental solution. "We have guys that will rent 65,000- or 75,000-lb. machines if they are running larger jobs," says Menner. "Then they will get a little rock job and they will rent a 35,000-lb. machine. If you want to put a machine together, I can pretty much get you what you need to hang on the end of it to do any job, be it concrete, steel or whatever. You get the right attachment and the right carrier for the job." In fact, New Millennium Rentals will often go out to a jobsite and do a free on-site evaluation to ensure the contractor gets the right carrier and attachment for the task.
Another advantage of specialized equipment rental is you generally end up with proven attachments. "Our customers benefit from our attachment rental experience," Menner asserts. "New attachments are brought in one at a time and they are evaluated before being added to the fleet. Attachments that don't perform to our specifications are returned."
In terms of attachment availability, every attachment rental source will be different. Menner is always looking to add specialized attachments to the fleet, but it is based on customer demand. "If I get several phone calls for an attachment and the guys are serious, I'll do the homework and consider putting one in the fleet. But I also have to have a commitment. If the dollars work out, then I will go get one and make a deal."
Menner also looks for long-range opportunities that require development. This resulted in the addition of a Lemac 85-ft. high-reach demolition front for doing surgical demolition. Menner believes this product has a lot of potential, but it will take a little bit of incubation time to make it happen.
Form relationships
Cianbro's LaCroix actually establishes relationships with vendors who solve specialized equipment needs. For example, he developed a working relationship with New Millennium Rentals a year and a half ago. "We linked up on a long-reach excavator rental at a bridge in Connecticut," he says. The relationship grew from there.
This rental relationship helps LaCroix bid jobs since New Millennium Rentals is able to provide budgetary numbers for equipment rentals. Currently, Cianbro still has a couple of Millennium Rentals units out on long-term rent.
LaCroix attributes good communication to Cianbro's success with New Millennium Rentals. "It is just an open line of communication," he states. "If I have a problem then I can call Peter and talk to him about it and he will address it. You need that for a successful relationship."
2006 Attachment Guide Articles