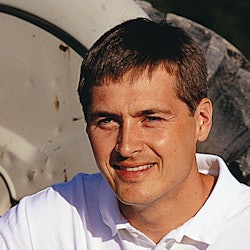 Phone:
800-538-5544 ext. 1298
Curt Bennink is Senior Field Editor of Equipment Today magazine and a contributing writer for the ForConstructionPros.com. Curt has been writing about the construction industry for over 20 years.
Curt graduated from Iowa State University with a degree in Engineering Operations on May 18, 1990. He initially joined the company in 1992 as Associate Editor for OEM Off-Highway magazine. In this role he also served on a committee that helped organize presentations for the Society of Automotive Engineer's Off-Highway Congress.
In 1995 Curt briefly left the company to launch ATV Magazine at Ehlert Publishing. During his time at Ehlert Publishing, he successfully launched ATV Magazine in the consumer motorsports market and was recognized with the company's Adam Christopher Award for his achievements. 
In 1997 Curt returned to the company as Editorial Director of OEM Off-Highway and Farm Equipment magazines. In this role, he helped re-position Farm Equipment magazine to address a rapidly consolidating customer base prior the magazine's successful sale. Curt also served on several committees for the Farm Equipment Manufactures Association.
In 2000 Curt made the transition to Equipment Today magazine where he worked from an office in Phoenix, AZ as Senior Field Editor. In the Senior Editor role, Curt closely tracks the latest technology and trends impacting the commercial construction equipment market. In the 2000's emissions regulations began to drive major changes in the industry. Electronic engines and controls made more advanced features possible. Now machine connectivity promises to kick off the 4th industrial revolution. Electrification, connectivity and automation are reshaping the competitive landscape.
In 2015 Curt moved to Urbandale, IA so his twin children, Curtis and Sasha, could grow up around their grandparents.
Curt has many interests outside of work, including spending quality time with his family. His passions include motorcycles - both sport bikes and dirt bikes as well as building and flying rc model aircraft.