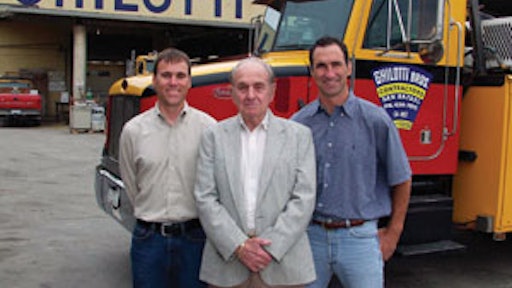 The construction world is highly competitive. To be successful enough to survive 91 years is a commendable feat. Ghilotti Bros. Inc. of San Rafael, CA, has done just that with three generations working in the northern San Francisco Bay region. Current president Mike Ghilotti says that today, paving is the company's "bread and butter," but when his grandfather started his stone wall masonry company in 1914 there weren't a lot of roads around to pave. When the next generation of Ghilottis took over in the 1950s, the company was into grading, concrete flat-work and tilt-up buildings, and asphalt paving. Today, Ghilotti Bros. offers those three services and underground utilities installation.
Being a paving contractor in California is rough these days. Ghilotti says that the California Department of Transportation (CALTRANS) has put out only about 25% of the work it had budgeted four years ago. Pavers have had to rely on private construction, bond measures, and other avenues to keep their paving operations alive. Ghilotti says from 1997 to 2000, the company was averaging 250,000 to 350,000 tons of asphalt a year, and now he said the company is lucky if it gets down 75,000 to 80,000 tons. A strong housing market in California has allowed the company to pick up work in other sectors of the business in order to make up for some of that loss.
Asphalt paving, mostly heavy highway and airport jobs, however, still keeps the company busy. Ghilotti says the paving industry isn't what it used to be, and for a company to remain successful and competitive, it has to adjust to the market.
"I think the days of going out and paving and going home are over," he says. "You've got to be on top of your game with workers' compensation, insurance, the rules and regulations for safety, and state agency requirements as far as storm water pollution and traffic. Being a contractor who likes to just show up and pave is a thing of the past. You've got to have all these dynamics under your umbrella."
One area where Ghilotti has seen a lot of change is in how the paving industry is moving toward an era of quality assurance and responsibility. His company has adjusted by introducing the latest technologies — GPS for grade control, paver technology that eliminates "dead spots," nuclear gauges to ensure proper compaction densities — to satisfy the demands of his customers.
"They're looking for the contractor to take more ownership in the life of the product, essentially guaranteeing that we are giving them a product that will last the designer's estimated life, be it 10, 12, or 15 years, depending on the traffic index," he explains.
In addition to interstate highways and airports, Ghilotti also keeps his paving crews busy with private driveways and commercial parking lots.
"We have a small projects division with its own estimator and its own group that goes out and does residential driveways and parking lots and other commercial jobs," he says. "Our paving division is a good mix, especially lately with the nature of the industry as it is. We want to keep our guys busy. We don't want to lose our long-term employees."
When Ghilotti says long-term, he means long-term. Of course his father has been with the company for more than 50 years, but their longest-working non-family employee has 48 years with the company. Their paving contractor has been working for them for more than 30 years. Ghilotti says experience like this can help a company's success, and that's not something that will change as the industry evolves.
"So much of having a successful business is having good people. It used to be that if you had the latest paving machine or if you were heavy into equipment that maybe you had an edge on your competitor. Now with all the equipment rental companies, having good reliable equipment is still important but not so much of a jump, so you're back to basically having good people who do quality work and performing a good service."