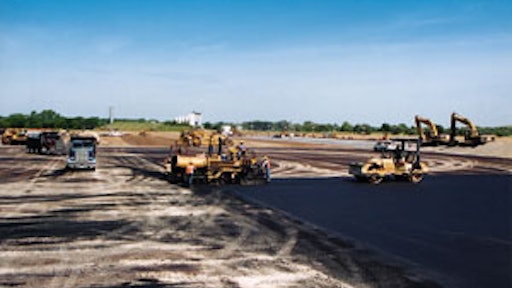 You've got to have a well-coordinated construction team to build this much work this fast," says Larry H. Lemon, chairman of Haskell Lemon Construction Co. "But that's part of the fun of construction — you always wake up to something new. It's always a challenge to make things happen."
And make things happen they did. In less than five months the Oklahoma City-based paving contractor cleared 111 acres of low-lying land, stabilized the soil — twice, constructed numerous retention ponds and a drainage system, and paved 52 acres, receiving a 2003 Quality in Construction award from the National Asphalt Pavement Association.
The project was construction of Union Pacific Railroad's Midwest City Rail/Auto Transfer Center. But it involved much more than that.
"The driving force behind the job was General Motors assembly plant in Midwest City," Lemon says. "Burlington Northern had a contract to move all the units built at the plant but Union Pacific acquired the contract. By September 1, 2003, Union Pacific had to have its own storage and transportation facility up and running."
But as of mid-April 2003 Union Pacific had nothing but construction plans and land. Primary contractor, Minnesota's D.H. Blattner & Sons, which specializes in railroad construction, brought in Haskell Lemon to do the site work. On May 1 Haskell Lemon learned it had four months to get the 52-acre paving job on the 111-acre site done, and at another early May meeting it became clear that some of the preliminary planning and permits for the project were not quite complete.
"But by fast-tracking the design build we were able to be successful," Lemon says. "By mid-May the construction team had a master plan."
But by mid-June the target date had changed. Roughly 45 days into the job Union Pacific realized that they needed at least 25% of the facility up and operating as soon as possible because they needed to be out of the temporary facility they were relying on.
"So we revised the plan," Lemon says. "Suddenly we had a real challenge to make things happen, and it soon became very clear that to make things happen we were going to have to build this project in phases."
A third-generation, family owned company, Haskell Lemon Construction was started in the late 1940s by Haskell and Irene Lemon after Haskell, a Caterpillar sales rep, decided to buy a loader and a truck to go into business on his own.
"It's the Great American Success Story," Lemon says.
Today the company and its three sister firms (material supply, trucking, and sand and gravel) employ a total of 250 people. The paving firm offers grading, drainage, and paving work throughout Oklahoma, concentrating in the central part of the state.
"Union Pacific and D.H. Blattner are very safety oriented and very quality oriented. So we held partnering conferences, critical passages meetings, scheduling meetings, and safety training," Lemon says. "It had to be built fast but it had to be built right, for quality. That's part of the reason we were able to submit this job to NAPA. It was a good design and it was good, quality construction practices that built the design."
Lemon says the construction team relied heavily on weekly meetings with D.H. Blattner for project updates to learn if any of the job's priorities had changed, and to find out if any work needed to be shifted around.
"The weekly meetings really helped keep us on track with what the primary contractor needed so they could do their job," he says.
Haskell Lemon began the job by clearing the 111 acres of grass and trees and soon realized they were dealing with low and unusually swampy land. They knew that even to continue working they had to improve the 325,000 square yards of subgrade.
"We constructed 12 inches of cement stabilization to make the soil firm enough to run our scrapers, trucks, and other construction equipment across it," Lemon says.
Next they had to raise the site 5 feet to get above the flood plain, so Haskell Lemon placed 412,000 cubic yards of excavation. To obtain a lot of the dirt needed for the site work the contractor created a number of 12-foot-deep stormwater holding ponds, encompassing more than 30 acres of the property.
"When you're paving over that much of an area you have to provide some place for the water to go," Lemon says. "This was a well-engineered project. Our biggest challenge was Union Pacific needed the site in operation immediately and the rush to get it done."
Once Haskell Lemon's crews got the dirt moved and the site to its proper elevation they did another 12 inches of cement stabilization of the "new" subgrade to stabilize it at the proper elevation. That was followed by 8 inches of aggregate base for the foundation and 4 inches of hot mix asphalt surface course.
Lemon says the low-lying nature of the site required installation of 10,000 feet of 24-inch- to 60-inch-diameter corrugated metal pipe to collect storm water and bring it to the holding ponds. Construction of a concrete ditch liner around the perimeter of the site also helps collect water off the site.
Lemon says the contractor had three grading crews, an asphalt paving crew, a concrete crew, and a drainage crew — about 50 people — working 60 hours a week on the site throughout the life of the project.
"Each area was phased so that one crew followed right on the heels of the other," Lemon says. "First the grading crew would get the site ready, then the drainage crew went in, then the paving crew, and then any concrete."
Lemon says D.H. Blattner had to construct eight railroad spurs coming into the site from the main line, so those were the areas Haskell Lemon's crews finished first.
"All the time we're doing the grading and paving we're giving priority to areas where the tracks are coming into the site," Lemon says. "Then we paved the parking lots and areas that would be the staging or holding areas for the cars."
Overall Haskell Lemon placed 45,945 tons of high-spec hot mix asphalt.
"Once Union Pacific got the project's administrative aspects cleared and turned us loose it was just high-production, high-quality construction work," Lemon says. "Union Pacific ended up with a good construction team and once everything was cleared for us to go we were able to turn out a very superior project by the deadline."