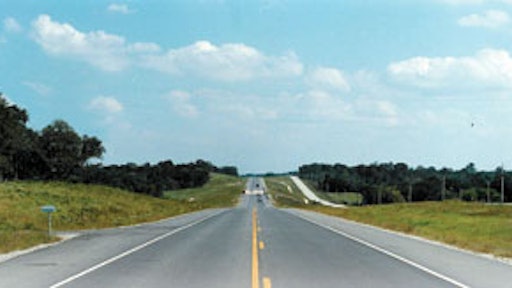 The folks at Cummins Construction Co. know that a pavement's smoothness starts from the bottom up, so when they began the third and final phase of construction of Oklahoma State Highway 7 and State Highway 3 in Atoka County, they paid close attention to smoothness at each level of construction.
So much so that the paving contractor even used one of its pavers to place the aggregate base. The result earned the Oklahoma contractor a 105% of pay performance bonus based on smoothness.
Mike Knox, area manager for Cummins Construction, says placing aggregate with a paver might be unusual for other contractors — but not for Cummins.
"Every chance we get we do this on a job and it works very well," Knox says. "It's a lot more economical and efficient than to do it the old fashioned way. And when you place aggregate with a paver you don't get as much segregation and you can control the thickness real easy."
Headquartered in Enid, OK, Cummins Construction Co. placed its first hot mix asphalt in 1955 and now employs more than 140 people in peak season. Cummins operates five paving crews, with five permanent plants, and three mobile plants. The contractor does highway construction and municipal work almost exclusively out of five locations that include Enid, Ada, Durant, Hugo, and Stringtown.
The award-winning Atoka County project, which received a Quality in Construction Award from the National Asphalt Pavement Association, was directed by project manager David Hardy out of Cummins' Stringtown operation. It was the third phase of a 13-mile-long highway construction job spread over three years. The final cross section of the road was 8 inches of lime and fly ash stabilization, a 6-inch aggregate base, 8¾ inch of 25 mm hot mix asphalt (placed in two 3-inch lifts and one 2¾-inch lift) and a 2¼-inch lift of 19 mm hot mix.
Cummins began the job by excavating 458,000 cubic yards of material before beginning work on the subgrade.
"We knew it was a ride-spec job when we bid it so one of our priorities was to concentrate on smoothness from the dirt all the way up," Knox says.
Once Cummins completed the excavation, the contractor modified more than 185,000 square yards of subgrade 8 inches deep with lime and fly ash to improve the soil stabilization. Knox says both lime and fly ash react with clay to alter the pH level, and by modifying the subgrade they were able to achieve a uniform pH throughout the 5-mile job.
They followed that with 145,000 square yards of separator fabric to keep the subgrade fines from coming up into the aggregate base so the pavement would drain well. Cummins crews tacked the fabric down by hand to keep it from blowing up in the Oklahoma winds, and the fabric was followed almost immediately by 44,709 tons of aggregate, 6 inches deep, placed by the paver.
"We brought all the aggregate in ahead of time and stockpiled and ran it through a pug mill to wet it, really saturate it," Knox says. "We just treated it like asphalt, and then we transported it with dump trucks and dumped it right into the paver hopper. There was water running out of the dump trucks by the time they were dumping the aggregate into the hopper, it was that wet."
Knox says the only difficulty they ran into was that the job specification called for Cummins to "back dump" on the separator fabric to keep the trucks from driving on it.
"But we explained how we've been successful with this process and asked if we could try it our way. They came out and looked and gave us the okay," Knox says.
Cummins uses an older Cedarapids paver as its backup paver and rock paver, and they set the machine up just like they would for placing hot mix asphalt, including using lasers to track smoothness.
"There's no question that placing aggregate is a little rougher on the paver because you don't have the lubrication of the asphalt," Knox says. "But if you keep it real wet you can reduce the wear and tear on the paver's basic wear parts, including the flight chain, hopper, auger, and screed."
And, Knox says, it's more cost-effective than the traditional approach because it requires fewer people, less equipment, and it results in a smoother aggregate surface.
"You can control the thickness better and it's actually a lot quicker than dumping, spreading, and grading the aggregate," Knox says.
Plus, he says placing aggregate with the paver reduces segregation, which results in a better surface to pave on and saves time.
"When you blade it you're always going to wind up with the big rock on top and you have to get rid of that," Knox says. "Placing aggregate this way helps that a lot. We don't have to rework the rock and we don't have to cut and fill."
He says paving with aggregate takes little time to learn to do.
"It's identical to laying asphalt except that you're laying large rock," Knox says. "A lot of people don't like doing it because of the wear and tear on the paver. But you don't take your front-line paver and run rock through it."
He says that when using a paver to place aggregate the crew needs to pay special attention to cleaning the paver when the work is done.
"At the end of the day you have to really concentrate on cleaning that paver because the fines will set up in there, especially on the really hot days," Knox says. "We just back the water truck up and hose it down thoroughly."
Knox says that once the wet aggregate is placed it has the same roll down characteristics as hot mix asphalt, and Cummins' compaction crews treated it just like hot mix asphalt, following the paver with rollers.
"We rolled it just like it was part of an asphalt paving train," Knox says. "We used our Dynapac rollers to vibrate the aggregate initially and then static rollers to finish it just like you would do with asphalt to get the wrinkles and lines out of it. We had two rollers on it most of the time but sometimes we used just a single roller."
Knox says Cummins waited two or three days for the aggregate to dry before paving could begin.
"But that's quicker than the other way, where you put water trucks on it and keep wetting it as you roll. When we work that way we have to wait three to five days before we can start paving."
Then the crew took over, finishing the job by placing hot mix asphalt that helped earn the company its bonus.
"The smoothness was a constant for everyone, from how we designed it to the mix we used, to the paving crew. They started with the smoothness of the subgrade and kept smoothness as a consideration all the way through the job," Knox says.
"We knew we had to have a smooth job to make it through the work and get the bonus, and everyone remembered everything about it.
"Our company's mission is to see how good a job we can do on every job we do. On this one everybody was concentrating on smoothness."
And their efforts were successful. The job is also one of 10 finalists for NAPA's prestigious Sheldon G. Hayes Award for 2004.