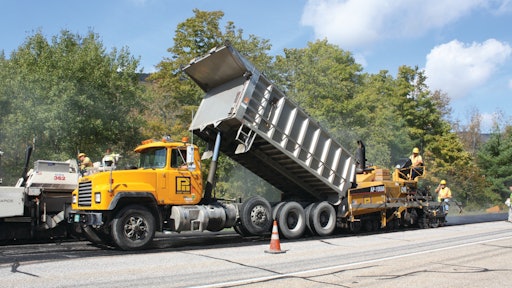 An advanced thin overlay containing highly polymer modified asphalt (HiMA) binder was recently installed by contractor Pike Industries on a Vermont highway as part of a voluntary program of nationwide field demonstrations.
Pike placed the one-inch-thick HiMA overlay on a portion of a $1.8-million, 11-1/2 mile pavement maintenance contract with Vermont's Agency of Transportation (VTrans). The agency had volunteered to join the program, with Pike a willing participant, and designated a two-mile stretch of U.S. Route 7 in Danby for the demonstration.
The remaining 9-1/2 miles of the maintenance contract received VTrans' regular Type C Surface Treatment, a thin, unmodified (by polymer) open-graded hot mix asphalt.
Hosted by the National Center for Pavement Preservation (NCPP) at Michigan State University, the demonstrations follow new regional mix design specifications developed in a joint effort of eleven state transportation agencies and the Highway Sustainability Research Center at the University of Massachusetts/Dartmouth.
Research Center Director Dr. Walaa Mogawer, P.E., coordinated the demonstration program with the agencies, which are members of the Northeast Pavement Preservation Partnership (NEPPP), one of five regional partnerships established across the U.S. to advance pavement preservation practices.
NCPP and regional partnerships cooperate with state transportation departments, the Federal Highway Administration (FHWA), the American Association of State Highway and Transportation Officials (AASHTO) and other agencies and industry groups to advance the concept of pavement preservation as the most cost-efficient way to protect the nation's huge infrastructure investment. FHWA regards preventive maintenance treatments such as crack sealing, chip sealing, micro surfacing and thin-lift asphalt overlays as components of pavement preservation, and provides funds for these activities.
VTrans took part in the thin-lift HiMA demonstrations to further the agency's search for better, high-performance pavement materials that would provide longer service life at lower life-cycle costs, according to Mike Fowler, the agency's Pavement Manager Engineer.
New specs, new polymer
The Vermont demonstration adhered to new regional specifications known as "Superpave 9.5mm Highly Polymer-Modified Thin Overlay Specifications," (PMTOL). PMTOL mix consists of coarse aggregate, fine aggregate, mineral filler (when needed), and a polymer modified asphalt binder with performance grade of either PG76-34 or PG82-28, depending on the condition of the pavement being overlaid. A lift thickness of between 0.75 and 1.5 inch (19.0 mm to 37.5 mm) is called for, and up to 25 percent recycled asphalt pavement (RAP) is allowed in the mix.
A striking feature of the specifications is the high concentration of polymer allowed. Polymers are increasingly being added to asphalt binders and emulsions to improve asphalt mix durability and resistance to rutting, raveling and cracking, but there is a practical limit to the amount of traditional polymer dosage – usually around three percent. For concentrations above this, binder viscosity begins to increase, making mix thicker and stickier. Thus the mix is more difficult to produce in the plant and less workable for paving crews, boosting manufacturing and lay-down costs.
However, PMTOL specifications guiding field demonstrations allow the use of HiMA binder containing 7.5 percent polymer -- more than double that of traditional polymers. This high dosage is possible because HiMA binder is produced with a new type of styrene-butadiene-styrene (SBS) polymer. Manufactured by Houston-based Kraton Performance Polymers, this polymer satisfies specification requirements without increasing viscosity.
According to Chris Lubbers, Kraton technical sales manager, after several years of research the company developed a new family of SBS polymers. One of these developments -- Kraton™ D0243 polymer -- is being used to produce HiMA binder. Lubbers said use of the new polymer does not require making changes at conventional mix plants or in the operations of paving crews.
Testing and producing HiMA mix
Kraton supplied D0243 polymer in pellet form to NuStar Energy's New Jersey asphalt facility, where it was added to liquid asphalt to yield HiMA binder. This binder was shipped to the North Clarendon, Vt., asphalt mix plant of Pike Industries. The 3.5-ton Cedarapids plant was used to manufacture both Type C surface treatment mix and the HiMA-binder mix for the demonstration.
A member of the Oldcastle Materials Group, Pike is a 140-year-old asphalt producer/ paving contractor with more than 40 asphalt plants and 20 crushing facilities throughout northern New England. The company also operates several fully equipped testing laboratories staffed by engineers and quality control technicians.
For comparison purposes, the demonstration called for placing one inch of PMTOL mix containing virgin aggregate on the first mile of the two-mile section, and one inch of PMTOL mix containing 25 percent RAP on the second mile. To facilitate production of the latter, Pike set up an Astec screening system to feed RAP directly to the batch plant.
The crushed 9.5 mm stone (3/8-inch) required by PMTOL specifications was supplied by precast concrete manufacturer J.P. Carrara & Sons Inc. of Rutland, Vt., while Pike supplied the necessary natural sand and RAP from its own stockpiles. Pike technical personnel tested pavement materials in the company's laboratories at its Barre, Vt., office and at company headquarters in Belmont, N.H.
Months before the thin-lift demonstration took place in Danby, Pike laboratory staff tested native aggregate and RAP for physical and chemical qualities to ensure the stone would meet PMTOL specifications. Technicians also conducted standard tests on the RAP, checking aggregate gradation and binder content among other characteristics.
In addition, Pike personnel experimented with different aggregate, and samples of HiMA binder provided by Professor Mogawer, to create various blends in order to produce PMTOL mix characteristics. They also ran several batches of these blends through the Cedarapids plant to study process reactions. Working with Dr. Mogawer, they were able to verify that both all-virgin aggregate and 25-percent RAP blends would meet PMTOL specifications. They also got approval from VTrans for the mix design. During mix production for the demonstration, VTrans personnel took samples of plant mixes and had them delivered to the Highway Sustainability Research Center for analyses by Dr. Mogawer and his staff.
Tandem paving and rolling
US Route 7 at the demonstration location is 44-feet wide, with two 12-foot travel lanes and two 10-foot shoulders. Pike used its own fleet of Mack tri-axle dump trucks to haul the mix from North Clarendon, supplementing these with contract haulers when needed.
The decision was made to pave the 10-foot shoulder and 12-foot travel lane simultaneously to obtain smooth longitudinal joints. A Terex Cedarapids was used to pave the shoulder while a CAT AP-1055D paved the travel lane. The pavers operated in tandem, with the Terex Cedarapids always in the lead.
Three rollers operating in non-vibratory mode provided compaction – a CAT CB534D breakdown roller, CAT CB434 intermediate roller, and a HYPAC roller. As with the pavers, the rollers operated in tandem, going from shoulder to travel lane and back – again, this was to ensure a smooth joint.
For the remaining 9-1/2 miles of Pike's maintenance contract, a special paver was used to install the Type C surface treatment mix, which contains ½-inch maximum stone and 4.9 percent binder and is placed over fresh-sprayed asphalt emulsion.
Pike trucks delivered plant mix to a specialty spray paver provided by Gorman Bros. of Albany, N.Y. This self-priming paver sprayed asphalt emulsion on the road surface immediately before it laid down the Type C overlay.
Monitoring the overlay
The performance of NEPPP's thin-lift PMTOL mix used on the U.S. Route 7 demonstration is being monitored by VTrans and compared with the performance of the Type C surface treatment. VTrans' Fowler wants to see if they can get the same durability and same installation cost per square yard from one-inch-thick HiMA-modified overlays that they're getting from conventional 1-1/2-inch overlays.
If so, he said, they'll be using less material and hence saving money over the life of the pavement.
Results from the NEPPP field demonstration will be analyzed at Professor Mogawer's Highway Sustainability Research Center lab and subsequently posted on the AASHTO TSP•2 website. TSP•2 (for Transportation System Preservation Technical Services Program) is a national program funded by AASHTO that provides current information on pavement and bridge preservation measures. Michigan State University's NCPP is managing the AASHTO TSP•2 website.