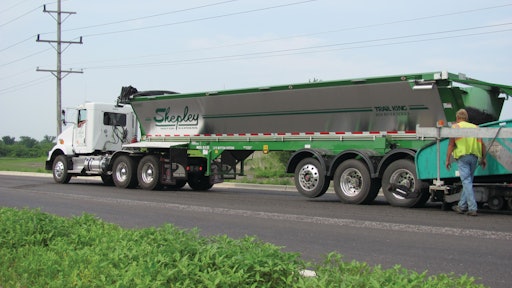 Paving contractors looking to reduce labor costs, reduce the number of haul trucks needed on a job, and even ease work on the jobsite might want to try live-bottom trailers on projects with certain challenges. Live-bottom trailers are one piece of equipment that can help contractors avoid overhead obstructions and carry more material for projects with certain challenges. Shepley Motor Express, located in Thornton, IL, is one company that has seen the value in using a different option of equipment for transporting asphalt material.
Gallagher Asphalt, Shepley's parent company, has been operating Shepley since 1964. For several decades, Shepley has been hauling asphalt and other materials for contractors. Currently, Shepley operates tankers, flowboys and lowboys with 80% of revenue coming from asphalt, 15% coming from stone and 5% coming from dirt.
Shepley purchased its first flowboy, a unit with a belt on the bottom, in the '80s. Although the flowboys are similar to live-bottom trailers, they do not have all of the same benefits as a live-bottom trailer. According to Justin Jonkman, General Manager at Shepley, the flowboys didn't have as high of a tonnage capacity resulting in limited use of the flowboys and extra yard time.
Benefits of a live-bottom trailer
The live-bottom trailers can be used in several asphalt applications including roads and interstates. Parking lots can also use live-bottom trailers to transport materials; however, Jonkman says that the parking lots must be at least a couple of acres in order to make using the live-bottoms efficient.
The recent purchase of three 37-foot live-bottom trailers from Trail King has opened up several opportunities for Shepley. One such benefit is the increased tonnage capability. "We did the calculations on what we were currently hauling and what we could be hauling using the live-bottom trailers," Jonkman says. "We were able to increase the amount of asphalt hauled and gained from 2.5 tons to 3.5 tons per load by utilizing the new trailers." As a result, Shepley has been able to take full advantage of the new weight law in Illinois that recognizes 80,000 pound weight limits. These units have also overcome the limitations of the flowboy and can be used daily for nearly every type of project.
Along with an increased tonnage, contractors can also avoid problems with overhead obstructions. "One of the biggest advantages with the live-bottom trailers are that overhead structures are not an issue," Jonkman says. "We can pave under those structures without causing any damages." According to Jonkman, this has been extremely successful and useful in projects completed throughout the Chicagoland area.
Contractors can also experience smoother maneuverability with live-bottom trailers compared to dump trucks because the unit won't have to adjust to overhead obstructions.
Unlike dump trucks, the low-bottom trailers will save contractors additional money and manpower while paving. For example, contractors won't have to handle spilled material saving time and money. "Let's say you're paving a street and you need to stop because you're crossing over to another street to start paving again," Jonkman says. "With the live-bottom trailer you can close the tailgate and lock it without spilling any asphalt. Now, on a dump trailer when you put the box down, your tail pan is still filled with asphalt. Crews would have to shovel that off into a paver's hopper or on the ground, and then you would be able to move to the next location.  If the crews did not clean off the tail pan, they would be spilling asphalt as they drove around."
Another benefit users can achieve with the live-bottom trailers is a decreased risk of roll-overs. "There is little risk of roll-overs because you aren't putting any equipment in the air to get the load out," Jonkman says. "Even if the truck is on a slight angle you still won't have a problem."
One characteristic of live-bottom trailers contractors need to be aware of are the various lengths available because the longer the trailer the more difficult it could be during certain operations. "Depending upon what trailer you buy they could be 10-15 feet longer than a normal dump trailer used in an asphalt application," Jonkman says. "You do have to be careful what jobs you put them on. If you're in an old subdivision where the streets are very narrow you need to be sure the trucks can maneuver."
Jonkman also suspects slightly higher maintenance costs compared to dump trailers. To preserve the condition of the trailers, Jonkman is particular about the materials that are hauled with the units. "We have no problem doing 2-inches and smaller in stone, asphalt grindings, and we haul R.C.C.," he says. "We don't haul any broken concrete, nor do we haul broken-out asphalt in the live-bottom trailers."
Companies in this article