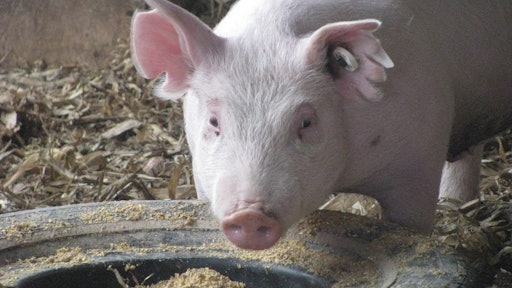 It's not often that pig manure is associated with asphalt, but current research may soon change that. Ellie Fini, a civil engineer, received funding from the National Science Foundation to support the research of utilizing pig manure in asphalt production. While the industry continues to look for improved material performance Fini's research presents several benefits by using pig manure in the production of asphalt and crack sealing material.
After four years of extensive research, Fini is ready to move the project forward into the manufacturing phase.
"The technology we have patented will produce material for roofing, sealing and paving," Fini says. Each material is completely biodegradable and eco-friendly. While it can be used as a stand alone adhesive for certain applications, if blended with petroleum based asphalt, it can improve its workability and resistance to cracking that occurs at low temperatures.
The research process
Fini's research focuses on the composition of the material, and her discoveries offer several opportunities to increase material performance while combating high material prices.
"Our goal has been two fold: reducing cracking at low temperature and finding an alternative to petroleum-based asphalt," she says. "The price of petroleum is still quite high, and the industry is looking for alternatives. Overall, the price of the bio-asphalt produced as a result of our research is less than petroleum based asphalt."
A few other materials Fini considered were woody biomass and algae which are both also being used to produce bio fuel. Swine manure was one alternative material that appeared to be the most promising; due to its chemistry. "The process we are using is called thermochemical liquefaction. It requires water and swine manure that is high in water content," Fini says.
Using swine manure to manufacture asphalt products offers several benefits compared to standard asphalt. Most of Fini's study has focused on the workability and low temperature properties for hot mix and warm mix producers.
Lower temperature benefit
"One of the benefits you get with swine manure asphalt is an improved low temperature characteristics and workability of the mix," Fini says. "Contractors can potentially use higher percentages of reclaimed asphalt pavement (RAP) and recycled shingles in conjunction with the bio-binder while still achieving good workability and performance."
She is also looking at the material to be used for maintenance applications. "We are looking at using it for cold-in-place recycling and hot-in-place recycling applications," Fini says.
"You can get a bio-binder at a lower price than asphalt, and at the same time you can add more RAP and RAS due to enhanced workability in the presence of bio-binder. Most of our study has been on workability and low temperature properties. In terms of maintenance and rehabilitation, we were looking at an application of it as a rejuvenator to bring the oxidized binder in RAP and RAS to life by adding the bio-binder."
By using the bio-binder people will also have greater control over the PG grading of the material.
"One of the advantages we are offering with the bio-binder is that you can modify the PG to a higher, more-enhanced PG," Fini says. "Let's say PG 64-22 is common while PG 64-28 is rare and more expensive. So, with bio-binder you can upgrade the PG 64-22 to PG 64-28, and in some cases you can reduce the price. This would most interest states in which PG 64-28 has high demand. In other states where low temperatures are not as much of a concern, bio-binder can still be used to enhance workability in presence of high RAP and RAS mixtures. "
According to Fini, the low-temperature applications need blending; for example, PG 64-22 will need blending with a bio-binder to achieve PG 64-28. In some cases, 5-10 percent of bio-binder can be added to achieve a higher grade. Some producers may need to upgrade their plants in order to produce the material.
"Plants with inline blending can add different liquids to their asphalt," Fini says. "They would need another feeder/tank for the bio-binder. They can blend the material and get the grade they want at a certain percentage. If plants don't have the in-line blending capabilities they would need to add that to the facility."
Promising results
"We've found a lot of interest and improvements in terms of RAP and RAS applications," Fini says. "For example, it was shown in one of our articles that 45% RAP with a 5% bio-binder can perform very close to the virgin mixture with no RAP."