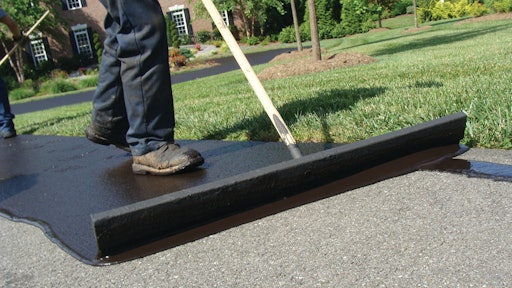 Whether you are new to the sealcoating industry or a veteran sealcoating contractor, your relationship with your material supplier can play an important role in the success of your sealcoating business. For you to make your own place in the sealcoating industry and grow in the future, it is essential that you team up with reputable materials supplier, follow the best sealcoating practices, deliver the promised performance to your customers and run your business with untarnished integrity.
While there is no order of importance to these questions, answering them will help you make sure your sealcoating operation gets the most out of your supplier relationship.
1. What is your supplier's reputation in the marketplace? The supplier that you choose should have a sterling reputation for sealer performance, customer support and business practices.
What is your supplier's reputation in the industry?  Do other contractors have good things to say about them?  When you're at the supplier are there generally other contractors around purchasing material? 
Does your supplier work to build relationships with property managers or architects to get their product specified on the jobs that you are bidding?
Ask to see a minimum of five sealcoating jobs completed using their sealer. Insist that several of these jobs are older than one or two years. While initial appearance is important, the longevity of the work is a critical component in the cultivation of long-term relationships with your customers. If possible, talk to property managers for their direct comments about the performance of the material. You may have to filter your customer's responses a bit as they might be biased for the contractor or workmanship.
Check with the local chamber of commerce and Better Business Bureau to see if there are any negative reviews or comments.

2. What is the supplier's primary line of business? Check carefully. Is it contracting or distributing? If they are a contractor first, you might want to keep a close eye on the product that you are supplied.  Most contractors who sell sealer simply look at reselling product as another revenue stream.  They treat their customers fairly and make sure that they provide a good product and customer experience.  However, beware of some unscrupulous contractors out there that see you as competitor.  They will do anything they can to damage your reputation, including selling you an inferior product, price gouging, or not selling you product at all when they know you are in a pinch.  On the other hand, a business that either manufactures or distributes the material as their primary line of business should do whatever it takes to meet your needs.
3.       Do your supplier's products meet the applicable standards and specifications?
Make sure that the sealers that you intend to buy meet all applicable specifications. There are two major types of sealers supplied the manufacturers; Refined Tar Sealers (RTS) and Asphalt Emulsion (AE) sealer. RTS are covered by many specifications (ASTM, Federal, FAA, etc.) but the AEs are covered only by industry specifications.
Make sure that the manufacturer or its distributor is willing and ready to issue certifications of compliance to the applicable standards.
4.       Is your supplier an expert in both technical and general industry knowledge? Your supplier should be thoroughly up to the speed with competitive products, the applicable specifications and be in a position to make recommendations to handle the job at hand. Additionally, your supplier should have a thorough knowledge about the tools and equipment required to do the job correctly. In unusual situations, your supplier should be able to analyze your needs and offer a remedy.
5.       Does your supplier support its contractors with literature and online resources? The supplier should have a good supply of printed brochures and "Property Owner Friendly" sell sheets. Also the manufacturers and its distributor should have a good, easy-to-navigate website for use by sealcoating contractors. It will be really impressive if you carry an iPad to show your customers the product descriptions, application specifications, performance report, etc. right on the spot without having to call the home office.
6.       Is your supplier a "one-stop shop"? Does your supplier stock items other than just sealer?  The ability to purchase all necessary items in one place can save an enormous amount in fuel and downtime going from one supplier to another.  Your suppliers should have:
Items that are needed to mix with the sealer to create an appropriate mix design for your specific job
Additives, crack fillers, traffic markings, primers and sundry items such as brushes, squeegees, tape, chalk, etc.   You may also be able to leverage your sealer purchase volume to negotiate better deals on sundry items.
Contacts to get you any piece of equipment that they do not carry in stock
7.       What are your supplier's hours of operation? Make sure that the supplier has favorable hours of operation and is willing to "bend over backwards" to serve you. Many suppliers require a nominal charge for service on Sundays and holidays and after hours. But this small fee can go a long way towards getting your customer back on their parking lot quickly. Although most suppliers have favorable hours, don't be surprised if some have "banker's hours." I know a local supplier that that is open from 7:00 a.m. to 3:00 p.m. Monday through Friday, and from 8:00 a.m. to 11:00 a.m. on Saturday.  This supplier is clearly structuring its hours to suit its needs, not the needs of its customers.  Under such situations customers are clearly out of luck if they need more sealer to finish a job or want to fill up the night before to get an early jump on another job.
8.       Does your supplier view your relationship as a partnership? Your supplier should be your partner and support you from A to Z. This means not only taking charge in analyzing complaints and rectifying problems but also in working with you on bids and proposals, should you need assistance.
Does your supplier partner with you in the event that there is a product issue, or do they "pass the buck"?  Some suppliers will default to blaming the contractor any time there is a product failure: "You must've watered it down too much" or "You didn't clean the pavement well enough," or "The material was fine when it left our lot, you must've done something to it."  In my experience most of the time it's truly not the product that is the problem. That being said, a good supplier will work with you to determine what really caused the failure.  The supplier should be willing to visit the jobsite with you and provide a reasonable explanation of what occurred.  In the event that the material was at fault they should be willing to stand behind their product.  Generally this will occur in the form of replacement of the defective material.
Remember that a partnership is a two-way street. If your supplier's employees are unethical, don't take the bait; notify the supplier. If that employee is willing to cut you a deal for a cash payment, he is probably not above watering down the product he sells you.
9.       Can your supplier help you complete large jobs? There's nothing better than landing that 500,000-sq.-ft. sealcoating job.  Can your supplier provide you with the material to get the job done?  Do they have access to spot tankers that can be left on the jobsite so you can avoid costly refilling trips?  All manufacturers and most distributors have the equipment to handle this type of request.  If you're buying from another contractor do they have a strong enough relationship with their manufacturer to be able to supply you with the required material and equipment?
By obtaining the answers to these questions you will end up developing a relationship with a sealer supplier who can help you as you grow your sealcoating business.
And one more thing: The industry's sealer suppliers exhibit at local, regional and national industry events and trade shows. These shows give you the opportunity to speak face to face with various sealer suppliers in one location, and these producers are some of the best minds in the industry; they know their material, they know how and why it works, and they can answer just about any question put to them about sealcoating. So take advantage of these events to learn more about sealers and suppliers. Additionally these shows offer the opportunity to view all the new products and equipment in the industry that can help make your company stand above the rest!
Girish Dubey is president of STAR Inc., Columbus, OH; www.starseal.com