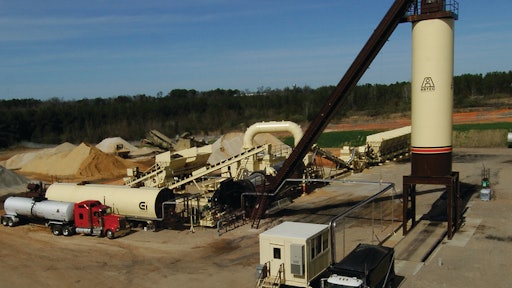 Operators of the new plant for Mobile, AL-based Hosea O. Weaver and Sons were in for a pleasant surprise. Even though the South is notorious for humid summers and sudden rainstorms, a spell of dry weather had settled in the area just as the plant was getting into production. But these conditions were good for more than just backyard barbeques and comfortable evenings on the porch — they also boosted asphalt production by 50 tph.
Moving quickly
The unexpected increase in production rate was all the more surprising, according to vice president Michael Weaver, because Hosea O. Weaver and Sons expected to get running quickly, and then work out kinks along the way. Furthermore, the new plant would be a departure from Hosea O. Weaver and Sons' traditional Astec Double Barrel setup. It would be reasonable to expect a learning curve. Instead, the plant took off without a hitch and exceeded their expectations.
"When we first decided we were in the market for a plant, we had a tight timeframe," Weaver says. "We went to Astec. They suggested a stock plant — a Dillman factory being built that was basically an Astec design of a Super Six Pack on everything but the drum and the baghouse, which were the Dillman design of the Unified drum and the reversed pulse baghouse."
Switching from a Double Barrel to a Unified drum would be a departure for the company, and Michael said they needed to see it with their own eyes. "We've always been Double Barrel customers and have had several Double Barrels — we liked them. They work great, but we went up and looked at the Unified drum and were impressed with what we saw."
Hosea O. Weaver and Sons bought the portable 300-tph 8 ft. x 50 ft. Unified counterflow drum mixer on the spot and put it in field, Weaver says. "The way it operates is fairly maintenance free. It's so well-designed that you can't find a problem with its simplicity."
Lewis Tillery, Hosea O. Weaver and Sons' vice president of operations adds, "It's a simpler design, and we like that it has a variable speed slinger that feeds into the counterflow design. Anything that works well we're obviously pleased with."
Fitting it all together
With a combination of Astec and Dillman equipment, the new plant illustrates Hosea O. Weaver and Sons' commitment to keeping production steady and efficient. The main plant components came from Dillman, with the Dillman drum and baghouse," says Weaver. "But even though Dillman built the other components, they were Astec designed."
In addition to the main plant components, an assortment of other equipment was integrated seamlessly into the plant's layout. For example, a 35,000-gal. asphalt storage tank was shipped in from Albuquerque, NM. Also, a 200-ton New Generation Storage silo was built by Astec in Chattanooga, TN, and brought to the plant.
No dry spell for production
Perhaps the biggest point of pride for the new facility, however, is how it has outperformed its own rating even in the initial months of production. This surprised the plant operators and management, but they discovered their success was a combination of skilled personnel, quality equipment, and fortunate weather.
"This plant mainly produces Superpave mixes for the Alabama Department of Transportation projects," Weaver explains. "We do have FOB customers just about every day or every other day, but it's not really a big FOB plant."
Hosea O. Weaver and Sons' new plant is rated as a 300-tph plant, but soon those at the plant discovered it was able to run 350 tph, exceeding its rating with no issues whatsoever and doing so consistently. Tillery reported that the dry weather improved the mixing conditions slightly, but enough to note a difference.
"We had easily produced 350 tph during a dry period. Can we do that in the extreme winter? When it's most wet? We don't know yet, but we were very excited to discover we can do this with a new plant."
Weaver adds that increasing the production rate was not the only surprise the plant had in store: "When we did our stack test, we had no emissions at all. Zero."
Looking to the future
Even though the plant is new, Hosea O. Weaver and Sons is already looking ahead for what's next in the industry.
"We're currently using a warm mix system, and about 60 percent of what we run is warm mix," Weaver says. "As time goes on, we'll be increasing that number. One day we'll be running 100-percent warm mix."
During installation, Michael realized the 200-ton New Generation Storage silo was a wise investment and made preparations for a second silo to be installed alongside the first. "We put one up and we poured the foundation for a second 200-ton silo. We don't have immediate plans for expansion, but while we were pouring foundation we decided to prepare for the future. It will be ready when we are."
And as production continues, the combination of Astec and Dillman equipment will continue to raise expectations — only to exceed them again.