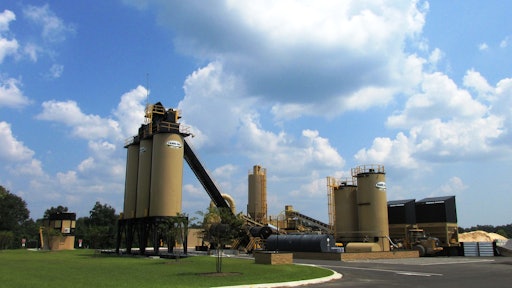 Roads Inc. of Northwest Florida (NWF) was started by Cody Rawson in 1995. Rawson, who previously owned Florida Grading & Paving, which was bought by Couch Construction and eventually acquired by APAC, has been in construction "all his life."
"Roads Inc. started out building subdivisions, and after the first year or two, we built the first asphalt plant," says Rawson, president of Roads Inc. "One thing I learned from my previous construction experiences … it's nice to make your own destiny when it comes to producing material."
Now a full service asphalt and site work contractor that provides paving services to residential, commercial, industrial, state and federal projects, Rawson says having their own asphalt plant allowed them to procure state and country work, which the company specializes in for Florida and Alabama.
Roads Inc. of NWF's first plant was a 200-tph ALmix located at its headquarters in Cantonment, FL, which is a suburb approximately 10 miles north of downtown Pensacola. The company built a second 300-tph ALmix plant in Baldwin County, AL.
In order to consolidate operations, Roads Inc. recently sold the Baldwin plant to Mobile Asphalt. Quickly, the company realized it would need more production than the 200-tph unit could provide. "When we sold the 300-tph Baldwin plant, we were solely producing from the 200-tph one," says Rawson. "We didn't have the capability to produce what we needed fast enough, so we decided to put up a new plant."
Doubling production
Roads Inc. of NWF provides paving and milling services from Mobile County, AL, to Bay Country, FL, as well as Baldwin Country and adjacent panhandle counties including Escambia County, AL and Covington Country. Typical customers are county, DOT, municipalities as well as local contractors. Its customer break down is 75% government/25% private.
On average, the company produces 150,000 tons of mix per year, including Florida- and Alabama-state approved mixes. With that kind of production needed, Rawson decided a 400-tph plant would be the best investment.
He looked to ALmix to install this third plant due to competitive pricing and excellent customer service. "I wanted a forward-thinking plant that was environmentally friendly and could meet our production demands," says Rawson. "We have a good history with ALmix, and they were able to meet our needs."
Roads Inc. chose a Uni-Flow 100 counter flow drum mixer from ALmix. The UF Series single drum asphalt plant can be portable or relocatable or totally self-erecting and is offered in production ranges from 120 to 400 tph.
The Roads Inc. plant has three 200-ton silos, two covered RAP bins, state-of-the-art computerized control system, polymer tank, dust silo that can be used to introduce lime in specialty mixes, and a full plant heating system. The new 400-tph plant is also warm mix capable.
"The three silos are a big help," says Rawson. "It really helps production being able to store 600 tons of mix."
Steve O'Neal, regional sales manager with ALmix, adds, "Having three silos allows for more mixes and less wait time for customers."
Other highlighted features of the new plant include:
An oversize baghouse which collects all particulates to reduce emissions to the atmosphere
Total air burner that uses less ambient air for combustion and is 10% to 15% more fuel efficient
The Green Box warm mix system reduces hydrocarbon emissions due to lower mix temperatures
Automated ticket system helps streamline the takeout process and keeps mix moving quickly
Green features
One objective for the new plant was its need to be environmentally friendly. In addition to being warm mix capable, the new plant also offers two covered RAP bins for added recycled mix capabilities. On average, the company uses 25% RAP, which it recycles from its projects, in its mixes.
"The covered bins help save fuel," says O'Neal. "The recycled material is kept dry, and the drier the material, the less fuel is used to process it. Less hydrocarbons are emitted into the atmosphere as well."
Rawson also decided the new plant would run on natural gas instead of fuel oil. The natural gas is piped to the plant from a local natural gas supplier in Pensacola, FL.
"Right now, fuel oil is probably a little cheaper," says Rawson. "But the plant runs so much cleaner on natural gas – there's a lot less emissions – and that's the benefit I was looking for."
O'Neal says he sees more asphalt plants converting to natural gas. "It's cleaner than recycled fuel oil (RFO)," says O'Neal. "It's better for the baghouse, better for the production operation, and of course, better for the environment."
Overall, the new plant's installation was completed with very few challenges. "Our old plant, which was traded into ALmix and will be relocated, sits on the east side of our property," says Rawson. "The new plant is near the front of the property, by the railroad which brings us our materials.
"The installation was really a turnkey job," he continues. "We had some bad soil where the silos were. We were going to pour 4-foot-thick concrete and had to pour 9-foot-thick slabs to hold the silos. But other than that, it wasn't a complex job at all."
O'Neal with Almix agrees and adds that the new Roads Inc. asphalt plant is a real "show piece."
"Cody really went beyond what a typical owner would do," he explains. "He put in extensive landscaping so the plant would blend into its environment and be a part of the aesthetic. And he included many components in order to make this asphalt plant as environmentally friendly as possible."
Roads Inc. of NWF is located on about 60 acres of land in an industrial park near a paper mill. The asphalt plant itself sits on about 10 acres, eight of which are paved. "That's really unique," says Rawson. "All our materials sit on asphalt."
Rawson says the market in northwest Florida is starting to look up. In addition to growth from the new plant in 2014, Roads Inc. is looking forward to its partnership with Vulcan Materials which will open a retail rock yard where the old asphalt plant sits. The rock yard is slated to open in May.
"When I first started in the asphalt market, the focus was on private not government work," he says. "Now it seems, there's more dollars in the government and municipality side of things. That's what we focus on, and it's been a good direction for us so far."